Folding Trees, the papercraft site that Eve and I co-founded, is a year old this week! It's been a great first year; between the two of us, we've written over 400 posts, and published tons of paper-crafty inspiration and tutorials.
Here are a few of our most popular tutorials from the year: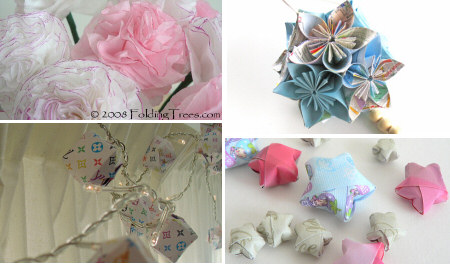 clockwise from top left: 1) my Tissue Paper Carnations; 2) Eve's Kusudama Ball (my updated tutorial here); 3) my Lucky Wishing Stars; 4) Eve's Balloon Lights
Of course, it's also through my work on Folding Trees that I got a book deal (yay!). My book, Paper Chains & Garlands, is at the printing stage, and should be released in late summer or early autumn – I'll keep you posted as I hear more!
If you have any interest in crafting with paper, do check out Folding Trees for a daily dose of projects and inspiration 🙂