Japanese Kusudama balls are traditionally assembled from real flowers and herbs, and used as incense or pot pourri. A decorative paper version can be created by first folding origami flower petals and gluing them together into flowers, and then assembling 12 flowers into a decorative ball.
But these lovely paper flowers are so versatile and have many uses in addition to assembly into a kusudama ball:
Make a single kusudama flower, as shown here, as a lovely place setting, wedding favour, or buttonhole.
Add floral wire stems to the bottom of each flower and assemble them into a paper bouquet.
Glue 12 flowers together into a full kusudama ball to make a beautiful gift or stunning decor for parties and weddings.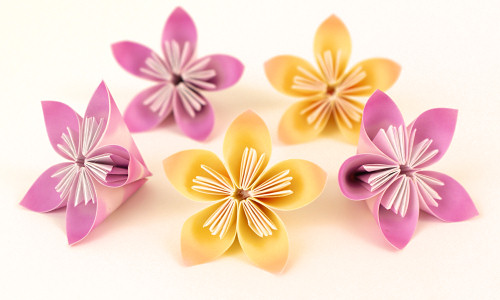 (You may also recognise the Kusudama flower as the logo for the now-defunct papercraft site, Folding Trees, that I used to run with Eve Henley. With Eve's agreement, this tutorial is my updated and revised version of the kusudama tutorials she originally posted there.)
This tutorial is Donationware – the instructions are available for free, but if you like it please consider sending me a donation to show your appreciation: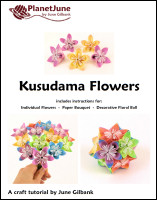 Send me a donation and receive the easy-to-print PDF version of the tutorial as a thank you! It includes some additional info that you'll only find in the PDF version:
– Instructions and tips for adding stems and making a paper bouquet (pictured below)
– Step-by-step instructions for turning 12 flowers into a decorative floral ball (pictured below)
Donations of any size are much appreciated. Just add the amount you wish to donate, and, once you have checked out and paid, your PDF will instantly be available to download from your PlanetJune account.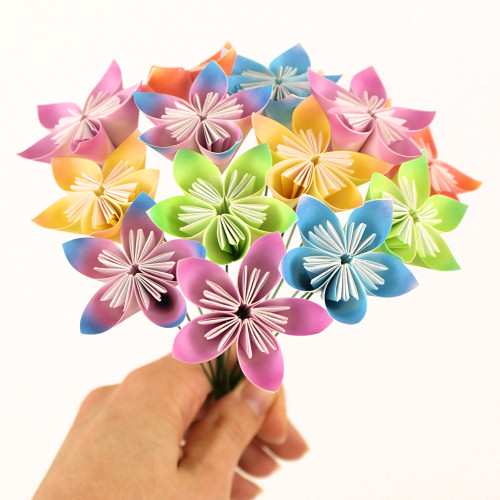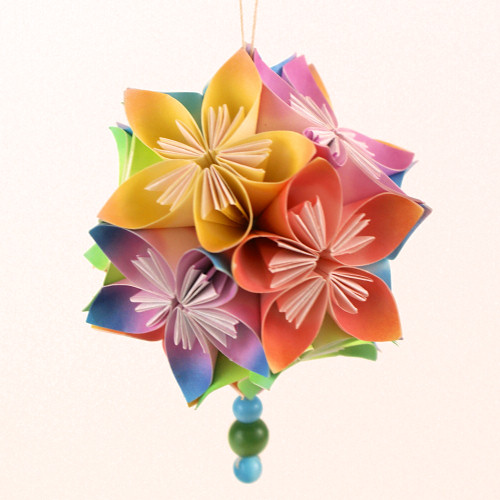 Make your flowers into a paper bouquet and floral ball (instructions available for any size donation)
The complete instructions for the kusudama flower are available below, regardless of whether or not you choose to pay for them 🙂
This is a PlanetJune original tutorial. Please do not share or reproduce this tutorial; instead post a link to www.planetjune.com/kusudama
Kusudama Flower
You will need
5 squares of origami paper per flower (your choice of size; I like to use 2″ or 3″ squares)
White craft glue
Optional: glue spreader
Instructions
Note: As with all origami, this works best if you strongly crease each fold by running your thumbnail along each fold before moving on to the next step.
Step 1. Start with a square of origami paper. Fold it in half on the diagonal to form a triangle, with the coloured side facing out.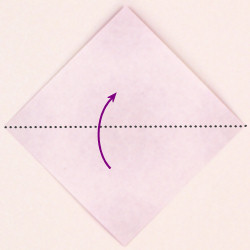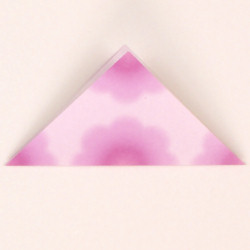 Step 2. Fold the left and right corners up to meet the top point and form a square.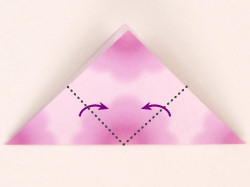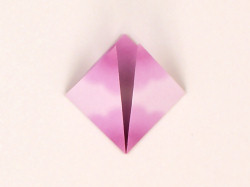 Step 3. Fold the front points out so each outer edge lines up with the edge of the square.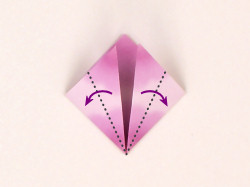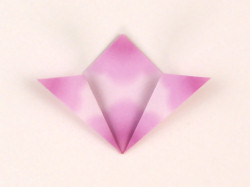 Step 4. Unfold the last fold so the points meet at the top again, then open each side up into a pocket (below, left).Flatten each pocket out along the crease lines you just made, to form a kite shape (below, right).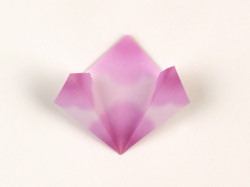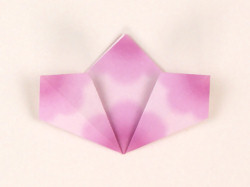 Step 5. Fold the tip of each kite shape forward along the line of the edge of the paper, to form a triangle.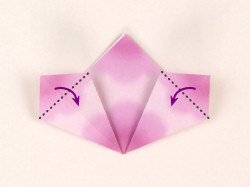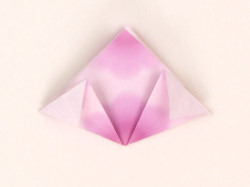 Step 6. Fold the lower edge of each side up along the existing crease.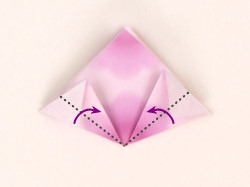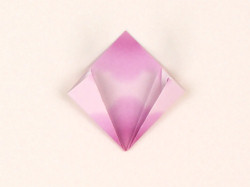 Step 7. Add a thin layer of glue along one of the front flaps (shown in blue, below, left), then bend the petal so the front flaps meet and create a petal shape (below, right). Hold in place until the glue dries.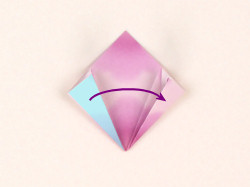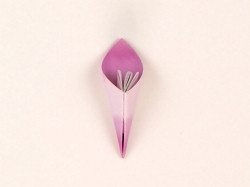 Step 8. Repeat Steps 1-7 four more times, to make a total of five petals.
Step 9. Add a thin layer of glue (shown in blue) along the edge of one side of a petal, then add another petal next to it, so they meet at the centre. Hold in place until the glue dries.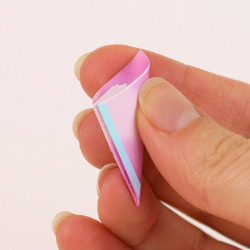 Step 10. Repeat Step 9 for the remaining petals, to complete a 5-petalled flower. (I find it easiest if I first make a two- and a three-petal piece as shown, then glue the two together).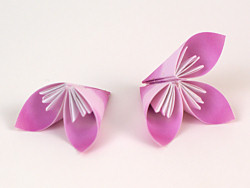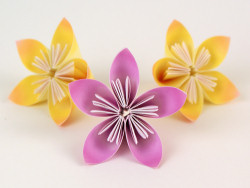 I hope you enjoyed this tutorial! Please leave me a comment if you did, and consider leaving me a donation. (The PDF version that you'll get in return for any size donation also includes instructions for making your flowers into the bouquet and decorative ball.) Thanks!