I've had such great feedback about my worsted weight yarn comparison chart – being able to tell in advance which yarns are likely to work well together if you mix them within the same project is so helpful! It would have been worth making the chart just for myself, but I'm so glad to know you're finding it useful too.
But there was something missing from my comparison – all of my samples so far have been from North American yarn lines. I often have questions from UK- and European-based customers who don't have access to the same yarns, and I'd love to be able to offer some alternatives that are more readily available to them, so I asked my favourite UK- based online yarn store, Wool Warehouse, if they'd collaborate with me on this project. They generously provided samples of all the UK and European 100% acrylic worsted (aran) weight yarns they carry, so I could test them and add them to my chart for you – isn't that great?
New Yarn Samples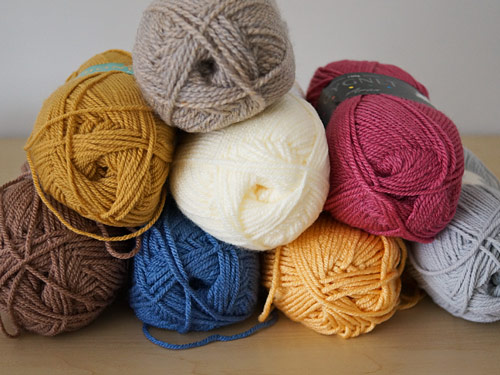 New additions: Cygnet Aran, James C Brett Super Soft Baby Aran, King Cole Big Value Aran, Scheepjes Chunky Monkey, Sirdar Hayfield Bonus Aran, Sirdar Snuggly Supersoft Aran, Stylecraft Special Aran, Stylecraft Special for Babies Aran
You'll see that all these yarns are called 'aran'. This is where things get a bit unclear with the terminology differences between countries: technically, aran weight yarn should be equivalent to heavy worsted weight, so we'd expect that all these yarns would end up on the right-hand side of my chart. But in the UK, all medium weight #4 yarn is called 'aran' instead of 'worsted weight', so that may not be the case…
And that's why I like to test and compare, not just go by the information on the ball band. In fact, it turns out that some of these aran yarns are equivalent to a light worsted weight yarn, proving once again that worsted (and aran!) weight yarns are not all the same.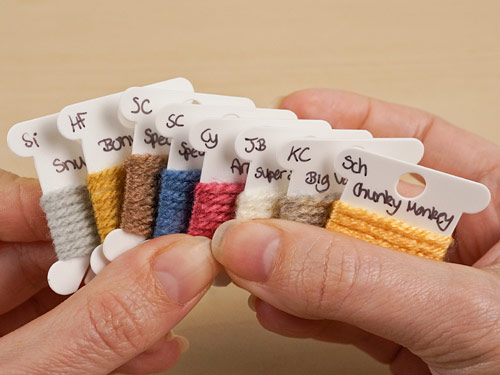 Testing the Yarns
I wound yarn bobbins to add to my reference collection, and compared samples to figure out where each of these additional yarns belongs in the table.
This addition to the chart will be so valuable for crocheters (and all yarn crafters) based in the UK and Europe, who often don't have access to the worsted weight yarns we have here in North America. Now if you buy a pattern that recommends a specific US yarn, and you want yours to look as close as possible, you'll be able to see which yarns are the closest match!
And vice versa – if you, like me, have been curious about the yarns our UK/Euro friends use (and maybe want to order some that we can't find in the craft stores here), here's a way to find out which US yarns they most resemble!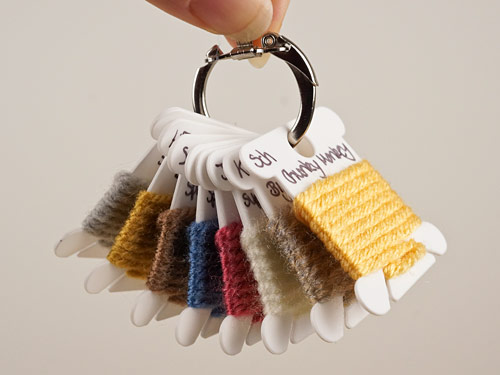 I was most excited to find that I finally have the first entry in my 'soft and thick' category – usually, the softer worsted yarns tend to be thinner, and the sturdier yarns tend to be thicker. But Scheepjes Chunky Monkey yarn is a very heavy worsted weight and it's also very soft and shiny – that's a first for me!
Download the Comparison Chart
I've categorised all the other new (to me) yarns too, and you can find the results in my updated Worsted Weight Yarn Comparison.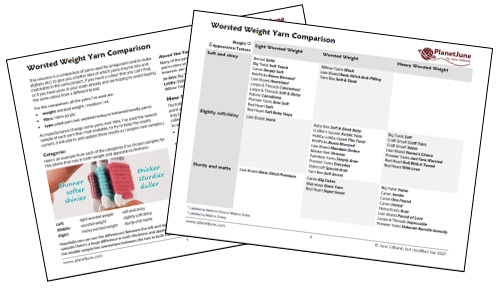 Both the online and downloadable versions of the chart have now been updated, so, if you've already 'bought' the downloadable version (it's a free product in my shop – no charge), there's no need to order it again; as with all your PlanetJune orders, you can re-download the PDF from your PlanetJune account at any time to get the latest version.
About Wool Warehouse
This addition to the comparison chart wouldn't have been possible without the help of Wool Warehouse! I've been a customer of Wool Warehouse for years (every time I visited my family in the UK, I'd place an order for some interesting-looking yarns that I don't have access to where I live). It feels like a real treat to receive my orders, as they always come beautifully packaged in organza drawstring bags, which I reuse as project bags or to help organise my stash.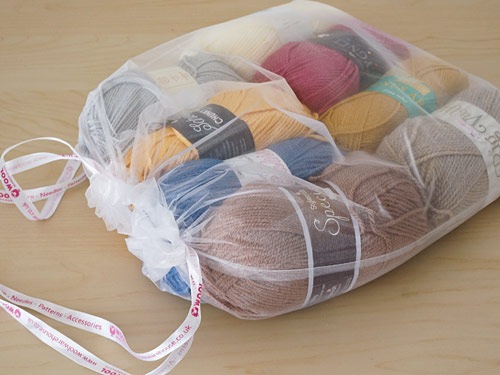 It feels like my birthday when I open a Wool Warehouse package!
Wool Warehouse is based in the UK but ships worldwide, and I see that they also stock a selection of common US yarns, so if you're outside North America and want to try some of the amigurumi standards (Bernat Satin, Caron Simply Soft, Lion Brand Vanna's Choice, Red Heart Soft, etc), this is a convenient way for you to do that too.
Thanks so much, Wool Warehouse, for helping me (and all of us!) with this project 🙂
Adding to this List
I want this resource to be as useful and complete as possible, so I'm always happy to compare and add more samples of 100% acrylic worsted weight yarns. If your favourite amigurumi yarns don't appear in the list, there are instructions for how you can send me a sample on the ww yarn comparison page.
(And, if you're a yarn manufacturer or distributor and would like me to include your yarns, please get in touch. I'm always happy to receive new yarns to try, and they may even end up being used in a future PlanetJune design as well as being added to the chart!)
---
I hope you'll find this update useful, and if you haven't grabbed the downloadable Worsted Weight Yarn Comparison chart yet, please do – it's completely free, no strings attached!
I'd never force you to sign up for my newsletter, for example – although if you want to do that too, I'd be delighted 😉