Today I have a brand new PlanetJune crochet pattern to share with you. I've been wanting to make a realistic Squirrel crochet pattern for a long time, and it's turned out just as cute as I'd hoped!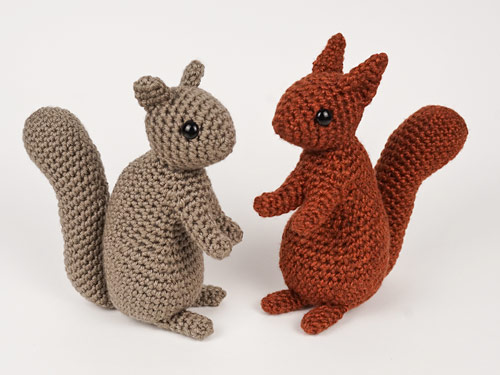 Which is your favourite? It doesn't matter – you can make both!
I started this design during the Ravellenic Games, but I had to set it aside for a while – it took 6 prototypes to get that perfect squirrel tail, but I'm so glad I stuck with it. All those curves are built right in, and I love the result 🙂
Squirrel Fun Facts
Note: If you hear an animal called just a 'squirrel' that means it's a tree squirrel, but there are also other types of squirrel (ground squirrels and flying squirrels). My pattern, and these fun facts, specifically relate to tree squirrels!
Squirrels are rodents that are found all over the world.
They live in trees and eat nuts, seeds and berries.
Squirrels have long bushy tails that help them to balance as they run and jump through the trees.
Their tails are also used to keep them warm in winter, and for communication. For example, they flick their tails rapidly when they sense danger!
Squirrels hoard their food, and hide caches of nuts and seeds in trees or buried in the ground.
About the Design
With this design, my goal was to capture the smooth curves of the essential squirrel pose: perfectly balanced while standing up on its back legs with its beautiful bushy tail curving up behind it.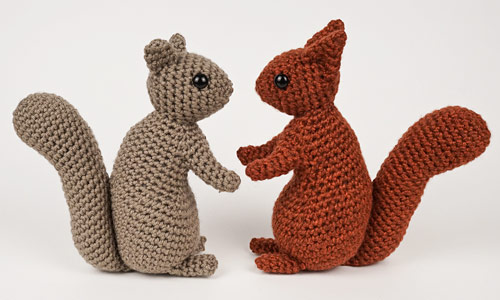 The front legs are crocheted right into the body, so there are very few parts to assemble at the end, and you can choose to attach the head at any angle, to give your squirrel its own personality – will your squirrel be cute and bashful, or bold and inquisitive?
I've included two versions in this pattern: a standard Grey Squirrel (aka Eastern Gray Squirrel):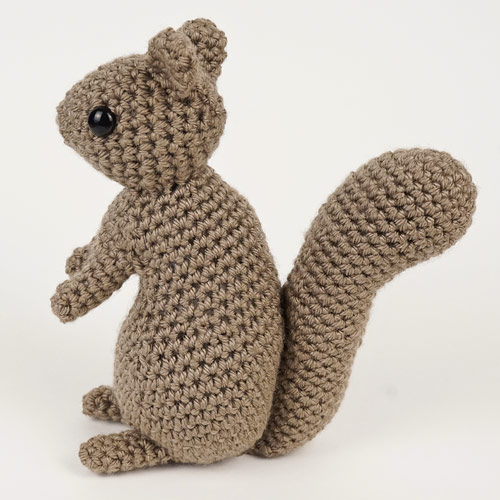 …and an adorable European Red Squirrel with long tufted ears: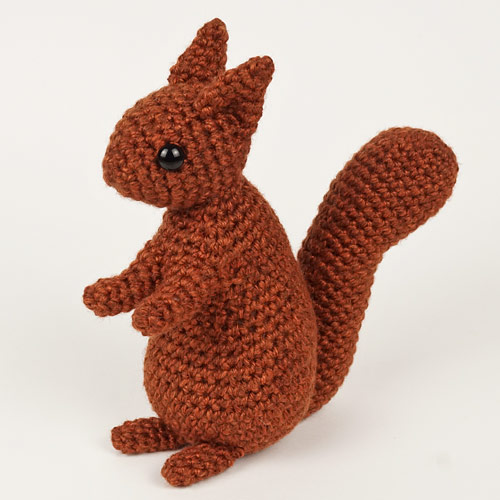 Ideas for variations:
Despite their names, 'grey' squirrels can be brownish, black, orange or white as well as grey, and 'red' squirrels vary from orange through deep red to black, so you have lots of colour choices, even if you want to make a realistically-coloured squirrel.
Although I designed both my squirrels to use regular yarn, you can brush your squirrel's tail before assembly to give it a fluffy, furry look (and you can brush the tips of the red squirrel's ear tufts too!) See my brushed crochet tutorial for instructions.
About the Pattern
The Squirrel pattern includes 4 pages of step-by-step bonus info in 2 two-page appendices (for both right- and left-handers) that clearly explain my innovative method for joining the front legs and body while you crochet so they sit at exactly the right angle in the finished squirrel.
If you've made any of my AmiCats, you'll already be familiar with the concept of this technique and how well it works – the assembly method is the same here, although of course the squirrel shape is very different!
Buy Now
Ready to get started? Pick up my Squirrel crochet pattern  from my shop right now. Or, if you're not ready to make it just yet, add it to your Ravelry queue or favourites so you don't forget about it: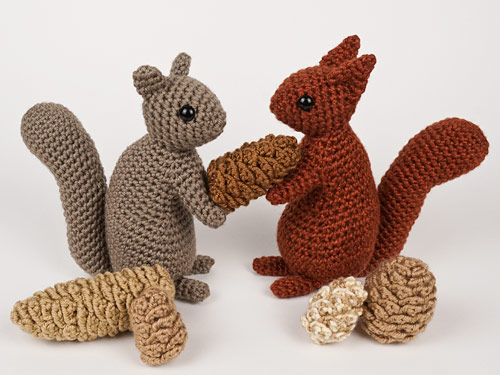 By the way, I'm sure you know that squirrels love to gather and hoard their pine cones – and mine are no exception! My Pine Cone Collection pattern is now officially squirrel-approved 😉
---
I hope you'll love my Squirrel pattern and will start making your own adorable squirrels right away. And please do let me know what you think of them!