Did you know that you can teach classes using my paid or donationware/free patterns? Well, today I have a PlanetJune Story for you on just that topic, from Beth Graham, a designer and teacher who works and teaches crochet at Shall We Knit? in Waterloo, Ontario, Canada. (You can connect with Beth on Ravelry or Facebook.)
Shall We Knit? is a crochet friendly shop featuring rooms of yarns, fiber, books, and inspiration for knitters, crocheters, and spinners. You can contact the store for info on their crochet classes and one-on-one instruction. Sadly, I just missed out on the chance to count them as my own local yarn store, as they relocated to my old home town of Waterloo shortly after I left for South Africa! I'm still a bit sad about that even now; just look at all that pretty yarn…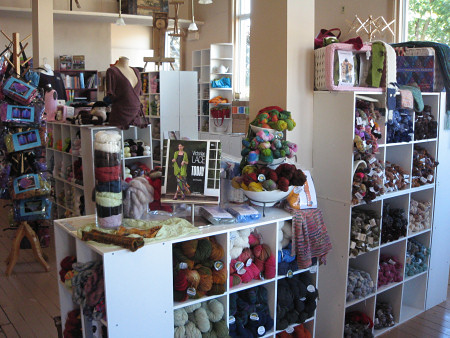 Shall We Knit? photo, borrowed from www.shallweknit.com
Beth taught an Amigurumi Apples class last Saturday, and has kindly offered to share her experience with us. Over to you, Beth:
I offered a successful class at Shall We Knit? featuring June's Amigurumi Apples pattern. The two-hour project class on beginner amigurumi introduced crocheters to the adjustable loop technique, the formula for creating flat circles using increases and decreases to create 3-D shapes, and June's ingenious invisible decrease.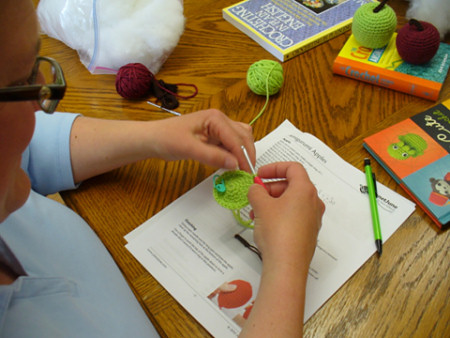 Because of the apple's simple, yet elegant, design, students left the course feeling quite clever, and – even better! – having finished their projects!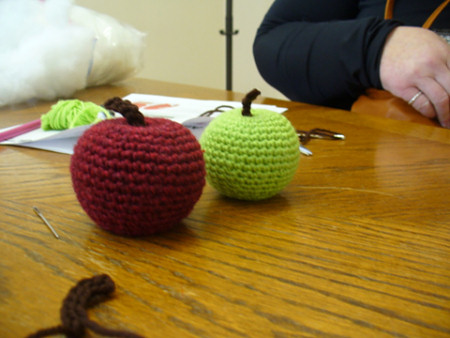 Amigurumi Apples is a perfect teaching tool for introducing all these techniques and more, and I highly recommend it to other instructors considering a beginner amigurumi class. (I got permission from June to use the pattern prior to the class and purchased a copy for each student.)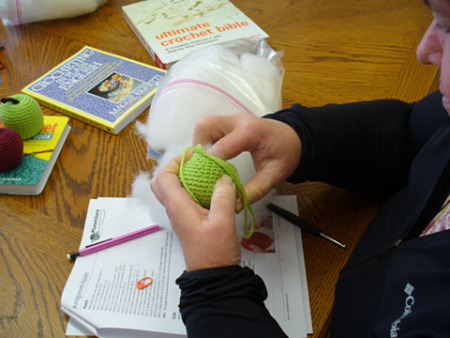 Well done, Beth – it sounds like your class was a great success! I've taught classes using a few of my patterns and I know how good it feels to guide new crocheters – or new amigurumists – to complete their first amigurumi. Once they've mastered the basic skills, they'll have the confidence to attempt any amigurumi pattern.
As Beth said, it's easy to teach with any PlanetJune pattern (paid or donationware) – all you need to do is purchase a copy of the pattern for yourself and one for each of your students. So, if you work in a yarn store or teach crochet classes independently, why not use a PlanetJune pattern for your next class?
Please see my Teaching FAQ for further details, and don't forget to take a couple of photos of your class – I'd love to share them here!