The natural world is amazing and varied, and there's nothing like seeing parts of it first-hand, but I hope my photos will give you a small taste of that excitement! Every time I'm lucky enough to travel, it fills me with new inspiration and appreciation for nature.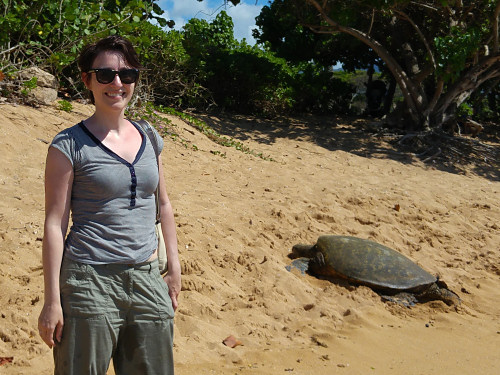 Me with a green sea turtle – an overwhelming dream-come-true experience
I didn't think I'd ever be able to top the thrill of seeing orangutans in their native environment of Borneo, but my sea turtle-spotting adventure in Hawaii last month may have just done it!
I took over 3000 photos on this trip and couldn't force myself to narrow it down to just a dozen of the best. Instead, I've set up a few themed galleries in this post (scenery, turtles, lizards, misc wildlife) so you can enjoy any subjects that interest you without being bored by the rest 🙂

__('Read the rest of this entry »')