The natural world is amazing and varied, and there's nothing like seeing parts of it first-hand, but I hope my photos will give you a small taste of that excitement! Every time I'm lucky enough to travel, it fills me with new inspiration and appreciation for nature.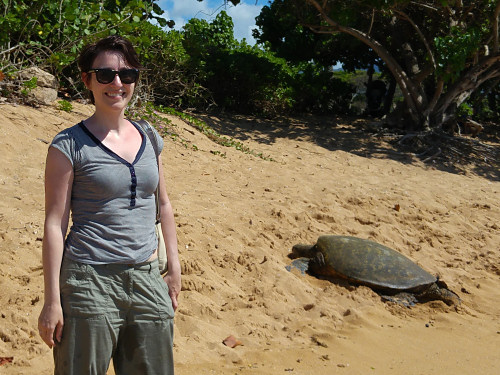 Me with a green sea turtle – an overwhelming dream-come-true experience
I didn't think I'd ever be able to top the thrill of seeing orangutans in their native environment of Borneo, but my sea turtle-spotting adventure in Hawaii last month may have just done it!
I took over 3000 photos on this trip and couldn't force myself to narrow it down to just a dozen of the best. Instead, I've set up a few themed galleries in this post (scenery, turtles, lizards, misc wildlife) so you can enjoy any subjects that interest you without being bored by the rest 🙂

For a chain of small islands in the middle of the Pacific, Hawaii boasts a surprising diversity of natural environments, from humid tropical rainforests to sunny beaches. We managed to cram as much as possible into our 6 short days of vacation: 3 islands, 2 zoos, 1 aquarium, and lots of natural beauty and wildlife.
I absolutely love green sea turtles ('honu' in Hawaiian). I thought my only chances to see wild sea turtles would be during egg-laying or hatching, but green sea turtles in Hawaii exhibit a special behaviour called 'basking' – emerging from the sea to lie on the beach. (As sea turtles are endangered, Hawaiian law prohibits people from closely approaching or otherwise disturbing the turtles while they're basking.)
On our one-day visit to Maui, we took a behind-the-scenes tour of the Maui Ocean Center and got to see and feed their sea turtles, who are part of a hatch-and-release conservation program and will eventually be released to the ocean. It was lovely to see the juvenile turtles up close and to know that they'll be back in the wild once they're well-fed and strong and have a great chance of survival.
Then, we spent our last day on Oahu touring the North Shore in hopes of spotting a basking turtle. After seeing nothing for a long time, we spotted some turtles swimming in the sea, and, hours later, we got lucky! We got to watch turtles emerging from the breakers, dragging themselves up the beach from the sea, drying off and dozing in the sun, crawling back down towards the sea, going from sandy and dull to shiny and colourful as the waves hit them, and swimming off again. It was absolutely amazing. I hope my photos capture even a tiny fraction of that magic…
It's no secret that I love lizards too, so I was delighted to have the opportunity to spend hours watching and photographing anoles (green and brown) and gold-dust day geckos. While Dave was working by night and sleeping by day, I sat by the window, working on my laptop, and watched the lizards on and around the papaya tree outside.
Both green and brown male anoles have large colourful dewlaps (throat pouches) that they extend to attract a mate or defend their territory. As you'll see from my photos, the brown anole has a bright red dewlap, while the green anole's is pink. And the geckos are so cute and colourful!
Of course, there's more to Hawaiian wildlife than just reptiles, so here's a small selection from the rest of my wildlife pics from this trip:
I really don't know if/how I'm ever going to top this trip, but there's a lot more of the world that I have yet to see, and a lot more to discover even in the places I've already been fortunate enough to visit.
That's the beauty of nature – you can visit the same place twice and you're guaranteed to have a different experience and spot different wildlife each time…