I designed this hat last Christmas (i.e. my southern hemisphere summer) to meet a specific need: to keep the sun out of my eyes while I'm out walking without worrying that my hat would blow off my head! And so, after several refinements, the Summer Days Sunhat was born: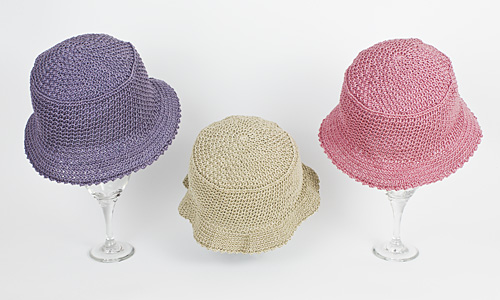 This hat is a cross between a practical bucket hat and a stylish cloche. Well-fitting sides mean the hat won't blow off your head in windy weather, and the brim has a solid stitch pattern that will keep the sun out of your eyes.
This is an easy-care, easy-wear hat: it doesn't need blocking and doesn't have a starched brim, so it's easy to throw in a bag when you aren't wearing it without needing to worry about crushing it!
I designed the no-gauge pattern to work for any size head (from a small child to a large adult) and any size yarn (although I like it best in fingering/sport weight so it's light and elegant). Just measure your head and then follow the simple instructions. You'll need a calculator to do a single sum to get started, then all you need is a measuring tape so you'll know when you've reached the right size.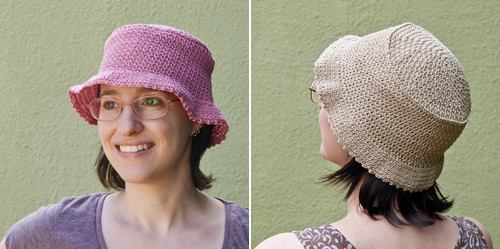 The brim has two options – the floppier, all-yarn version (pictured above), and a version that incorporates fishing line to add a little stiffness while leaving the hat foldable but not crushable (pictured below).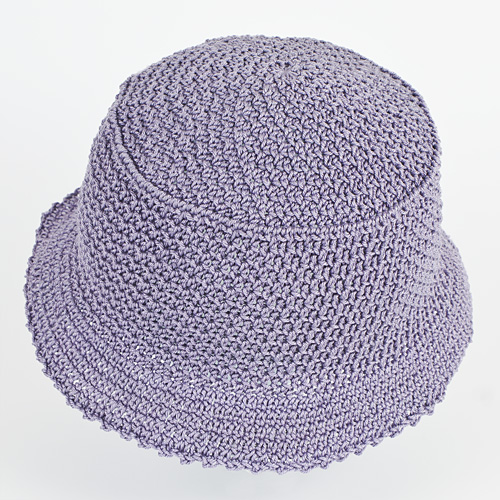 My sample hats have already seen me through a South African summer and a Hawaiian vacation, without once blowing away in the wind, and they still look as good as new!
I made the pink and natural coloured ones from a local 4-ply (fingering weight) mercerized cotton yarn – Elle Premier – but I wanted to show a sample made in a more readily-available yarn. I used Patons Grace to make my purple hat, and, although it's called sport weight, it has exactly the same weight and yardage per ball, so it's a pretty good match.
Links and Launch Discount
If you're ready to try crocheting your own Summer Days Sunhat, you can buy it individually from my shop, or as part of a Custom Set of any 3 PlanetJune Accessories patterns of your choice.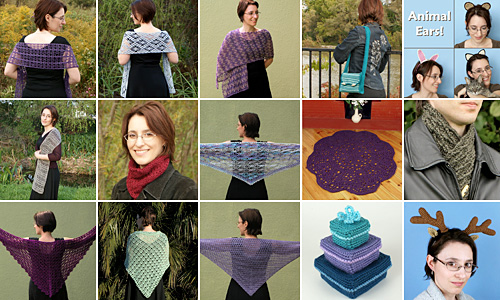 And, for this week only, save 50c on the Summer Days Sunhat pattern by using discount code SUMMER at checkout. (Valid until Sunday 17th July 2016.)
Tip: The discount is valid on the Sunhat alone and the Custom Set including the Sunhat – so you can save even more by buying the multipack deal with the discount!
Or, if you're not ready to buy just yet, please heart or queue it on Ravelry so you don't forget about it:

I hope you'll enjoy this pattern! If you make one, please take a photo of you wearing it, and share it in the PJ ravelry group or on my Facebook page, or tag me on Twitter or Instagram (@PlanetJune) so I can see it 🙂