Punchneedle Globe menu:
Here's where we left my punchneedle embroidery globe at the last update: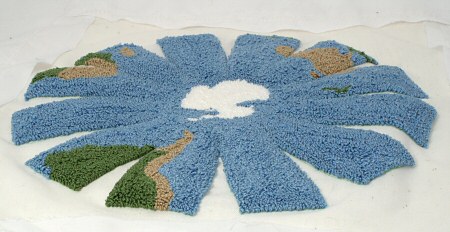 This next stage is the real test of my design: I based my idea on the concept of a papercraft globe I'd once seen that turns 2D sheets of paper into a 3D globe. So, in theory, I should be able to do the same thing using a 2D embroidery. The moment of truth: I hand-sewed up all the unembroidered darts, to (fingers crossed) convert the flat piece into a hemisphere, and…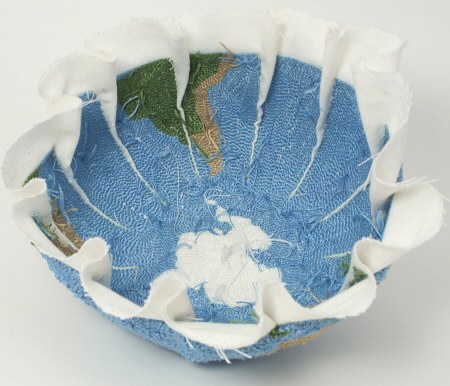 It worked! I now have one very nice hemisphere. Thanks to that extra-dense punching I did, the seams are pretty much invisible from the outside. You'll have to take my word for that, because I'm going to be a little bit mean and only show you the inside of the hemisphere for now – I have to save something for the big reveal once I've punched the other half of the globe…
There's a lot of work left to do to get it finished – the second half should actually take longer than the first: the northern hemisphere has more landmasses, islands, lakes, and general detail that I included in my pattern, so it's going to take a lot longer to punch than the (mostly blue) southern hemisphere.
But I've found something to make my punchneedle go much more quickly from now on! This is a punchneedle spooler: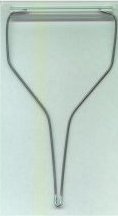 Spooler for Cameo punchneedle (image courtesy of The Punchneedle Marketplace)
It sits in the top end of the punchneedle. You wind your floss onto the spool and can punch for the entire length of a skein instead of having to rethread the needle every metre or so (the floss can easily get tangled or trapped with a length much longer than that). And, with a 2-step threading process, that's a significant time saving – I think it took me almost as long to thread the needle as it did to use one length of floss!
Slight problem though: punchneedle supplies are pretty scarce these days… I don't know of any Canadian suppliers of this attachment, and I knew it would cost a lot in shipping to import one from the Punchneedle Marketplace. So what's a crafty girl to do? Get crafty!
Here's my homemade punchneedle spooler: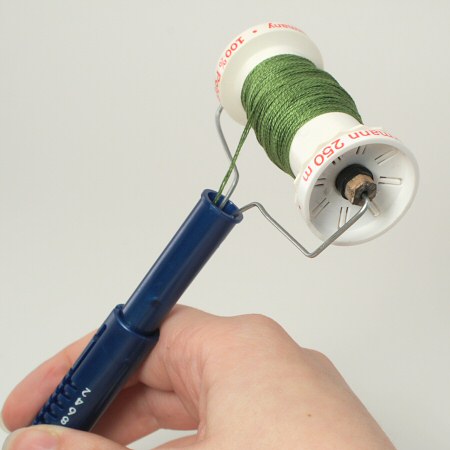 Prototype punchneedle spooler
The wire is just heavy floral wire, bent into shape with pliers. It works okay, but I'd like to get some stiffer wire to replace this, now that I know my concept is sound – I don't think the floral wire will last forever.
The spool is just an empty spool from regular sewing thread.
I used my Dremel with a cutting disc to cut the pointy end off an IKEA pencil (which fits nicely inside the spool).
I hollowed out the graphite from both ends of the pencil with a Dremel drill bit, so that the ends of the wire can slip inside the pencil.
The black rubber bands are mini hair elastics. I found that, without those, the spool clicks back and forth against each end of the wire with each punch, and that noise gets very annoying very quickly!
The spool rotates freely on the pencil, so more floss is fed to the needle every time I make a stitch. Isn't it great to be crafty?! It's all made with supplies I had on hand, and it works brilliantly!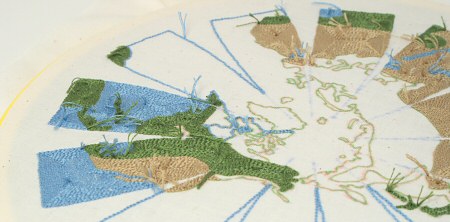 Starting the Northern Hemisphere
Thanks in part to my new spooler, my Northern Hemisphere is coming along much more quickly – I wonder if I'll be able to finish the whole globe over the Christmas holiday…