I hadn't planned to do a Christmas pattern this year, as I have so many already and it's getting more and more difficult each year to think of something original! I've had the idea of a set of tree decorations kicking about in the back of my mind for a couple of years now, but it suddenly coalesced into a real design idea a few weeks ago, and this is the result: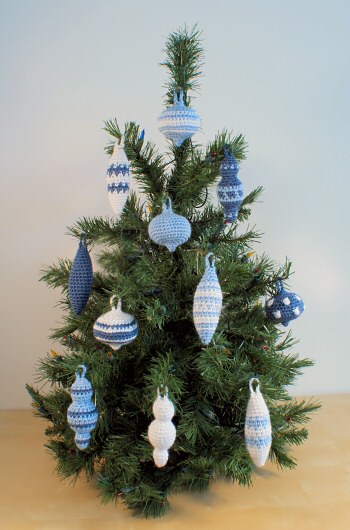 Christmas Baubles! My pattern includes 9 complete designs (3 plain baubles and 6 different patterned designs) that you can make in your favourite seasonal colour scheme, using 2 or more colours. I used white plus 2 shades of blue for mine; you could do a colour scheme as simple as traditional red and white, or brighten up your room while you use up your yarn scraps by making each ornament in a different colour scheme.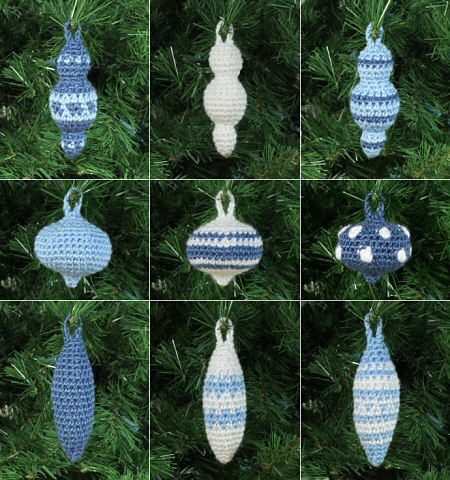 By switching around the main and contrast colours in each design, you can create 18 different ornaments using only 2 colours of yarn. If you add a third shade (as I have for my samples), you can make 45 different ornaments! And (if I've added this up correctly) if you used 4 colours, you could make a mind-blowing 84 different ornaments with no repeats – wow!

I've also included instructions on crocheting them all into a garland like this – wouldn't that look great along the mantelpiece?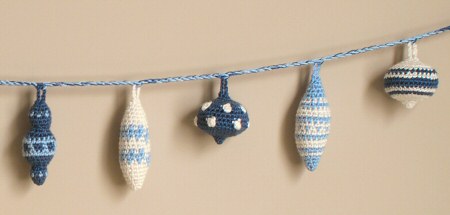 I hope you like my bauble collection! It's up in the shop now at an introductory price.
So tell me… what colour(s) would you make them in?