Punchneedle Globe menu:
I wasn't feeling great last weekend so I treated myself to a day resting on the sofa, working on my punchneedle globe project. And I've finally made some serious progress: I've finished the southern hemisphere! I thought for a while I'd never reach this point – I finished the land masses months ago, but there's just so much ocean below the equator (i.e. blue, blue, and more blue – so boring!). Here's where it was last time you saw it: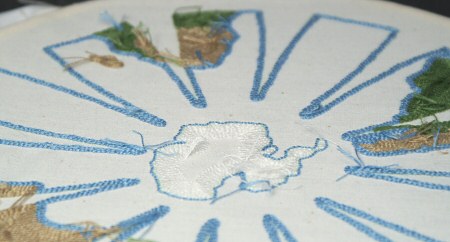 And now: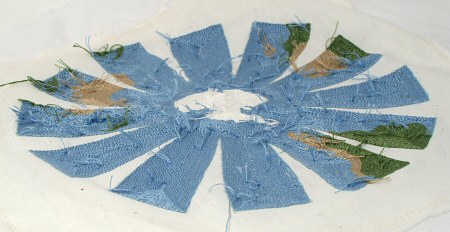 The back
You can see how close I made my stitches – in punchneedle there are supposed to be gaps between the rows of stitches, but I intentionally covered the entire surface with stitches so there'd be too many loops on the front. By the way, I always keep those straggly ends long and then clip them at the end, but they aren't going to show, so I don't think I'll bother clipping them (I'm such a rebel!)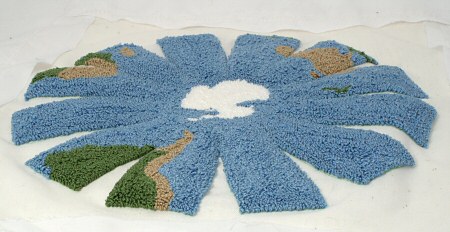 The front
Ooooh… I think this just might work!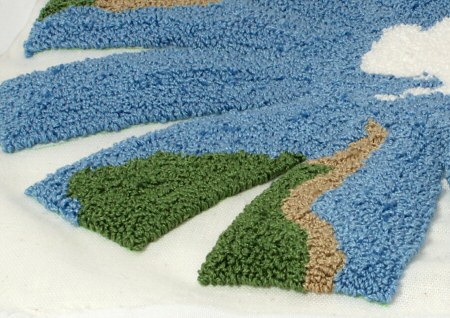 Close-up
It looks like my over-dense punching strategy is going to work – see how the piece wants to curl under at the edges already? The excess of loops on the front means that the front surface wants to be larger than the back, making it curl. It should mean that when I stitch up the globe, there won't be any visible bald patches between loops, even when it's curved into a sphere. Aren't I smart?!
Thoughts I had while I was punching the neverending blue oceans:
I've been using 3 strands of embroidery floss. I wonder, could I have used all 6 strands for the ocean and made my stitches further apart (i.e. less of them), or would the result have looked strange?
File this under "duh": why didn't I dye my fabric blue before I started?! The landmasses would have stuck out realistically from the oceans (the bare blue fabric), and I wouldn't have needed to punch any blue at all!
Of course, now I'm halfway through, I'm committed to the strategy I originally chose, otherwise the two halves wouldn't match when I eventually assemble the entire globe. But I do like that my method means it'll all be smooth and even (and snuggly soft!) all over so I'm okay with that.
Now for the (fingers crossed) magic part: turning the 2D into 3D. My idea is probably self-explanatory; I'm going to stitch up those 'darts' of unembroidered fabric extending into the circle, to (hopefully) turn it into a hemisphere. Stay tuned!