A couple of months ago, I had a Greyhound pattern commission request from a lady who works with The Greyhound Supporters Of The National Capital Region (GSNCR), a not-for-profit charity that works towards facilitating adoptions for retired racing greyhounds in the Ottawa, Ontario region.
This was probably my most challenging AmiDogs design to date – how to make a greyhound that won't fall down? They're just so skinny! My solution was to make him a bit larger than my usual breeds (he's about 8″ long), because there's no way he could support his own weight on long spindly legs, plus can you imagine stuffing a long tiny 5-sc-around tube?! Even with my Detail Stuffing Tool (which I really recommend for all legs and small pieces), it'd just be too fiddly. So here's what I came up with…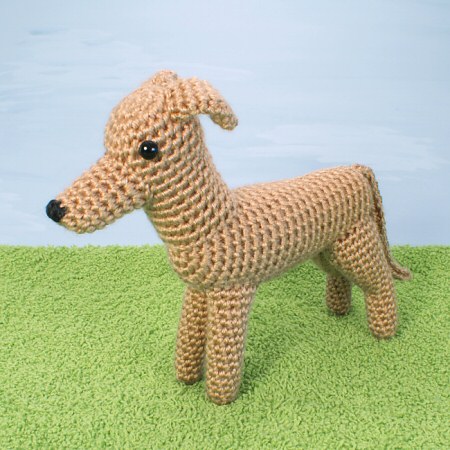 Obviously stylized, like all my AmiDogs breeds, but I hope it clearly says 'Greyhound' (although it could equally well be a Whippet, if you're so inclined…) I kept it all one colour so I could concentrate on getting the shaping right without making the pattern too difficult to follow.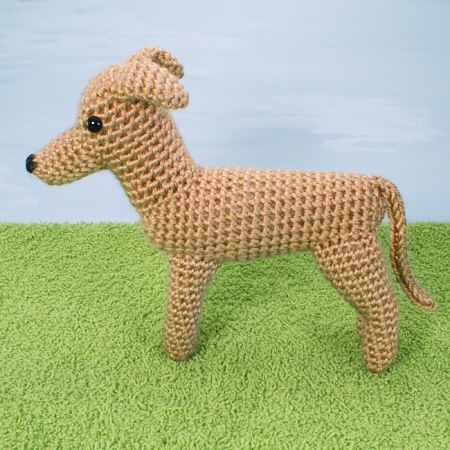 AmiDogs Greyhound takes my AmiDogs collection up to an astounding 17 different breeds – and I'm in no danger of running out of breed ideas any time soon, either… You can buy the pattern from my shop, or, as always, take advantage of the savings when you make up a custom set of any 3 AmiDogs breeds.
So, what do you think of my greyhound?