I'm guessing that not everybody knows that I run a monthly 'Review and Win' contest in my shop. Every review of one of my patterns or other items in the shop is automatically entered, and every month I draw a random winner who gets to pick a free pattern of their choice.
It's really easy to write a review: just go to my shop, find the page of the item you wish to review, click the Reviews tab and click write a review.
The odds of winning are great because, for some reason, I don't get that many reviews each month. Hint hint, please review my products! Some of my poor patterns don't have a single review yet and feel very neglected…
And now for the October 'Review and Win' winner… Crystal V, with her review of my Tunisian Stripe Purse pattern (which you can see in the bottom left corner of the photo below):
I just finished making this purse and absolutely loved this pattern! I have never used the tunisian crochet technique before but learned quickly with the included instructions. My favorite part is that there is no sewing involved. 🙂
Congratulations, Crystal, I'll email you to find out which pattern you'd like as your prize!
And I'm really happy to see that my PlanetJune Accessories patterns (pictured below) are starting to receive some reviews.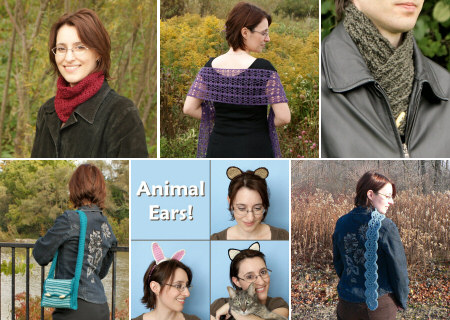 If you'd like to be entered into the November drawing to win a pattern of your choice, it's easy! Just review any item(s) you've bought from me – each review in my shop gives you another entry into the contest. Thank you!