Autumn has always been my favourite season, and it's long been a goal of mine to design leaf patterns to celebrate the changing season and beautiful colours of fall. It's taken forever to get the shape and internal structure right, but I'm so delighted with the result of my first autumn leaf designs – here's the glorious Maple Leaf Collection!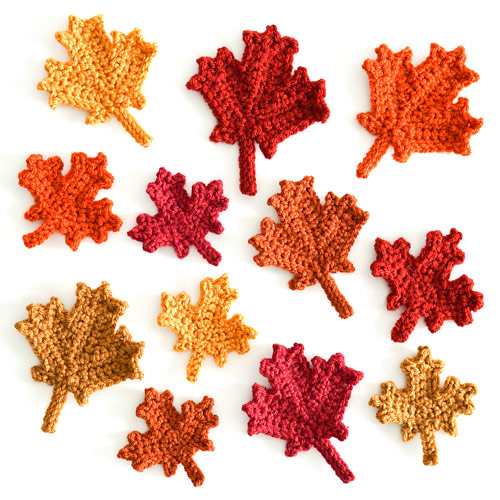 My new Maple Leaf Collection crochet pattern includes realistically shaped and sized leaves in two styles, Large (red leaf, below left) and Small (golden leaf, below right):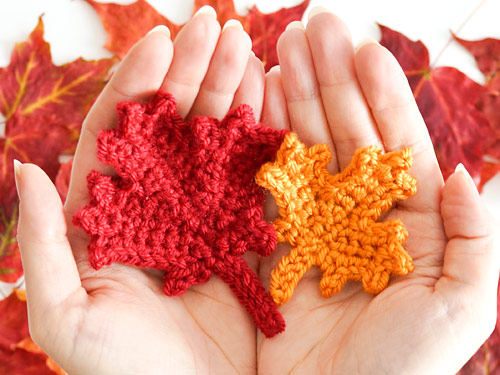 The Small leaf is fast and sweet and easy to complete: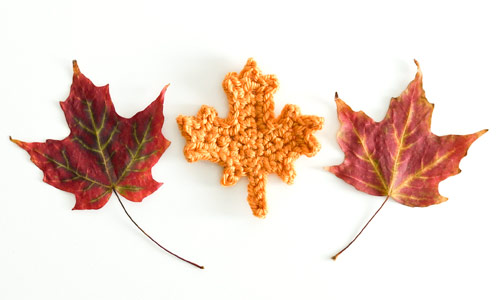 The Large leaf takes slightly longer to make but it has more clearly defined structure and angles (and it looks just like the leaf from the Canadian flag!):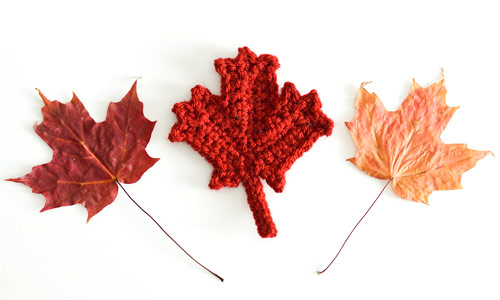 For both leaf styles, I developed techniques to give the perfect shape and structure while using only combinations of the most basic crochet stitches. The Maple Leaf Collection pattern includes:
General instructions with photos to help you understand the construction of the leaves
One easy-to-print single page (per leaf style) including all the written instructions and the complete stitch diagram
Separate appendices for right- and left-handers (including row-by-row photos and stitch diagrams for each leaf, and step-by-step photos for the special combination stitches used)

For me, maple leaves are the epitome of the changing seasons, and you can make them in any shade of red, orange, yellow, brown or green. The more different shades you make, the more realistic your leaves will look. A single leaf takes under 10 yards of yarn, so you can raid your stash and use up those scraps!

These leaves are totally addictive – once you've got up to speed, you'll be able to whip up a perfectly-shaped maple leaf in minutes.

Use a single crocheted maple leaf as an appliqué on a hat or sweater, glue it onto a greetings card, add a pin back and make a maple leaf brooch. Crochet lots of leaves in a variety of colours and scatter them on your mantelpiece or Thanskgiving table, or group them together into a beautiful fall garland or wreath.

And they're just so realistic!

Can't wait to get started? I don't blame you! Click here to pick up the pattern right now 🙂

Or, if you're not ready to get started just yet, add the Maple Leaf Collection to your Ravelry queue or favourites so you don't forget about it:

---

And I hope you'll be joining us in the PlanetJune Ravelry group for our Fall CAL?

The new maple leaves will be the perfect addition to my pine cones, pumpkins, acorns, mushrooms and other Fall bounty crochet patterns, don't you think?

I can't wait to see the warm colours of autumn reflected in our decorative crochet this season, so please add your photos to our CAL gallery – especially your maple leaves!