The BotaniCAL crochet-along ran from May throughout the summer, and we've ended up with so many gorgeous crocheted potted plants, and a few lovely flowers and fruit etc too! My cactus and succulent patterns were by far the most popular options – I'm happy to say that the succulent trend is showing no sign of fading. 🙂
Highlights
All the entries are highlight-worthy, but I thought I'd share the impressive achievements of some of the most prolific CALers: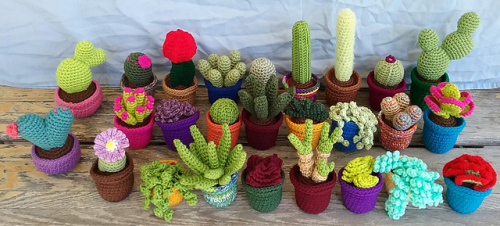 Monica (MagicalAmigurumi) made all 26 of my individual cacti and succulents – wow! (I bet making the pots got a bit boring by the end…) I hope they're selling well for you, Monica 🙂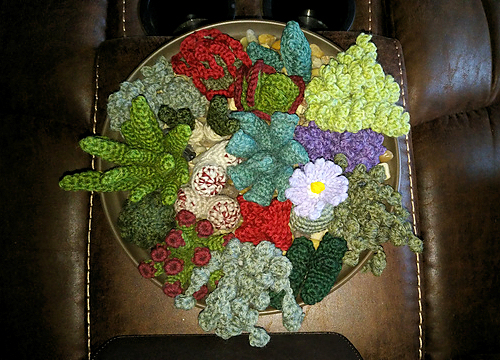 Dagrider made a massive succulent planter including all 16 succulents! Don't they look so realistic, all together like that?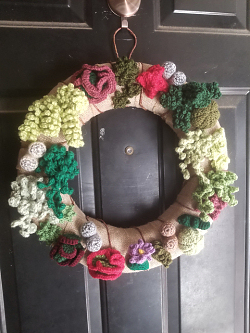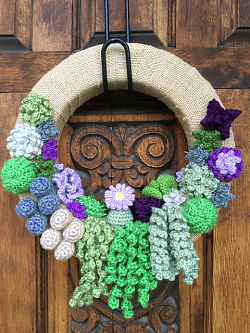 Alicia (aaBrink, left) and Susanna (sujavo, right) both made fabulous succulent wreaths. I love how they took the same concept and ended up with completely different (and equally lovely!) results, by choosing different colour palettes and arrangements for their succulents.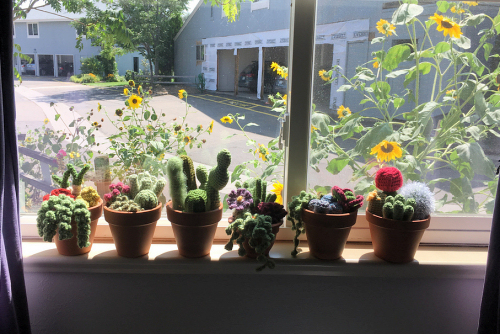 And Judy (jukatca) made all 6 cactus and succulent gardens. 'Planted' in real pots and sitting on her windowsill, don't they look great?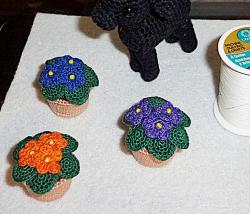 And last but not least (except in size), Michelle (MichelleBogart) loves to make miniature amigurumi with a tiny hook and crochet thread – just look at her mini Pansies and African Violets (with a spool of sewing thread for scale)! Now that's impressive.
---
Enjoy the BotaniCAL Gallery
I've really enjoyed watching all the plants popping up in this CAL and seeing the creativity in terms of colours, arrangements, scale, etc – there's obviously a lot you can do with a crocheted pot plant pattern!
Thank you so much to everyone who participated – you can enjoy the full BotaniCAL gallery of projects here on Ravelry 🙂
BotaniCAL participants
, it's not too late to add your missing projects:
Make a Ravelry project for your item
Mark it as finished
Add a photo
Add the CAL tag PJCALMay18
(see the CAL FAQ for instructions on how to do those things)
…and your project will automatically appear in the BotaniCAL gallery!
---
Pick up a Plant Pattern
The CAL may be over, but you can crochet your own PlanetJune potted plants whenever you want! Here are a few links:
---
Join Us!
If this looks like fun, the next PlanetJune CAL will be starting shortly and we'd love to welcome you as a participant! PlanetJune crochet-alongs are a low stress way to try PlanetJune patterns as part of our friendly encouraging online community. There are usually small and/or free pattern options if you're short on time or money, and we'll offer you any help and encouragement you need, no matter your crochet skill level!
Join us in the PlanetJune Ravelry group and look out for the next CAL announcement there, coming soon 🙂