I've been enjoying my extreme amigurumi experiments (more to come on that subject later…) but I thought, for completeness, I should also try using my massive 25mm (1 inch) crochet hook in the way it was intended!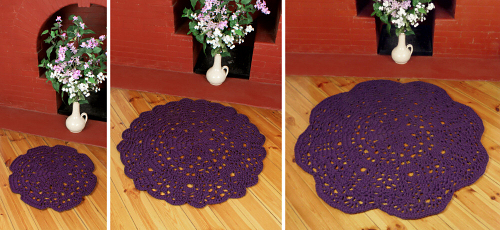 My Chunky Elegance Rug Trio pattern was designed to be crocheted with an N US/10mm hook and two strands of bulky yarn (#5) or a single strand of super bulky (#6). How would it fare on a super-sized scale?
I decided to try to make the small rug from my pattern (above, left) – the size of the original is only 20″ (50cm) in diameter.
Experiment 1: Jumbo Yarn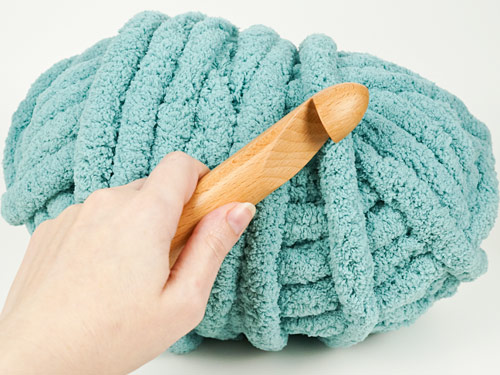 Jumbo (#7) is the recommended yarn size for a hook this large. The term "jumbo yarn" currently covers anything heavier than a super bulky, and some recommend a much smaller 19mm hook instead of my 25mm. I only had one ball of Bernat Blanket Big yarn, so I knew I wouldn't be able to make a complete rug from it, but it'd be enough of a sample to do some calculations and see how a rug made from jumbo yarn would look…
I didn't get too far; 300g of my jumbo yarn only works out as 32 yards (29m), and that's not much when one double crochet stitch is 4″ tall! I'd completed Rnd 2 and got halfway through Rnd 3 when my yarn ran out, but this gave me plenty of data.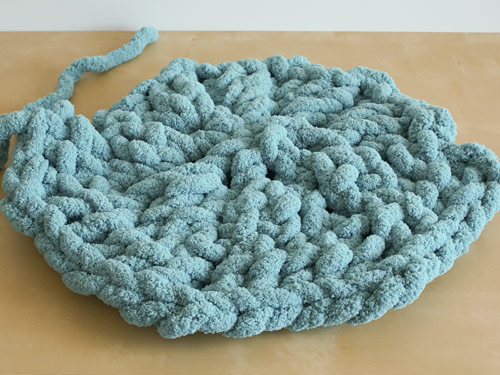 The partial rug was soft, thick and squishy – I think it'd make a lovely rug (although I suspect the chenille-style yarn would flatten down like a plush carpet does with time and use).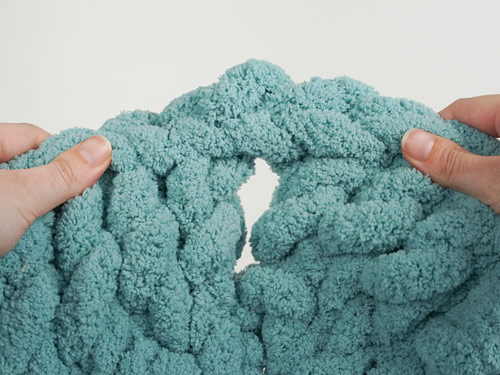 Based on my sample, completing the small rug from the trio would need 13 balls of yarn, and the finished rug would be 66″ (1.7m) diameter.
(The large rug from the same pattern would take around 40 balls of yarn and would be twice that size!)
Experiment 2: Three Strands of Super Bulky Yarn
From my Extreme Whale experiments, I know that 6 strands of the super bulky (#6) Bernat Blanket yarn is roughly equivalent to a single strand of Bernat Blanket Big. I tested my hook with fewer strands and discovered that 3 strands of super bulky looks pretty good with my giant hook.
For this experiment, I tried to find 3 cakes of Bernat Blanket Stripes that all started in the same position in the colourway, so I could hold all three cakes together at once and they'd all change colour at about the same time.
I modified the first round by replacing half the double crochet stitches with chains, as cramming all those dcs into a ring with such huge yarn made a bit of a bump in the middle, and then I followed the pattern as written from Rnd 2.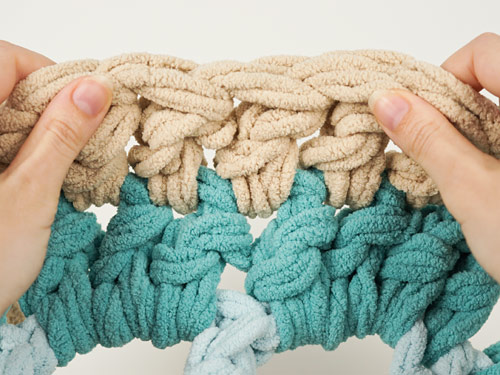 My stitches were nicely defined, and one double crochet stitch measured about 2.5″ tall – still pretty huge!
Then, after a few rounds, I could see that I had a major problem: as my yarn is much finer – compared with the hook – than intended for this pattern, my rug was starting to ruffle instead of lying flat. Disaster!
Usually, you'd fix a problem like this by switching to a smaller crochet hook, but my next largest hook was less than half the size, plus the whole point was to use my extreme hook, so I had to try something else. By pinching up the excess fabric until the rug would lie flat, I saw that I could fix the problem by restarting my rug with only 6 repeats instead of 8. Doing this does change the look of the pattern slightly, but that's infinitely better than a rug that won't lie flat…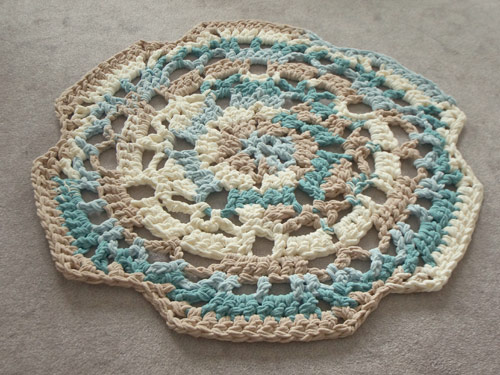 It took just under 4 balls of yarn (1132g) to complete the 'small' rug like this, which works out as a total of 830yds (760m) of yarn, held tripled.
And the finished size is 48″ (122cm) in diameter – almost 2.5 times the size of the original small rug!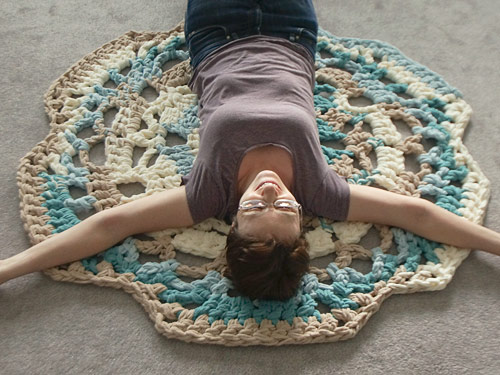 I was a bit worried that, with the variegated yarn, the colours might all pool together in clumps, but they seem to have spaced themselves out quite nicely around the rug.
It's large enough to use as a throw over the back of my futon (and I think it looks quite good like this!)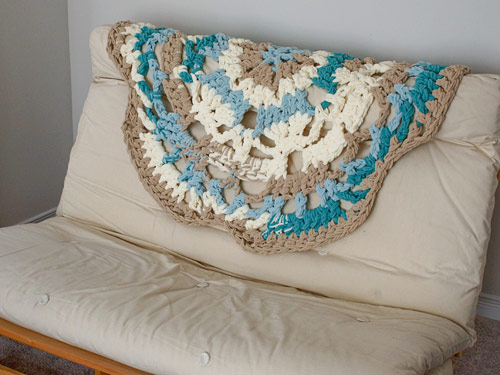 I calculated how much more yarn I'd need to continue with the pattern and make the large size rug: a total of 13 cakes of yarn (300g each), and the finished rug would weigh 3.8kg (8lbs) and measure 8ft (2.4m) in diameter!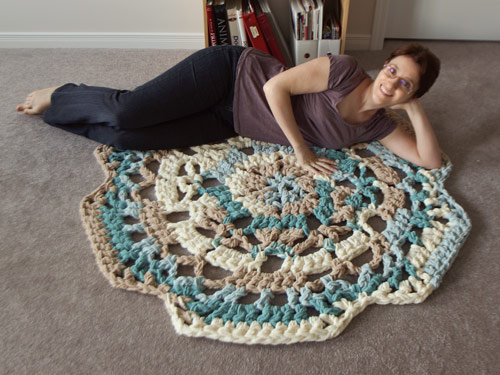 On balance, I think I'll stick with my 'small' rug – it's big enough for me 😉
I really enjoyed making this project! It works up so quickly when you use a big hook and yarn, and that's very satisfying. Making a 4-foot rug with only 11 rounds of crochet is amazingly quick.
Wrangling the three balls of yarn was the hardest part. If you want to try extreme crochet with multiple strands of yarn, I think the key is to have plenty of space to set all your yarn out, so it doesn't tangle, and pulling the yarn end from the centre of each ball (so they don't roll around as you crochet). Or (probably a better idea): use the right size of yarn for your hook to begin with, so you don't have to hold multiple strands together!