Are you ready for a pattern that'll give you a spectacular result thanks to some clever new techniques and tricks? In that case, I think you'll love my new design: the Owl Collection: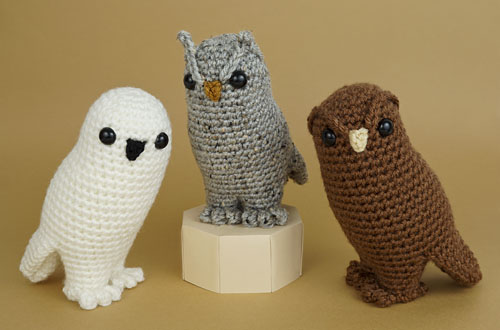 Owl Collection is a clever low-sew design: the head, body, legs and wings are all crocheted as one piece, giving you an elegant bird silhouette with the perfect owl posture and an effortlessly smooth result! This concept has been over a year in the making, and I hope you'll agree it was worth the wait…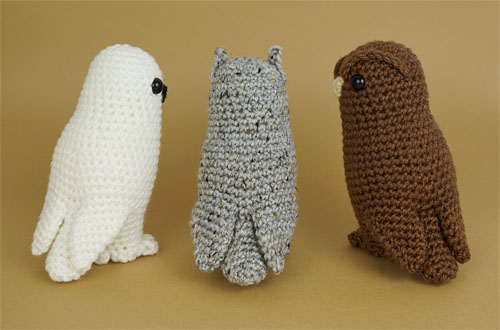 About the Designs
Fun Fact: Owls' eyes are fixed in their sockets, so they have to turn their entire head to look in a different direction!
I've used that fact in my design to let you choose any direction for your owl's head to be facing: to the left, right, or straight ahead. Don't you think a pair of matching owls, facing in opposite directions, would make a lovely bookcase or mantelpiece ornament?
I've designed the pattern to give you endless options: by varying the colours, the direction the head is looking, and the facial embellishments, you can make your own customised owls! Although I used black eyes for my sample owls – it fits better with the PlanetJune style – you can use coloured eyes (try any shade of orange or yellow) to give yours an unblinking owlish stare.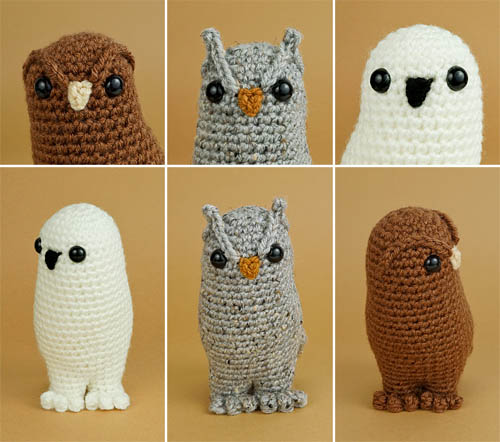 Make them to match a real breed of owl, or more cartoony with brighter colours and oversized eyes – it's up to you. My samples are loosely based on real types of owls, and you can switch out the colours or add more detail if you want to represent a specific species more closely. A flecked yarn (for example I used Lion Brand Vanna's Choice in Grey Marble for my grey owl) is an easy way to give a realistic mottled result.
Fun Fact: Owls are divided into two families: Strigidae (typical owls) and Tytonidae (barn owls). With this pattern, you can choose appropriate colours to make any of the typical (true) owls.
Note: I'd love to design a barn owl too, but to make it look right it'd need lots of colour changes and special shaping to make the distinctive heart-shaped face, so that's a challenge I'll have to save for some future point in time!
Here are a few examples to get you started, if you want to base your owls on real species:
Round head (my white owl): e.g. Snowy Owl, Fishing Owl, Hawk Owl
Facial disks or 'eyebrows' (my brown owl): e.g. Tawny Owl, Wood Owl, Little Owl
Ear tufts or 'horns' (my grey owl): e.g. Horned Owl, Eagle Owl, Scops Owl
About the Pattern
This pattern includes several new techniques and tricks, but you can rest assured that I'll walk you through each stage with clear explanations and a massive 45 step-by-step photos. But please don't be intimidated – once you've made one owl, you'll understand how the construction works and it'll be fast and easy to make more owls!
As all these photos make for a long, photo-heavy pattern, with several photos on every page, I've also reformatted just the written crochet instructions (without the photos, notes or assembly instructions) as an Appendix to the patten. If you like to work from a printout while you crochet, you can save paper and ink by printing just the 4 text-only pages of the Appendix, and referring to the full pattern onscreen if/when you need to look at the photos.
Buy Now & Launch Discount
Ready to get owling? You can pick up the entire Owl Collection from my shop right now for only $7.50!
If you're not ready to buy just yet (or even if you are!), please remember to heart and queue it on Ravelry:
But let's make that deal even better: for one week only, you can buy the Owl Collection for the extra-special low price of $7. To take advantage of this deal, add the Owl Collection to your shopping cart, and enter the discount code HEDWIG at checkout! (Offer ends Thursday 29 June, 2017.)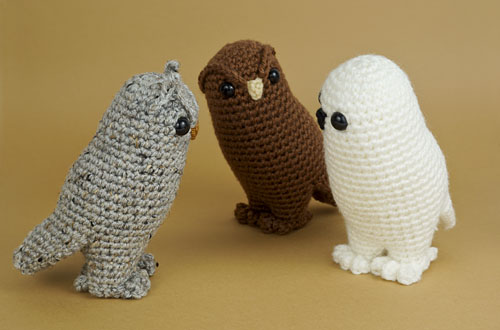 Wings & Things Crochet-Along
And, from today until the end of August, join us in the PlanetJune Ravelry group for the summer CAL, where you can make and share any PlanetJune designs with wings (all kinds of birds, winged dinosaurs, fruit bat, dragonfly, pegasus…) – including the new Owls, of course!
I hope you'll share your projects with us there – I'd love to see them…