I was planning to use my Maple Leaf pattern as the basis for a crocheted Canadian flag in time for next Canada Day, but, well, I couldn't wait that long, so here it is!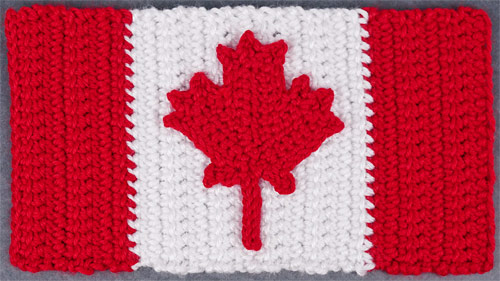 I designed my flag background to exactly fit the large Maple Leaf pattern as part of a perfectly proportioned Canadian flag.
It's made with linked stitches so the background is smooth and has no holes, and you can either stitch or glue the Maple Leaf in place. It works up as about 9.5″ (24cm) wide by 4.75″ (12cm) tall using worsted weight yarn, but you can resize both leaf and flag if you want to make a larger or smaller flag.
The flag is perfect to hang as decoration as it is, or you can also use it as a component, for example:
Make several flags and string them together into bunting or a garland
Make a second single-coloured flag and crochet the two together around the edges, adding stuffing before you close the last side, to make a mini decorative pillow
Combine multiple flags, offset between single-coloured flag-shaped rectangles, into an afghan, cushion cover, or anything else you want to make!
And here's the best news: the Canadian Flag (Background) pattern is now an absolutely free bonus PDF with the purchase of the Maple Leaf Collection pattern! (If you've already bought the Maple Leaf Collection, log back into your PlanetJune account and you'll see the new PDF file available in your order for you to download too.)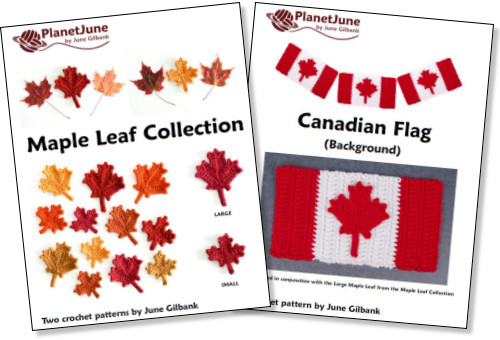 If you haven't bought it yet, you can pick up the Maple Leaf Collection (with free bonus Canadian Flag) pattern from my shop here 🙂
If you don't have a Canadian connection, the maple leaves (in autumnal shades) make perfect Thanksgiving decorations.
And, if you are Canadian, I hope you'll enjoy the bonus flag pattern too!