As part of the new-and-improved Commissions process, I've added a 2-week exclusivity period for all new commissions, so, if you didn't pledge towards the capy, you may have been waiting (im)patiently for this announcement: the Capybara crochet pattern is finally available to purchase!
I'll definitely be giving early access to all commissioned patterns in future – it's a nice extra reward to those who choose to pledge towards my pattern commissions, and it's fun seeing projects pop up on Ravelry before the pattern is even officially available 🙂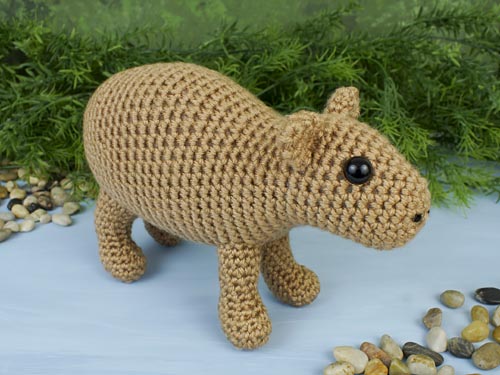 Capybara Fun Facts
The Capybara is the largest rodent in the world, and can reach up to 150lbs in weight.
Its closest relative is the guinea pig.
Capybara come from South America and their Latin name Hydrochoerus hydrochaeris means 'Water Pig'.
They are semiaquatic herbivores and live in environments that include both forest and rivers, lakes or swamps.
They have slightly webbed feet, and eat, swim and even sleep partially submerged in water!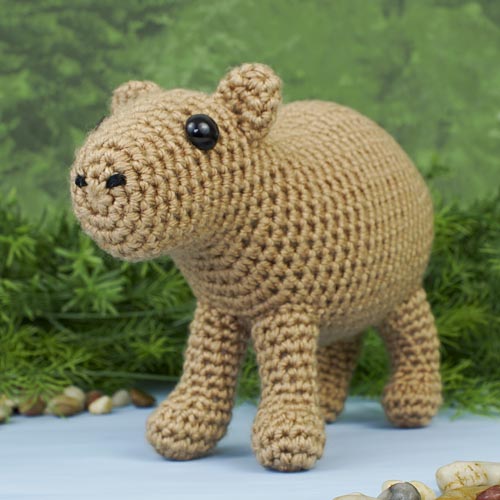 About the Pattern
The Capyabara pattern is nice and chunky, at about 8″ (20cm) long. Despite the size, he's pretty quick to crochet: he's made in a single colour; his head and body are crocheted as one piece, and capys don't have tails! He has magical shaping built in, and the perfect snooty Capybara nose.
As always, the pattern includes full instructions and plenty of step-by-step assembly photos so you can make a perfect Capybara of your own!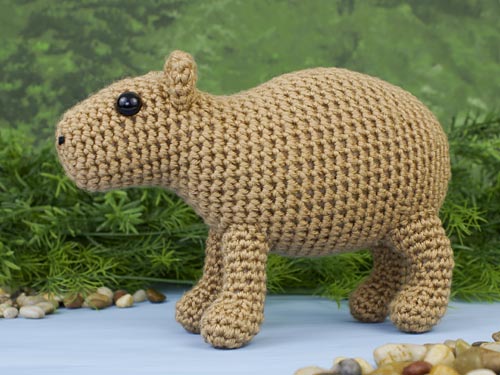 Ready to Crochet?
If you were one of the Capybara commissioners, I hope you've been enjoying your early access to the pattern over the past few weeks!
If you've been waiting for the capy pattern, you can pick it up from my shop right now – and then join our Sight-C-ing CrochetAlong (making anything that starts with the letter 'C'!) in the PlanetJune Ravelry group 🙂
Or, if you're not ready to buy just yet, please add my Capybara to your queue or favourites on Ravelry, so you don't forget about it:
I hope you'll enjoy my Capy pattern! It was a fun one to design, especially with that very distinctive body shape 🙂