A long weekend makes the perfect opportunity to start a new craft project. I've been dying to do something with the alpaca fleece I bought from my Alpaca Loom trip a couple of weeks ago, and I thought a suitable first project would be to try needlefelting an alpaca (fibre) Alpaca (animal) – and I'm so happy with how it turned out!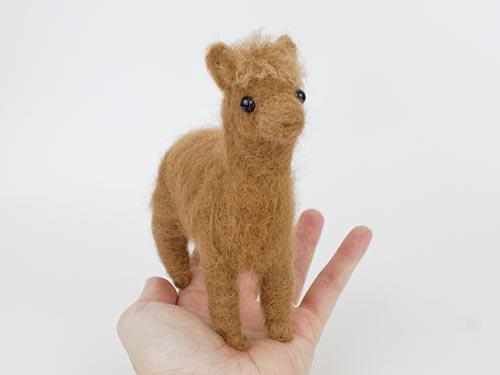 I've needlefelted only once before, and reading my previous blog post, I see that was almost exactly 9 years ago(!), so I think that qualifies me as an absolute beginner again…
If you'd like to try needlefelting (particularly to make animals), I recommend the video tutorials at Sarafina Fiber Art. After watching a few hours of those, I felt ready to jump in and just learn by doing. My fleece was a lot shorter than the roving Sara uses, so my learning curve was a bit steeper than I was expecting, but I got there in the end. And, after maybe 5 hours of very slow but enjoyable progress, here's what I ended up with: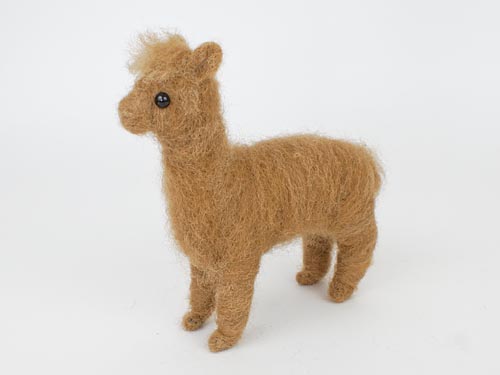 I started with a pipe cleaner armature for stability and used animal eyes (without the backs), but everything else is pure alpaca fleece. I tried to loosely attach a top layer to make it look more fuzzy, and added a little fluffy topknot as a finishing touch.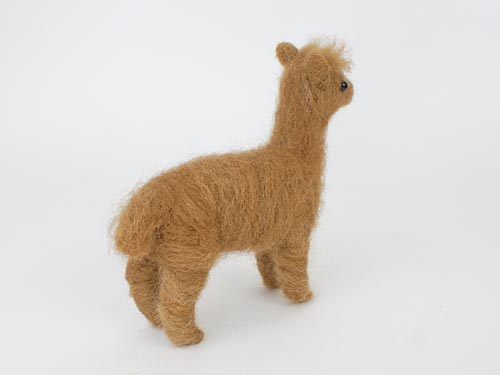 I'm very much still a beginner, but it's so satisfying to see the animal slowly start to take shape, and there's something extra-special about knowing you're making an animal sculpture from that animal's own fibre.
I only used a tiny fraction of my fleece, and I can already see I'm going to making more needlefelted animals, when I have time. (I also have some acrylic needlefelting fibre – thanks Alison! – that I've been scared to waste, so I'm looking forward to trying some more colourful animal sculptures once I've built a bit more confidence with the basic shaping techniques.)
It's very freeing to make things in a different way from my usual crochet, where I can build up layers if it's not quite right, and not have to worry about how to explain what I did to anyone. It's good to have a new hobby 🙂
Have you ever tried needlefelting? Isn't it fun?