My first thought after seeing my Baby Sea Turtle Appliqué was to wonder how it would look in crochet thread, so I decided to find out!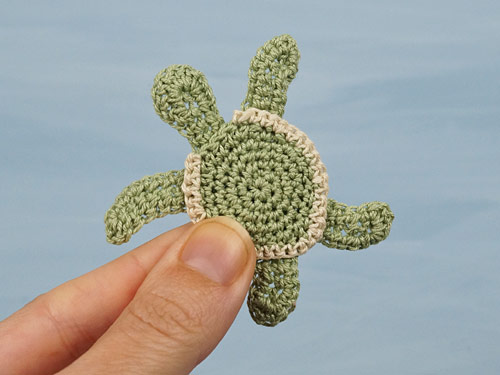 I tried a few thread/hook combinations but my favourite ended up being size 10 thread and a size 7 US / 1.5mm steel hook. This size is not ridiculously small, so it's not too difficult to crochet, but it's still fine enough to give a satisfyingly petite and lovely baby turtle for an embellishment!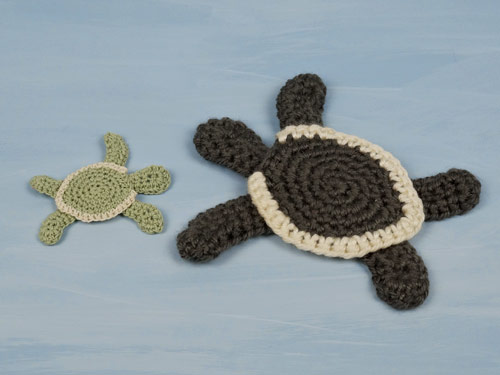 My thread sea turtle applique is only 2.25″ (5.5cm) long and it looks so good in crochet cotton! The pattern works really well scaled down like this, provided you have a fine enough needle (with a large enough eye) to weave in the thread ends. (The clever simple assembly technique from the pattern works perfectly too, in case you were wondering!)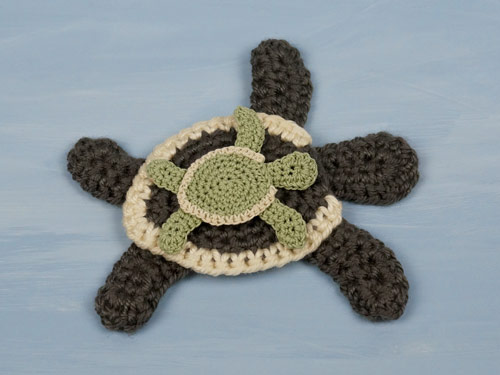 It's a perfect miniature!
Seeing how cute this tiny baby turtle turned out, I'm tempted to buy a denim jacket and have turtles 'swimming' up one side… A crochet thread appliqué would pair perfectly with denim, and it could go through the wash with no problems. What do you think? Should I do it?!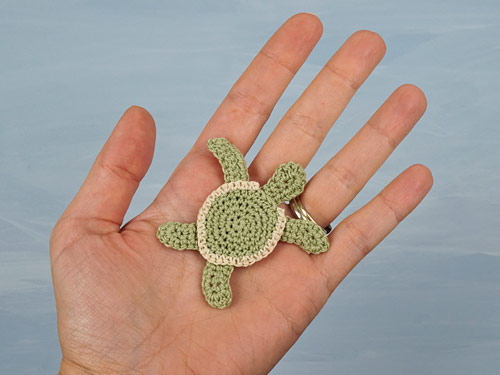 ---
PlanetJune Appliqués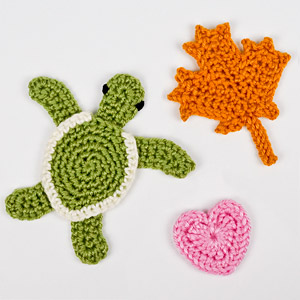 I've been developing my own style of appliqué, neither worked in rows (I don't like that horizontal stripy look) or rounds (I dislike the look of that too, e.g. a leaf that has a big circle in the middle with the points of the leaf formed around it).
In my style, the design builds out from a base crocheted 'skeleton', which gives the finished pieces a more uniform look, without the visual distraction of rows or circles breaking up the shape.
I realised that I've accidentally built quite a library of appliqués already – especially if you include the flowers of some of my potted plants that could double as appliqués, like my pansy pins.

In case you're specifically looking for crochet appliqué patterns, I've added an Appliqués category to the PlanetJune shop, so you can browse more easily.
And you can expect more flat designs like these in future! (Do let me know if you have any requests…)