My latest commissioned design – Red Panda – is ready at last! I'd like to thank my commissioners for their patience when unforeseen personal circumstances meant I couldn't complete the pattern writing as quickly as I'd hoped to. I hope you'll think the end result was worth the wait…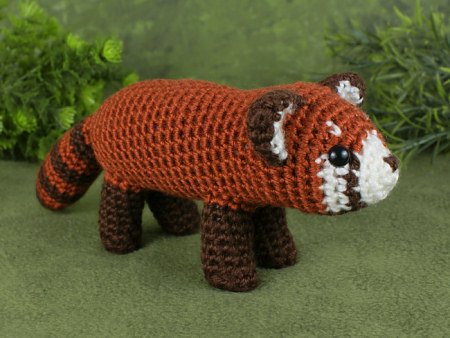 Red Panda Fun Facts
Red Pandas live in mountainous regions of China and the Himalayas.

Like their Giant Panda namesakes, Red Pandas primarily eat bamboo.
Red Pandas are more closely related to Raccoons than to Giant Pandas!
Red Pandas are about the same size as a large domestic cat.
Their thick fur and bushy tails help to protect them from the cold.
Real red pandas have at least 6 colours (white, cream, light red, dark red, brown and black) but I've intentionally simplified the colours to use only the bare minimum of three – the fewest I could get away with! Of course, you can also substitute black and a paler orange/red for some of the brown and red areas, just as you're welcome to modify any of my designs to add extra details or personalise your creations.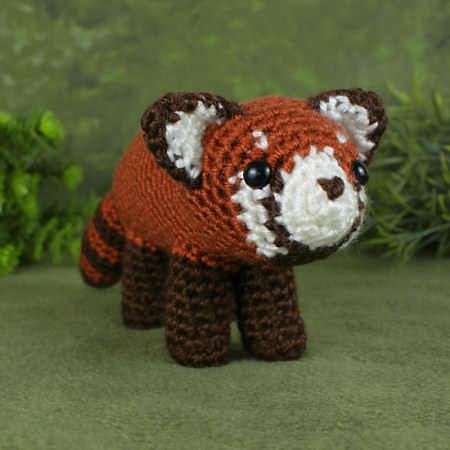 I think my design gives you the best of both worlds – the distinctive look of an adorable red panda without too much colour changing; I've limited the detailed colour changes to 6 rounds that make the all-important face patterning – it's not a red panda without those face colours!
Once you've finished those, you should be able to fly through the rest of the crocheting and enjoy the clever leg construction and overall shaping. I opted to make my panda nice and chunky to imply the fluffiness without needing to brush him, but of course you can make yours extra-fluffy by brushing the tail, or the entire panda, if you like.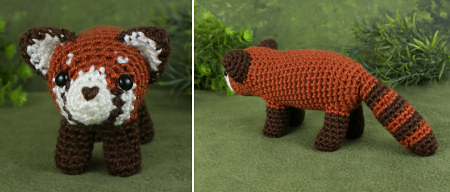 A tip for finding a good shade of red yarn: I spent weeks looking at photos of red pandas in preparation for my design, and I've realised that they come in all different shades from pale to dark, and from very red to orange to almost tan or brown. So don't worry about finding a yarn to match the shade I used; you can make a red panda in any natural-looking shade of red, orange, rust, or reddish-brown you can find and it'll be recognisable and realistic – and lovely!
I hope you'll enjoy my latest pattern! Are you ready to get started on your Red Panda? If so, you can pick up the Red Panda amigurumi crochet pattern right now from my shop. Or, if you're not quite ready to buy, why not favourite/queue it on Ravelry so you don't forget about it?