A Personal Note
I'm not telling you my current woe-is-me story to ask for sympathy (not that it wouldn't be welcome!) but to explain what's going on with PlanetJune, why I'm so quiet lately, why I've fallen behind with my design commissions, and why the situation should be improving very soon!
Last week, we suffered a burst pipe leaking through an electrical outlet at home, which threw off my plans for the whole week while the house was filled with first water (well, a flooded kitchen) and then plumbers and electricians, and we had no hot water, shower or stove for the best part of a week.
This couldn't have come at a worse time, as I now have only one week left on my visa and it's going to be a mad scramble for the finish to apply for the new one in time. All this stress and worry is affecting me badly, with crippling tension headaches, eczema, and insomnia.
My Red Panda design was actually finished a couple of weeks ago, but I can't muster the focus I need to complete the pattern to the PlanetJune level of detail and clarity, so the only option I have is to delay – a sub-standard pattern is not an option!
I've decided to stop trying to work on the Red Panda until the immigration stuff is out of the way – the added pressure just makes me feel even worse, and I'm really not making any progress on the pattern. Instead, I'm working on several simpler patterns, and making gradual progress on some longer-term design ideas, so there will be more good stuff coming 🙂
And, once the visa applications are in, I won't have to do anything else except wait, so I should be able to rest and rejuvenate very soon and then get back to business as usual – and a lovely Red Panda pattern! In the meantime, thank you so much for your continued patience.
Review and Win contest
May's 'Review and Win' winner is Kathryn P, with her review of my Baby Cephalopods: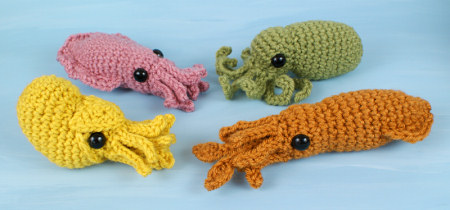 I love how quick these work up! I made all four in an evening while watching tv, and they are so cute! Patterns are straightforward and do not require sewing together a crazy number of pieces, plus the end product is cute and realistic. I definitely recommend this set!
Congrats, Kathryn – I'll email you to find out which pattern you'd like as your prize 🙂
Reptiles & Amphibians CAL
The June CAL is an extended 6-week CAL to take us through to mid-July and give you plenty of time to complete one or more patterns. The Reptiles & Amphibians theme includes all my dinosaur, lizard, turtle and frog designs: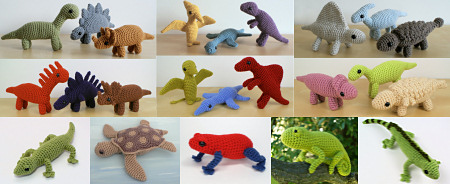 For easy browsing, you can find all these patterns in one place in my shop by clicking this special link: all PlanetJune Reptile & Amphibian patterns.
Please join us in the PlanetJune group on Ravelry for this 6-week CAL – I think it's going to be a colourful one!