I'm updating my entire back catalogue of patterns with extra information and tips and a new space-saving layout, and re-releasing them in batches as they are ready. Please see the Pattern Re-Release FAQ for more information.
Today I have another new batch of re-releases for you. This batch includes 11 amigurumi patterns with no theme, as these are all the remaining miscellaneous patterns. It might be easier to tell you what this batch doesn't include: as of this batch, all PlanetJune crochet patterns have been updated except for 2 categories: PlanetJune Accessories and the Fuzzy patterns (including Ice Cream Bear).
All these crochet patterns are now updated and re-released: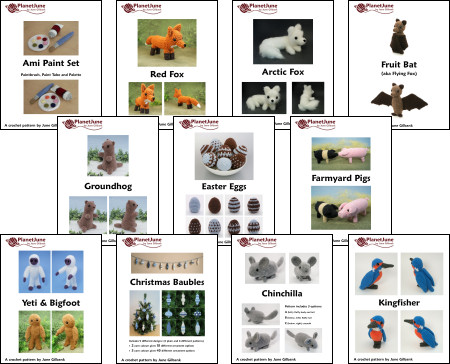 Ami Paint Set, Red Fox, Arctic Fox, Fruit Bat, Groundhog, Easter Eggs, Farmyard Pigs, Yeti & Bigfoot, Christmas Baubles, Chinchilla, Kingfisher
If you've previously purchased any of these patterns, the update(s) are now ready for you to download in the new format!
Log back into your PlanetJune account at any time in the next 2 weeks and you'll see the download buttons for these purchases have been re-enabled, so you can click and download the new versions.
If you have lots of past orders in your PlanetJune account, you don't have to hunt for the right ones; just follow these simple steps:
In your PlanetJune account, click Show All Orders.
At the top of that page, click to the list of all your past purchases.
Find the pattern name in the alphabetical list.
Click the order number to go directly to that order.
Re-save your pattern 🙂
---
If you have any questions about the pattern reformat project, or you received the patterns through a different mechanism (and so don't have an order for them in the PlanetJune shop) but you'd still like the new versions, check the Pattern Re-Release FAQ for more information.
(There'll be more pattern re-releases coming soon – if you'd like to get an email notification each time a new batch is ready, sign up for the Crochet Pattern Updates mailing list.)