This is one of those ideas that came to me on a whim and then I couldn't possibly not make it! There are flocks of wild guinea fowl around Cape Town, and I see, or at least hear, them several times a week. It's hilarious to watch a group of empty-headed guinea fowl following each other around, especially when one starts to run and they all follow, bobbing along at surprising speed!
Guinea fowl have beautiful spotted feathers, a plump, shapely body, and a colourful featherless face – the perfect combination of eye-catching colouring and exaggerated appearance to form a bold, stylized design:
Inspiration
I didn't think a bird with such detailed markings would be something I could reproduce for a crochet pattern, but then I saw the colourful, stylized guinea fowl designs on ceramics by local artist Dragana Jevtovic. It suddenly occurred to me that I could use a similar concept in my own work, by also representing the tiny guinea fowl spots on a larger scale. With that thought, an impossibly detailed surface pattern became perfect for amigurumi. This could be the start of new explorations of colour and pattern for me; I'm so happy with the eye-catching result of this first design!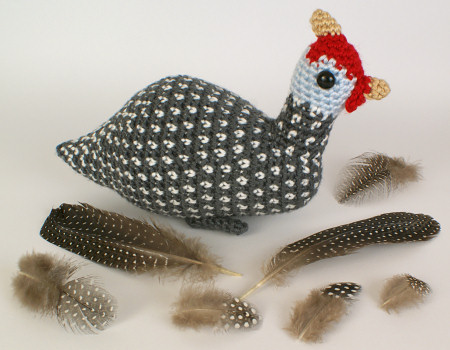 I like to pick up guinea fowl feathers when I see nice ones like these; they're too pretty to leave on the ground.
Guinea Fowl fun facts
Guinea fowl (aka guineafowl or guineahens) are found in the wild throughout Africa south of the Sahara desert, but they have also been domesticated.
There are several species of guinea fowl, but the most recognisable (and the one on which I based my design) is the helmeted guinea fowl.
Guinea fowl make excellent farm 'watchdogs', as they squawk loudly whenever potential danger approaches, sending all the chickens running to safety!
They eat insects and ticks as well as seed, so domestic guinea fowl are handy to keep around the garden for pest control.
Guinea fowl can fly, but prefer to run from danger. At night, they fly up into a tree to roost.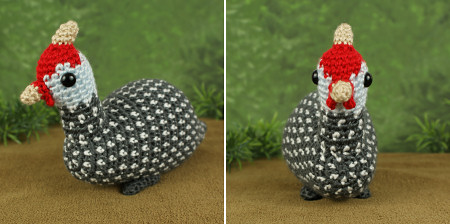 About this pattern
As well as a lovely ornamental amigurumi, a guinea fowl would make a perfect toy, with its large cuddly body, and bright colours and patterning. Don't be intimidated by the combination of shaping and frequent colour changes – I carefully designed this pattern to have separate shaping rounds and colour changing rounds, so you never have to worry about both at once! And, when you're making the spots, the other yarn is always carried, so there are no knots to tie and no ends to weave in. It's surprisingly simple, and very satisfying to see the beautiful body shape come together.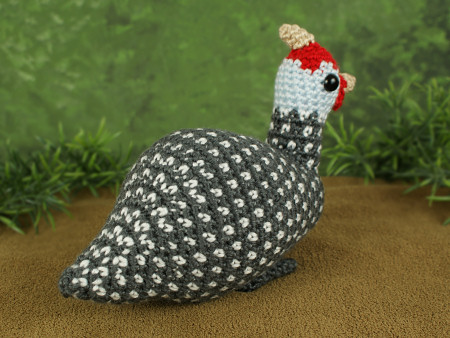 If you'd like to make a guinea fowl (or a whole flock!), you'll find my Guinea Fowl pattern in the new Birds category of the PlanetJune shop.
Or, if you're not ready to buy just yet, add Guinea Fowl to your queue or favourites on Ravelry, so you don't forget about it:
I hope you'll enjoy this design as much as I enjoyed creating it! Please let me know what you think in the comments 🙂