I went to an optician last week and discovered that my short-sightedness has actually reduced considerably (a side-effect of getting older!) and my glasses are now much too strong. My eyes have been under constant strain as a result, and that's probably why I've been getting increasingly frequent headaches over the past few months. Headaches make me slow because it's hard to concentrate, and sometimes stop me from working altogether. I'm hoping that, once my new glasses arrive, the headaches will stop and I'll be able to be much more productive – fingers crossed…
Commissions Update
By popular demand, I re-added the AmiDogs King Charles Spaniel option to my commissions list this week. For some reason, almost nobody pledged when it was last on the list, but this time, it was fully pledged within 2 days! (I'll have to think about what that may mean for future commissions.) But, this means I now have 3 AmiDogs commissions in a row – I think that's about my limit, so I'm putting further AmiDogs on indefinite hold, at least until I complete the 3 dog commissions I already have.
Once the commissions queue is shorter (or in a few months' time if the queue keeps growing), I'll hold another commissions review and decide which of the remaining options to remove from the list and which new ideas to add! If you've been sending me suggestions, I haven't been ignoring them; I'm just saving them all up for my next review.
It's time for me to start my next commission, so I'm currently collecting the pledge monies for the Camel design. I'm really looking forward to getting stuck into this one! I've bought some lovely baby camel yarn to make one with, so the Camel will become the latest member of my Natural Fibres collection (with the alpaca Alpaca and the angora Baby Bunny).
Fiction and Fantasy CAL
For this month's crochet-along we'll be using any PlanetJune pattern(s) to create something with a tie-in to fiction – take your favourite characters and props (from books, movies, TV shows, or anywhere else) and bring them to life in crochet! Here are a few pattern ideas to get you started – can you figure out which books and movies I was thinking of when I selected these?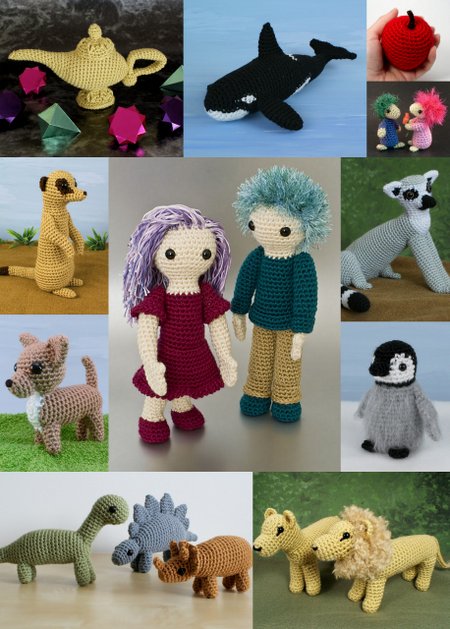 Customise the Boy and/or Girl patterns from my Complete Idiot's Guide to Amigurumi book into your favourite character and get advice from our group members who have lots of experience with embellishing and customising amigurumi people. Or, make animals and props that feature in stories, books and movies – stick to the pattern, or get as creative as you want!
Please join us in the PlanetJune ravelry group for this CAL – it's going to be a fun one 🙂
AquAlong CAL Report
The May CAL has now ended. Congratulations to all the participants – it was lovely to see so many beautiful aquatic animals being crocheted throughout the month. Baby Sea Turtles were the runaway favourite pattern this time around, and we got to see how they look in a huge varieties of colourways (spoiler alert: they're all super-cute)! Here's a sampling of the entries (click the pic to see them all on Ravelry):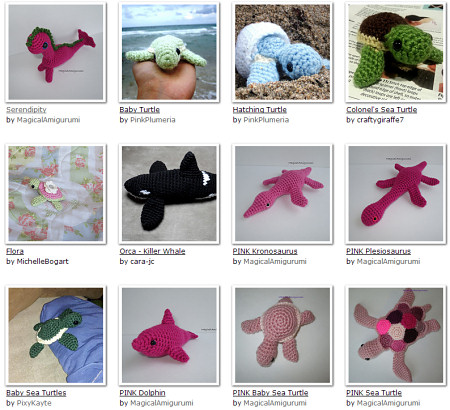 Review and Win contest
You're automatically entered in the next monthly draw every time you write a review for a PlanetJune pattern you've enjoyed – and you'll also be helping future customers make an informed decision about patterns they are considering buying.
May's 'Review and Win' winner is Rebecca D, with – coincidentally fitting the themes of this post! – her review of my Orca (Killer Whale):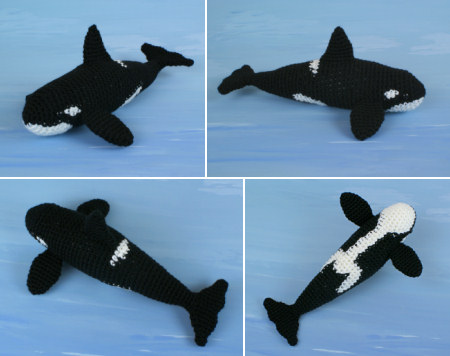 I was astounded by the beauty of the animal emerging from my crochet hook as I followed PlanetJune's design. I bought it focused on the accuracy of black-and-white colouration, so I was halfway done before I realised just how perfectly the orca's head was shaped too. I can tell from the pattern just how complicated it was for June to design, but although it requires concentration, it's very easy to crochet. I'm overwhelmed by the appearance of the final piece. I bought the pattern thinking solely of my sister, a big orca fan, but it's such an amazing piece that I will definitely need one of my own.
I'm glad you enjoyed it Rebecca, and congrats – I'll email you to find out which pattern you'd like as your prize 🙂