Just in time for the holiday season, and in honour of the PlanetJune Reindeer Games, allow me to present my latest design: the Reindeer/Caribou!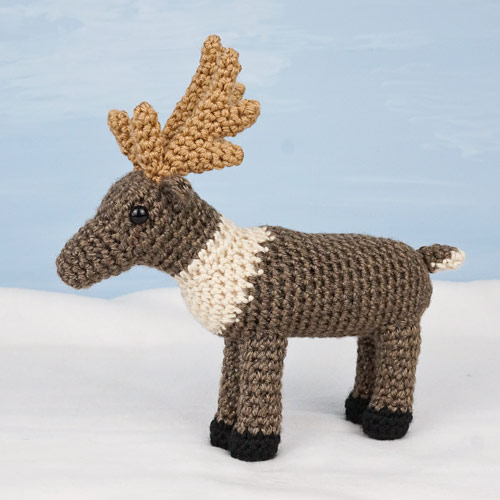 I've had a realistic reindeer on my list of ideas for the past few years, but, with the PlanetJune Reindeer Games CAL in full swing, this seemed like the perfect time to bring my idea to life. There are dozens of cartoony reindeer amigurumi patterns out there, but I've never seen one that actually looks like a real-life caribou!
Reindeer/Caribou Fun Facts
Reindeer/Caribou are found in cold Northern climates around the world: Canada, Alaska, Scandinavia and Russia.
Why two names? Although they are the same species, they are called Caribou in Canada and Alaska and Reindeer in Europe.
In winter, their soft hoof pads retract to keep their feet warm and expose the sharp hoof rims, which let them dig through the snow to find their favourite food: reindeer lichen!
They are the only deer species where the females have antlers as well as the males.
And an extra fun fact for Christmas: Male reindeer shed their antlers before Christmas, while females don't shed theirs until spring… That means, as all Santa's reindeer have antlers, they must all be female! 😀
About the Pattern
I've tried to capture the essence of the Caribou in this pattern – long body, short legs, wide hooves, tiny tail, shoulder hump, colouring, and, of course, the spectacular antlers (more on those in a bit!)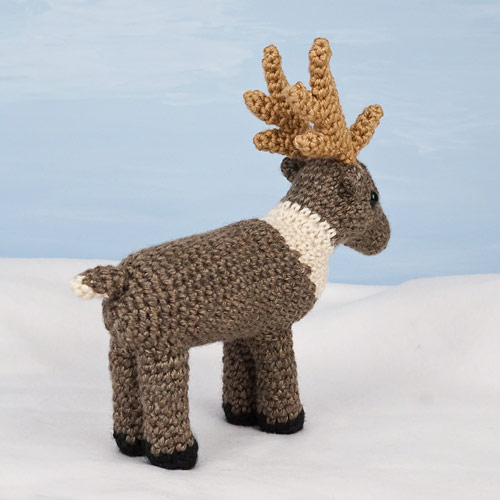 I've included two versions in this pattern – as well as a realistic Caribou, with just a couple of modifications (larger eyes and a red nose), you can make your very own adorable Rudolph the Red-Nosed Reindeer!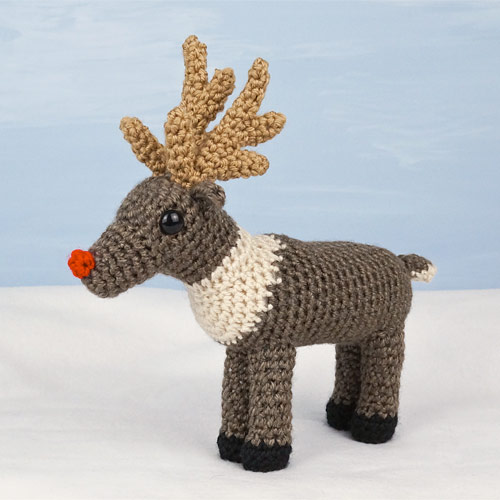 The most exciting part of this pattern has to be the antlers – each antler is all crocheted together, with no sewing involved! They are a little fiddly because they're so thin, but I've explained it all step-by-step in the pattern, so take it slowly and you'll end up with stunning realistically-shaped reindeer antlers.
Note: I do recommend you check out my Narrow Pointed Tubes tutorial (also linked in the pattern) if you're not used to making narrow tubes or turning them right-side out – if you watch my video, you'll know exactly what to expect when you make the branches of the antlers!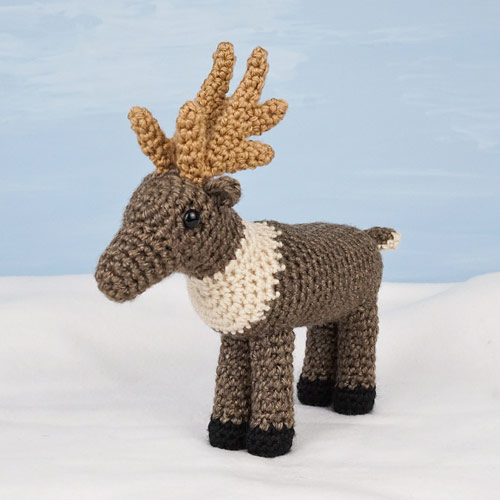 Buy Now
Ready to get started? Pick up my Reindeer/Caribou crochet pattern  from my shop right now. Or, if you're not ready to make it just yet, add it to your Ravelry queue or favourites so you don't forget about it: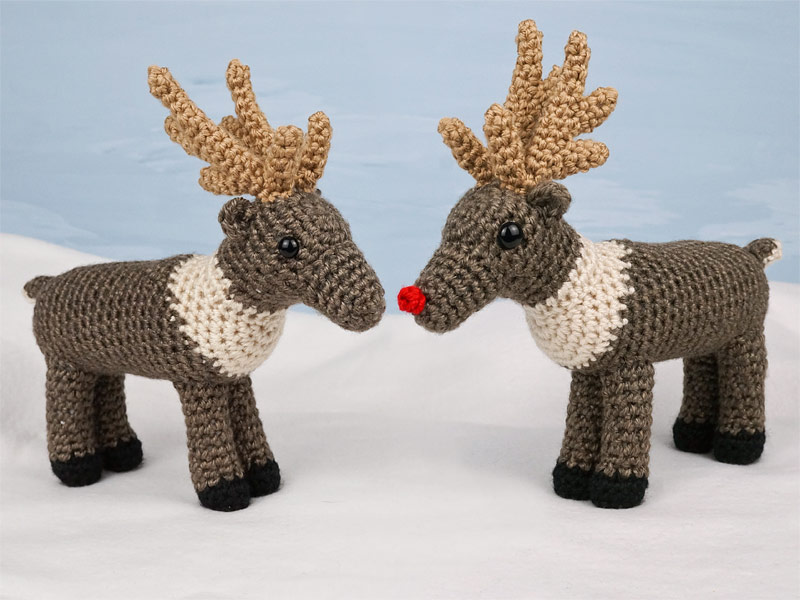 I really hope you'll enjoy this pattern, whether you want to make Rudolph as a Christmas gift for a special someone, a realistic Caribou, or some amigurumi Reindeer as holiday décor!
And, if you're a Ravelry user, I do hope you'll join us for the PlanetJune Reindeer Games – this crochet-along runs until the end of the year, and I'm hoping we'll see enough amigurumi reindeer to have a full team to pull Santa's sleigh this year. 🙂