Today's PlanetJune Story is from Melissa Frelo of Aurora, IL, and it's a case of perfect timing: it's a guinea pig story, and I also have a guinea pig photo to share with you today. We found a wonderful Wildlife Sanctuary in Hout Bay called World of Birds. I joined as a member so I can go back often – it's the largest bird park in Africa so it'll be a while before I've explored all the amazing free-flying walk-through cages and aviaries. They rescue animals as well as birds, and for some reason (abandoned pets, maybe?) they have a huge cage full of guinea pigs: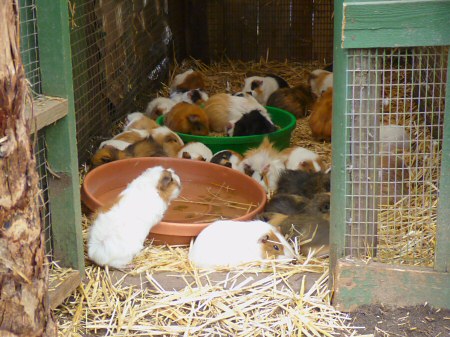 Guinea pigs galore!
Unexpected, but very cute! The guinea pigs all seemed very contented, running free in their giant outdoor area and then going back inside for food and water – I think they have a good life there.
And now a segue from real guinea pigs to crocheted guinea pigs!
Melissa writes:
I just wanted to let you know how much I enjoyed making the fuzzy guinea pigs. I ordered the pattern from your website and made the piggies for my childrens' Easter baskets. Although I have experience crocheting, this was my first attempt at amigurumi. Your instructions were very detailed and easy to follow and the results were great. I attached a few photos of the real piggies and their crocheted friends. Thanks for the wonderful pattern!
And thank you, Melissa, for sharing your story with us. Here are Melissa's guinea pigs, Roxie and Gracie, and their crocheted counterparts – it's hard to tell which are real and which are crocheted!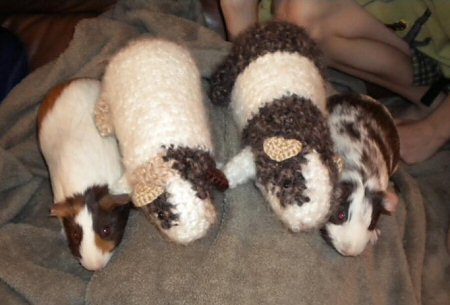 Melissa did a great job with matching the markings to her piggies' markings.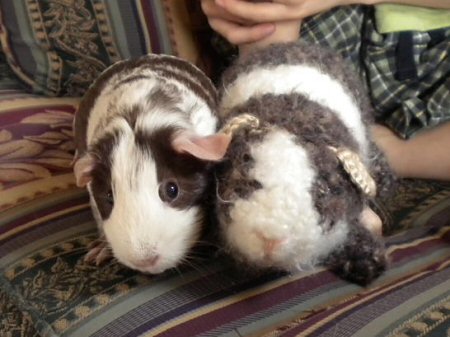 Just look at those sweet guinea piggy faces – so adorable! My guinea pig pattern has been a bestseller for years now, but if you haven't jumped on the guinea pig train yet, you can get on board and pick up the pattern in my shop 🙂
Do you have a PlanetJune Story you'd like to share? I'd love to hear it! Please email your story to june@planetjune.com, together with one or more high quality photos showing what you've made from PlanetJune patterns. If I choose your story to feature here on the blog, I'll send you your choice of pattern from my shop to say thank you!