I have the amazing opportunity now I live in South Africa to experience a different side of nature; one that most of you will probably only see in wildlife documentaries, if at all. So I hope you'll forgive me if I occasionally deviate from the crafty nature of my blog to share some photos of the plants, birds and animals I see! As these will probably be inspiration for my future crochet designs, I don't think it's totally off-topic, and I hope you'll enjoy a few glimpses into the nature of South Africa. (Please just skip these posts if they don't interest you – I promise they won't take over the blog!)
In this first post, I'll show you some of our garden birds…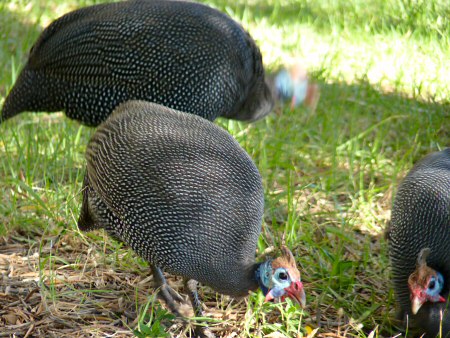 Wild Guineafowl roam freely everywhere – these are part of a group of about a dozen that patrol the grounds of our flats and the surrounding streets. They look a bit like small turkeys and they bob their heads quickly as they walk (as captured by the motion blur in my photo). Their loud call sounds like a squeaky bike wheel, and when several start up, it gets pretty raucous…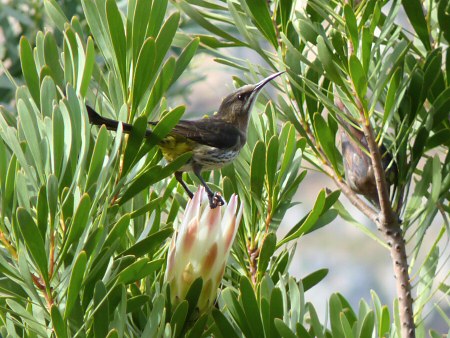 The Cape Sugarbird feeds on the nectar in protea flowers, as shown here (this type of protea is called a Sugarbush and produces copious nectar which can be used as a natural sweetener). The female (above) is nice-looking, but the male is the real stunner…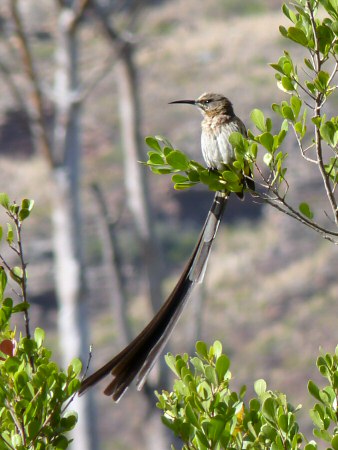 …his tail feathers are twice as long as his entire body! Very impressive when he's sitting like this, but it looks like hard work to fly dragging those feathers behind him…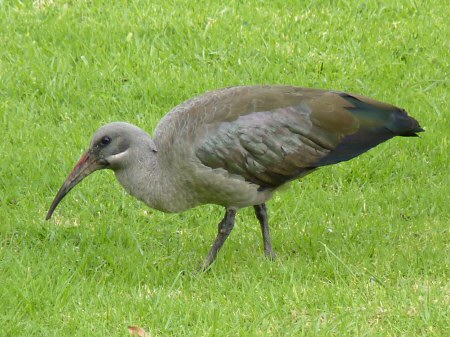 There's nothing in this picture for scale, but ibis are very large! I've only seen them in zoos before, so having them as a common garden visitor is pretty amazing – we see them from our window, pulling worms out of the lawn with those long beaks. This type of ibis is called Hadeda (rhymes with la-di-la!) and is named for its loud call of "ha-ha-haadada". When a group fly over or sit in a tree shouting that in unison, you really know about it!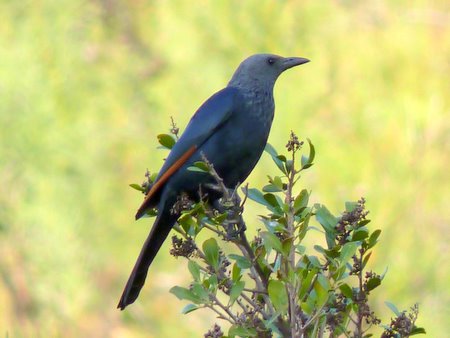 Larger than the common starling you're probably familiar with, the Red-Winged Starling looks fairly unexciting, until it takes flight… Do you see that edge of rusty red-brown on its wing? Their entire wings are that colour when in flight, so they look much more interesting as they fly by than they do when they land. I haven't been able to capture that in a photo though 🙂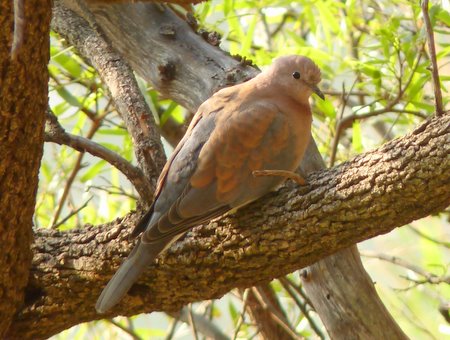 I know doves aren't exactly unusual, but they are so sweet I thought you might like to see one anyway. There are two common types of dove here: the Cape Turtle Dove and the little colourful one pictured here, the Laughing Dove.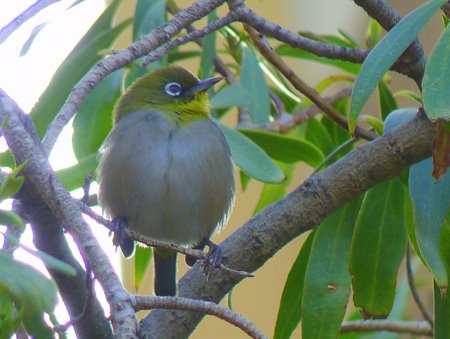 I first saw White-Eyes on holiday in Hawaii, so they feel like a very tropical bird to me. Very small and shy, the Cape White-Eyes are very hard to photograph because they don't stay in plain sight for long. This is the best photo I've been able to capture so far, but I'll keep trying 🙂
There's so much more amazing wildlife here. I'd love to write more posts like this and share what I see with you, but only if I have an interested audience: I don't want to bore you! If you've enjoyed this post, please leave a comment so I know you'd like to see more…