Today I get to restart working full-time at PlanetJune – I can't tell you how much I've missed it!
I wasn't sure what to do first – I feel like I'm months behind on everything – but then yesterday, we were lucky enough to glimpse a very special bird: a kingfisher. Please excuse the quality of these pics; it's a tiny bird and we couldn't get close without it flying away… I snapped these at full 18x zoom: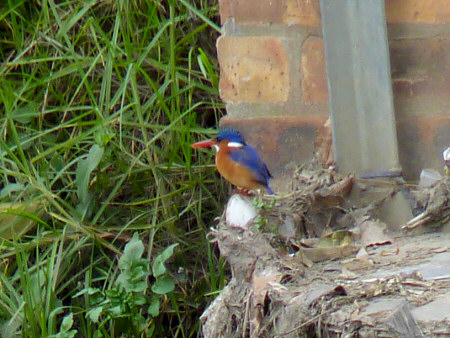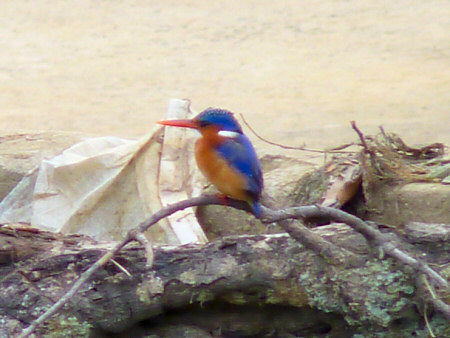 It seemed like a sign that my first order of business should be to publish my kingfisher pattern, don't you agree? You may notice that the colours and markings in the photos above don't quite match my design below: was saw a Malachite Kingfisher (common here in southern Africa) but the breed I designed is the Common Kingfisher (the UK variety) who's more teal coloured than blue, and doesn't have a red beak. And now onto my design…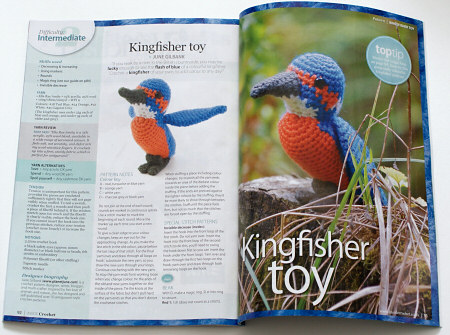 I designed this Kingfisher pattern last year. It was first published in Inside Crochet magazine, but written in UK crochet terminology and missing all my step-by-step assembly photos. Now I'm publishing it in standard terms and PlanetJune format!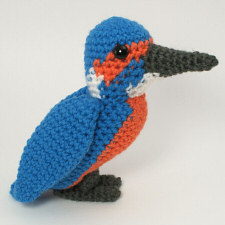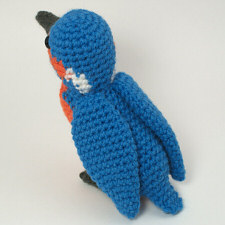 This bird can stand all by himself, without using any wires or internal armatures to strengthen him, so, if you omit the safety eyes, he'd be a kid-friendly toy as well as a decorative piece.
I'm particularly proud of this design because I incorporated a clever new method I developed to make the orange/blue stripe on the body match on both sides (as amigurumi-style stitches don't stack on top of each other, if you crocheted both sides the same way, one side would slope up and the other would slope down).
The Kingfisher crochet pattern is now available to purchase in my shop. I hope it'll be the first of many PlanetJune bird designs…