That's right, it's taken a while but I have a new pattern for you! It's a Badger crochet pattern and I'm so happy to have finally brought this idea in my head to life! Badgers have such a distinctive shape with their stocky grey bodies, black and white striped faces, tiny ears, and cute upturned noses…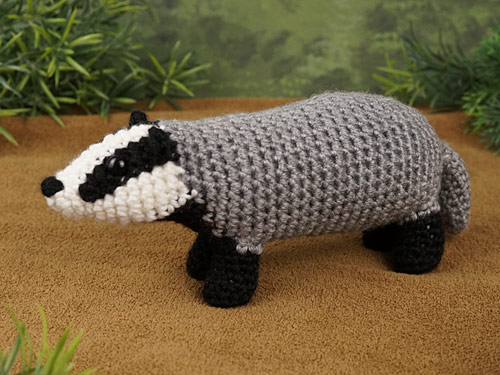 Looking back through my notes, I first started planning this design in March 2014… that's over 7 years ago! So if I haven't made your favourite animal yet, don't think that means it'll never get made – sometimes it just takes a while for the inspiration and available time to coincide…
Badger Fun Facts
Badgers are members of the weasel family, Mustelidae.
The variety of badger I've made for my pattern is the European badger, arguably the best-known and most beloved badger. You'll find lots of European badgers as characters in classic children's books like The Chronicles of Narnia, Fantastic Mr Fox and The Wind in the Willows – and of course, as the Hufflepuff emblem in the Harry Potter books!
Other types of badger around the world include the American badger, the honey badger from Africa, and various Asian badgers. They all look somewhat similar, but aren't very closely related.
Badgers are masters of digging. They dig for food and live in family groups underground in burrows called setts.
They are largely nocturnal and eat a variety of food including worms, fruit and eggs. European Badgers can eat hundreds of earthworms per night!
About the Pattern
As always, the pattern includes full instructions and detailed step-by-step photographs for assembly and all special techniques used, so you can follow along and make a perfect badger.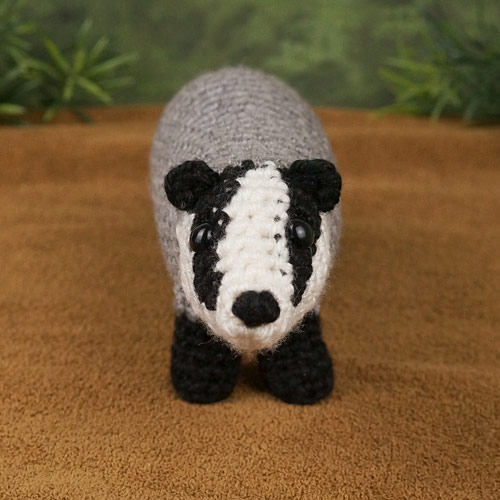 You can't have a badger without those unmistakable black and white face stripes, but there are only 12 rounds of follow-carefully colour changes, and the pattern includes lots of tips – specific to this pattern – to make the colour changing easier and ensure you'll get a beautifully tidy result.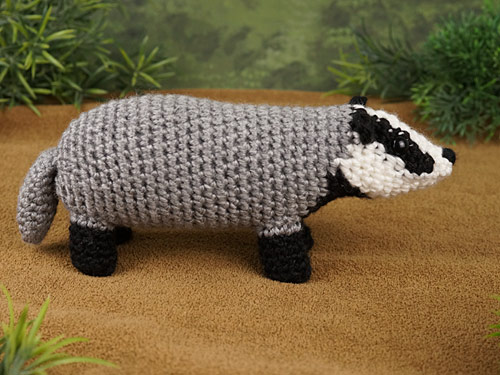 After you've finished the colourwork on the head and chest, it's all plain sailing and you'll be able to enjoy watching the rounded body of your badger take shape as you crochet! The head and body is all worked as one piece and there are only 3 pieces (plus the tiny ears) to sew onto the body, so the final finishing stage is quick and simple.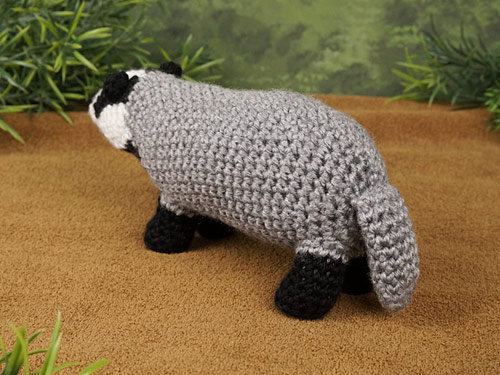 Colourwork Magic!
You'll often see photos of amigurumi designs with colourwork that only show you one side of the completed item, because the colourwork on the other side looks much worse. There's a good reason for that – amigurumi stitches don't stack exactly on top of each other, so there's a built-in slant, which makes symmetrical colourwork essentially impossible.
I've been working for years on techniques to make paired vertical or slanting stripes at various angles for my amigurumi (and I still haven't mastered every effect I'm looking for – there's lots more research for me to do for future designs!) but I never release a design without getting everything to match as closely as I can.
So here, for your viewing pleasure, are close-ups of both sides of my badger's head and chest, so you can see how the colourwork looks good, with smooth black face stripes with matching angles and no awkward jagged transitions, from either side 🙂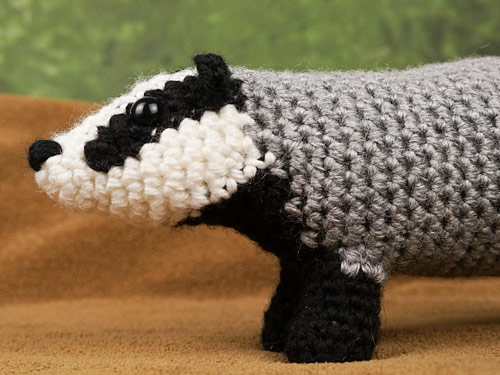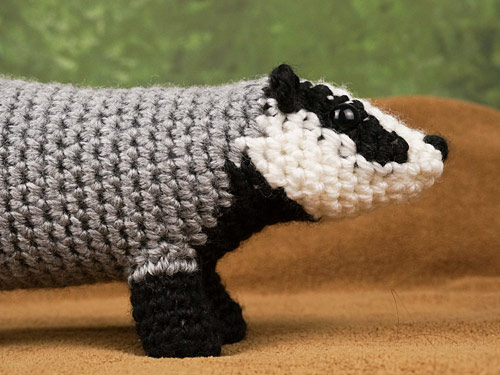 Just follow the pattern and you'll be able to achieve the same effect!
Buy Now & Launch Discount
Ready to get started? Pick up my Badger crochet pattern from my shop right now. Or, if you're not ready to make it just yet, add it to your Ravelry queue or favourites so you don't forget about it:
And for one week only, you can take an extra 50c off the price: add the Badger pattern to your shopping cart, and enter the discount code TRUFFLEHUNTER at checkout! (Offer ends Tuesday 6 July, 2021.)
---
Badgers play an essential part in popular culture, and their real-life counterparts are just adorable. I've never had the pleasure of seeing one in real life, but I always enjoy watching them on wildlife documentaries, and now I can see a (crocheted) badger whenever I want!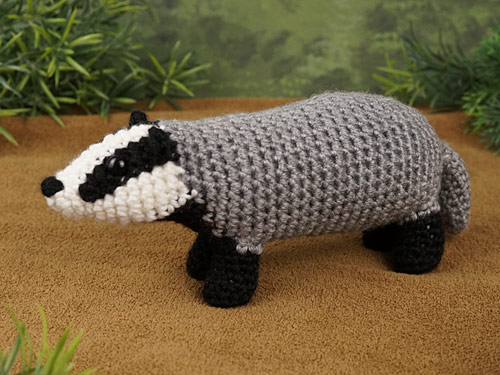 I really hope you'll enjoy my Badger pattern. Don't forget to share photos with me when you've made one:
…I always love to hear from you, and to see what you've been making from my patterns. 🙂