Greetings from the new PlanetJune studio!

As you can see, I have a brand new home for all my giant amigurumi – yay!
My new studio is still very much a work in progress. My vision is to set up different stations for all the aspects of PlanetJune – business and crafting – as I have a large space here, and I want to be able to get down to work on whatever I need to do without too much setup.
So far, my sewing station is set up (that was the first priority – sooo many curtains to hem for a brand new house!) and the photography station is just about ready to go: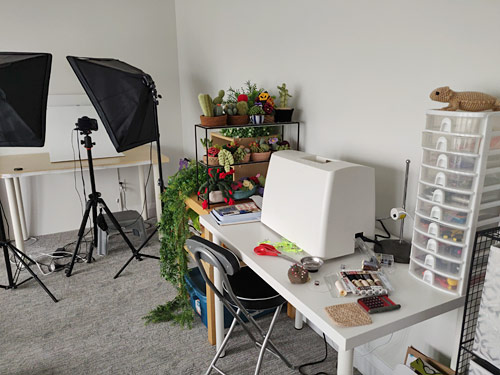 My computer station is ready to process new patterns into pretty PDFs: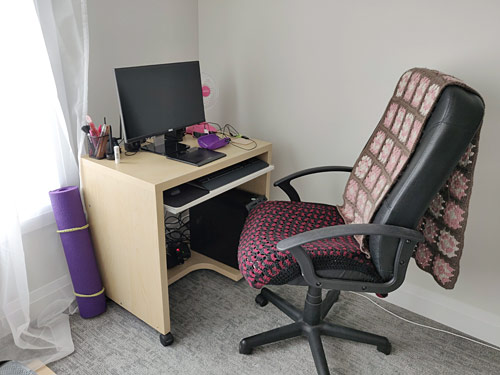 (Of course nothing goes as smoothly as planned; I was just about to get back to work when I discovered that the latest Windows update had broken something in my workflow and I can no longer lay out patterns any more using my old software.
This is a good thing really – I've been meaning to upgrade to better desktop publishing software for a long time, and this has given me the push to make it happen, so I'm working on developing a new template for PlanetJune patterns. Once it's ready and I get up to speed with my new software, laying out new patterns and making edits and improvements should be much smoother in future.)
Now, back to today: I'll give you a proper studio tour at a later date, once all the remaining boxes and piles of stuff have homes and I've decorated a bit, but these pics are a little preview of my beautiful space.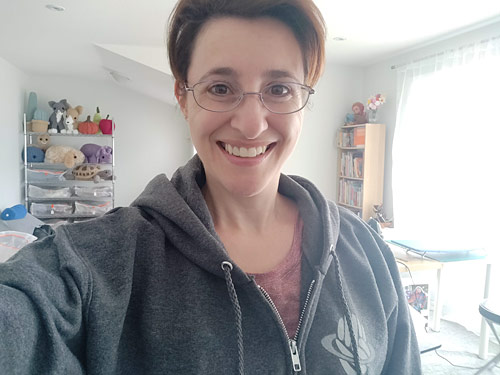 As you can see, I have lots of natural light in my studio (there are 6 windows!) which is going to come in very handy.
Hang on, is that a PlanetJune hoodie you're wearing there, June? Why yes, it is! Isn't it cool?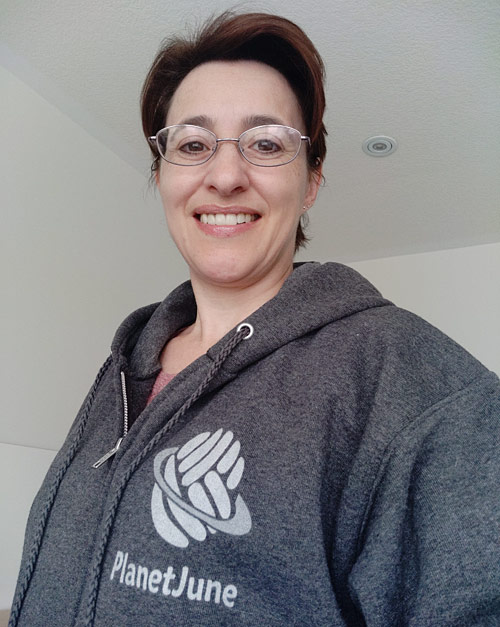 Rush Order Tees offered to send me a custom hoodie of my own design. I chose a dark grey men's size small hoodie so I can wear it as a jacket, and I thought that printing my logo in white would look good against the dark grey.
The process was seamless: they have their own designers who optimize your logo or artwork for printing and check that the colours, alignment, etc are perfect. I approved the proof they sent me and they printed and shipped my hoodie within a couple of days.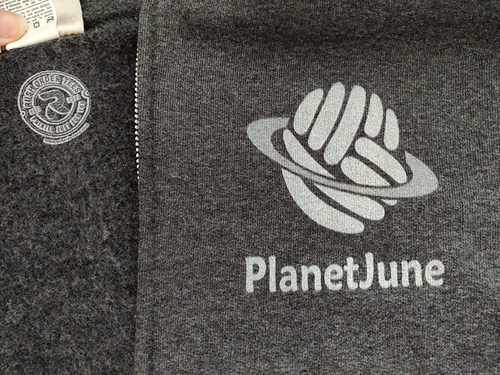 Can you see, their designers actually optimized my logo so the ring around my yarn planet is actually a very pale grey instead of the white I originally asked for? It's a nice touch (and of course I could have requested they change it back to white if I hadn't liked it).
If you'd like to order some custom apparel too, Rush Order Tees offer t-shirts, hoodies, hats and more. I'm very happy with my hoodie – the quality of the Hanes Ultimate Cotton zip up hoodie is good, and the printing of my logo is clear and crisp. Plus it's fun to walk around the neighbourhood (the only place I ever go these days…) wearing my own merch 😀
Now, back to setting up my new pattern template, and then I'll finally be ready to publish a new pattern – it feels like it's been forever since I was able to do that!
Hope you've enjoyed this glimpse into my new studio… More to come 🙂