We're now 2 weeks into the Summer of Dinosaurs crochet-along, and the dinos are starting to overrun the PlanetJune Ravelry group, with 50 projects and 37 finished dinosaurs posted already!
---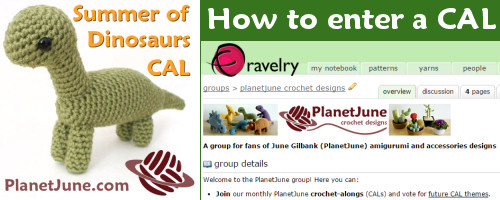 With 5 more weeks to go, I thought now would be a good time to help out any of you who've been reluctant to join the CAL because you're not familiar with Ravelry. Ravelry is a huge site that has a lot to offer, and that can be a bit intimidating when you first sign up and have so many options to click into. There's definitely a bit of a learning curve to Ravelry, but the good news is that you only need to use a tiny fraction of the site to enter a PlanetJune CAL.
Don't be scared! Just click through to my PlanetJune Crochet-Along FAQ, where I'll show you, step-by-step, everything you need to know to add your CAL project to Ravelry and post it to the PlanetJune group.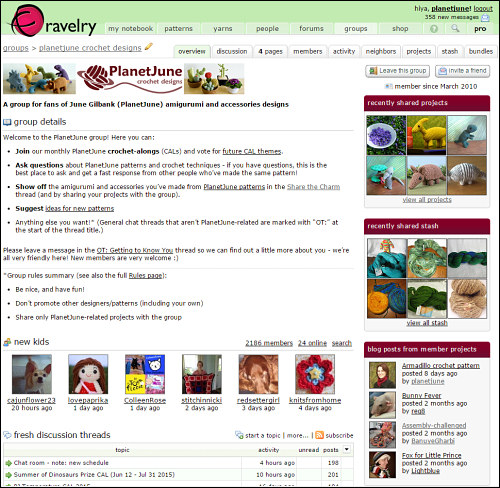 The PlanetJune group on Ravelry, where you can find pattern support, chat about crochet (and more), make new friends, and share your love of PlanetJune patterns!
---
And, once you're comfortable with the PlanetJune corner of Ravelry, I recommend you start to explore the whole site a bit further – it's totally free to use, and it has a lot to offer anyone who crochets (and/or knits).
Ravelry includes a searchable database of pretty much every pattern and yarn in existence, so if you're looking for something in particular it's easy to find it. You can also see all the projects other people have made from the patterns or yarns (before you decide to buy them!) and their verdict on what they thought of it.
---
Don't forget that with every Summer of Dinosaurs CAL entry, you'll be entered to win some of the amazing prizes pictured below: your favourite colours of Lion Brand yarn, an amigurumi kit, PlanetJune patterns, and runner-up prizes for all entrants (see the main CAL post for full details of the prizes).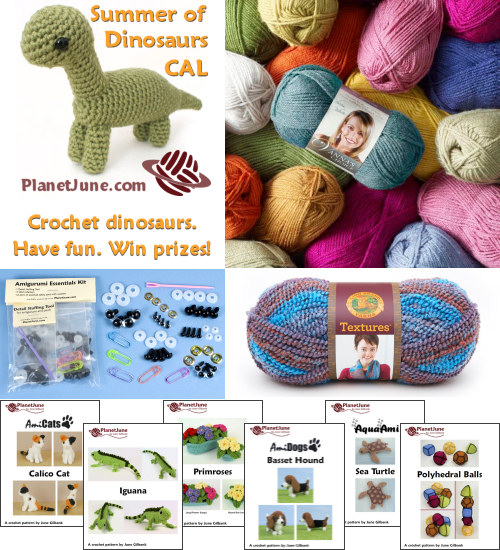 Ready to make some dinos? Join the crochet-along now!