The PlanetJune Summer of Dinosaurs crochet-along (CAL) starts today and runs through to the end of July. If you haven't joined a PlanetJune CAL before – maybe you're intimidated about joining Ravelry, or just haven't found the time to sign up? – this is a great time to join, as this is a prize CAL, sponsored by Lion Brand, with prizes for all participants!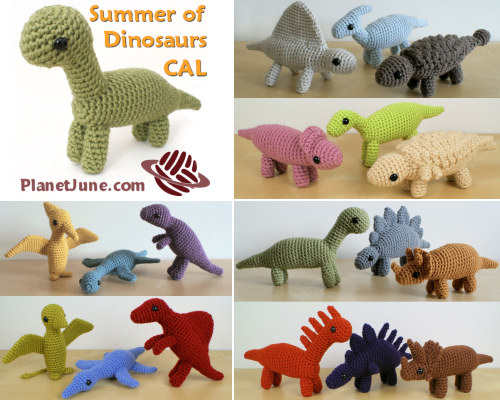 You can join this CAL by making any of the 18 PlanetJune amigurumi dinosaur patterns (all pictured above). These patterns are always popular because they're simple to follow (with no colour changes), work equally well in any colour you can imagine, and make lovely sturdy toys for both girls and boys of all ages.
How to Join
It's really easy to join a PlanetJune CAL:
Join Ravelry and add a profile pic to your profile.
Join the PlanetJune Crochet Designs group.
Make a dinosaur based on any PlanetJune dinosaur pattern and enter it in the CAL (instructions are given in the Rules below, and in the CAL thread)
(See my FAQ How do I enter a PlanetJune CAL? for more details on how to complete steps 1 and 2.)
Prize Details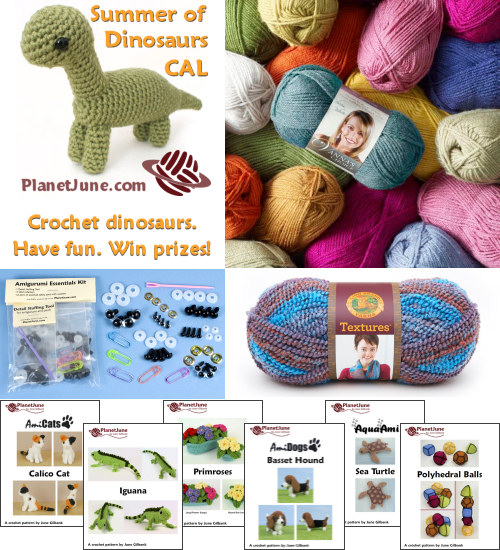 Note: pictured yarn colours and crochet patterns are just examples – winners may choose any colours/pattern
Grand Prize: 3 skeins Vanna's Choice (the yarn I used to make all my dinosaurs!) and 1 skein of the gorgeous new Textures yarn (all generously provided by Lion Brand, winner can choose colours) plus a PlanetJune crochet pattern of your choice
Second Prize: a PlanetJune Amigurumi Essentials Kit plus a PlanetJune crochet pattern of your choice
Third Prize: a PlanetJune crochet pattern of your choice
Runner-up Prizes: there are no losers at PlanetJune! All other participants who complete one or more entries in the CAL will receive a 10% discount code towards your next order from PlanetJune.com 🙂
Rules
For each entry in the CAL (and contest), make a dinosaur based on any PlanetJune dinosaur pattern and enter it as follows:
CREATE a new project for your dinosaur
LINK the project to the PlanetJune pattern you're using
TAG your project PJDinoCAL2015
ADD a photo of your completed project
MARK your project as 'Finished'
POST the photo in the CAL thread
(If any of this doesn't make sense, don't worry – the PJ group moderators are ready to help and answer any of your questions. New Ravelry users are always welcome and no question is too stupid!)
To be counted as a valid entry, your project must be started on or after June 12 2015, and it must meet all of the above criteria by the end date of this CAL: before the end of July 31 2015 (in your local time).
That gives you 7 full weeks to make your dinosaur(s), and you're welcome to complete and submit multiple entries – just make sure you create a new project for each dinosaur and follow the CAL instructions for each one.
The contest is open to everyone, worldwide – yay! Prizewinners will be drawn as follows: one entry into the draw per completed project that meets all the CAL requirements. Grand, Second and Third prizewinners will be chosen by random drawing; all other participants who complete at least one project as specified will receive the Runner-up prize. Prize notifications will be made by me (June) by Ravelry mail, so check your Rav inbox!
Grand Prize yarn to be provided by Lion Brand and shipped to the winner (if you're from outside the US you'll be responsible for any duty and/or import taxes on the prize); all other prizes to be provided by me 🙂
---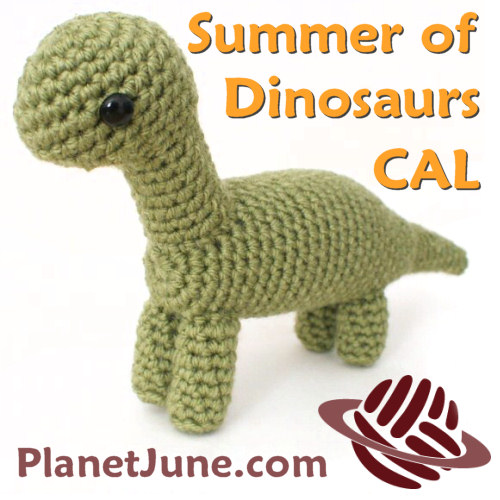 Are you as excited as I am? I think this is going to be an especially fun CAL, and I hope you'll join us! Let the Summer of Dinosaurs begin…