Time to show you the results of my latest crochet pattern commission: I've designed an amigurumi Armadillo!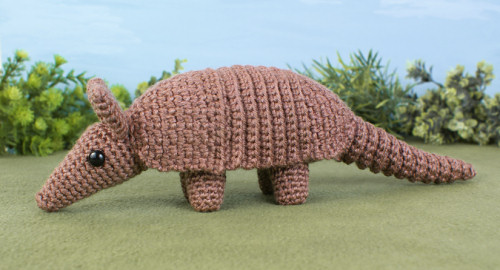 Armadillo Fun Facts
Armadillos are very unusual-looking mammals; they are covered in bony plates of armour that form a protective shell over their backs.
They are primarily nocturnal, live in burrows, and eat insects.
Armadillos come from South and Central America, and there are 20 different species. My design is based on the nine-banded armadillo (the only variety that's also found in the United States).
The bands in an armadillo's armour provide flexibility. The nine-banded armadillo may actually have between 7 and 11 bands (my design has 7)!
Although you've probably heard that armadillos roll into a ball to escape predation, only three-banded armadillos have this ability; other armadillos run away or can jump several feet into the air to escape danger.
A nine-banded armadillo always gives birth to exactly 4 identical babies (quadruplets!)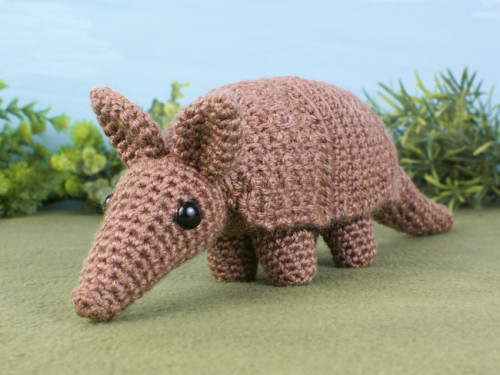 About the Pattern
It was an interesting challenge to come up with techniques to replicate the shape and texture of an armadillo's amazing armour while still creating a sturdy toy without any holes that could leave ugly gaping holes. I spent a long time playing with different stitches and shaping techniques to give the effect I wanted without making the pattern overly-complicated, and I'm really happy with how it turned out.
I hope my photos convey the shape of the armour and the way it curves over the neck and tail just like it does on a real nine-banded armadillo. The armadillo uses three different techniques to produce that wonderful textured armour over the back and on the tail, but the pattern still only uses combinations of the most basic crochet stitches.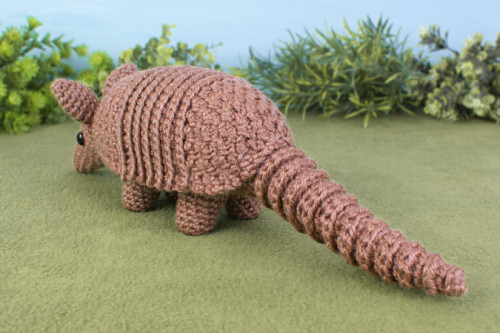 My nine-banded armadillo is 13″ (33cm) long – although a large fraction of that is tail! The special techniques used for crocheting and assembling the armadillo's armour are all explained in full in the pattern, with lots of step-by-step photos to help you along the way.
Armadillos & Aardvarks…
Armadillos and Aardvarks are an example of convergent evolution – although they hail from different continents and aren't closely related, they have similar diets and lifestyles and they independently evolved to look similar. I find this concept fascinating, so I designed my Armadillo to form a matched set with my Aardvark – don't they look cute together?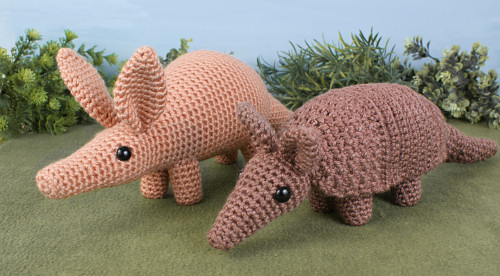 (Now I just need to design an Anteater and Pangolin to complete the 'family' of long-nosed insectivorous mammals!)
Ready to Crochet?
I'd like to thank everyone who commissioned this design – it was certainly a challenge to develop such innovative techniques, but one I was very happy to undertake! You can download the pattern from your PlanetJune account whenever you're ready – I hope you're as pleased with the results as I am…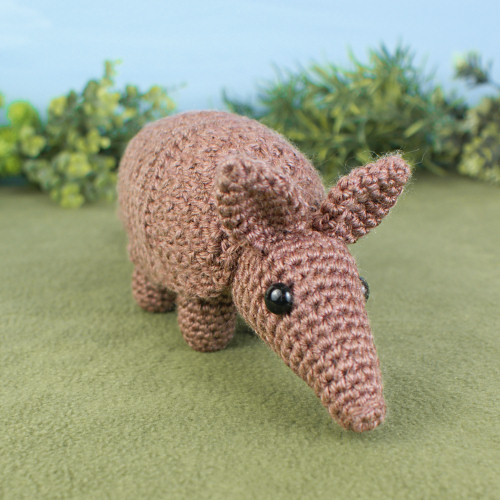 If you weren't one of the commissioners, my Armadillo pattern is now available to purchase from the PlanetJune shop.
Or, if you're not ready to buy just yet, please add my Armadillo to your queue or favourites on Ravelry, so you don't forget about it:
I really hope you like my Armadillo design!