I spent most of the day yesterday setting up this scene in the PlanetJune forest (no regrets!) and I couldn't wait to share it with you! This photo captures the essence of what I love about fall – the gorgeous colours and the cozy warm feeling of the season. I hope you love it too…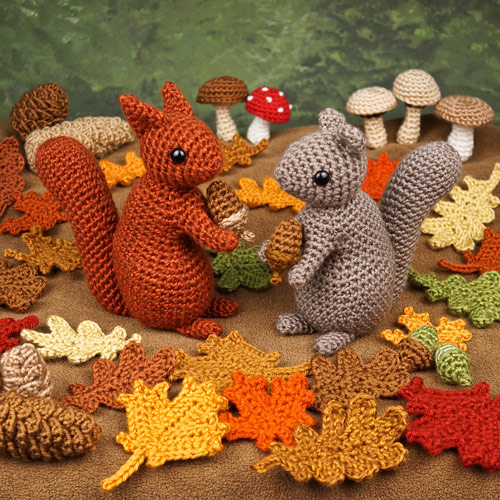 What do you think? Does it give you a warm and cozy feeling?
To set up this woodland scene, I used 5 different PlanetJune designs (find them all at www.planetjune.com/fall!):
Can you spot them all (except the Canadian flag – that didn't quite fit this theme!) in the scene?
Behind The Scenes
Why did it take me so long to capture one photo? I thought you might enjoy a glimpse into my process here…
First I collected the elements I thought I might include in this photo – a big pile of leaves, mushrooms, acorns, pine cones and squirrels.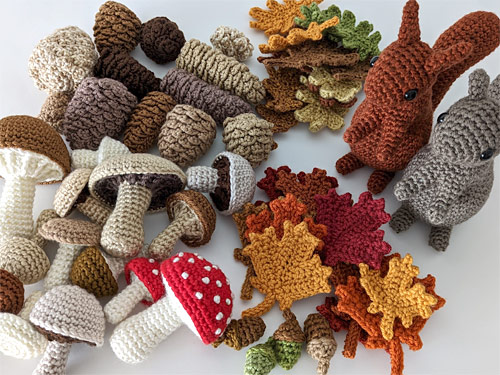 I set up the empty PlanetJune forest scene with a fleece fabric floor and my painted green backdrop.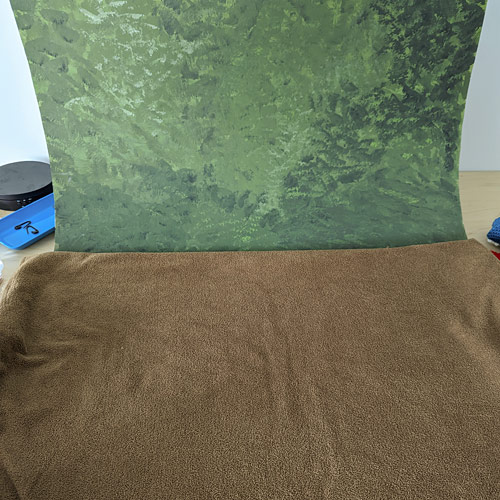 Fun fact: I've been using the PlanetJune forest since 2008, when I launched my AfricAmi patterns and realised my white rhino wouldn't show up well against a white background! The 'ground' is a piece of fleece fabric, and the mottled green backdrop is a sheet of white poster board that I painted to look generically leafy. I'm amazed that my painted backdrops have survived my round-the-world travels and I'm still using them 14 years later!
Then it was time to arrange all the elements, light the scene so everything shows up clearly, and start photographing!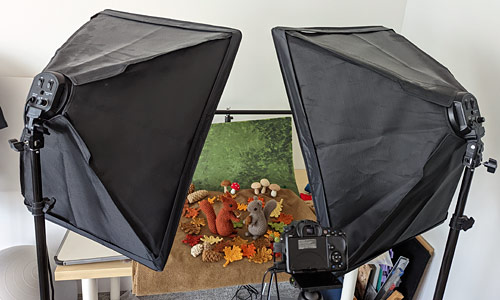 I currently use two softboxes to light my photos. They make it possible for me to shoot at any time of day or night and have my pictures always look consistent. Look at the difference they make to the scene: in the above photo the lights are off and in the one below they're turned on: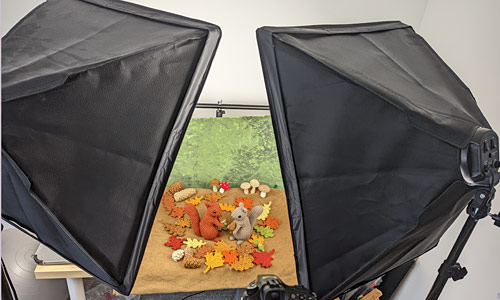 After snapping the first photo, I copied it to the computer and checked it on my big monitor. Then came many rounds of tweaking. I'd change the exposure or depth of field on the camera, or moving elements around while hoping I didn't knock any pieces over or jog the camera tripod (it's tricky maneuvering around the tripod and light stands to reach into the scene, and my poor mushrooms fell over multiple times!)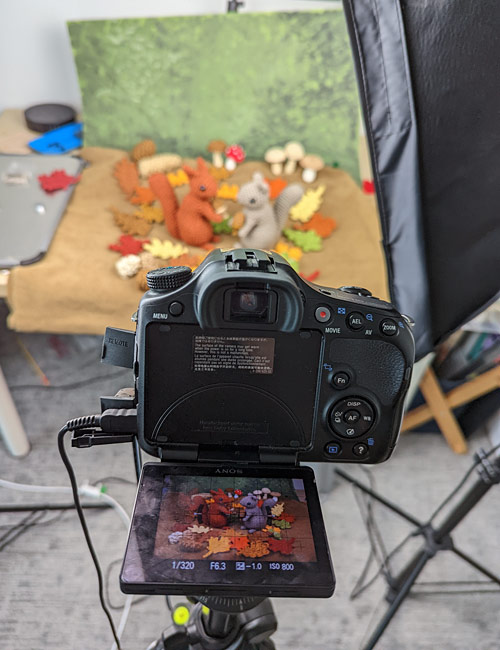 After each change, I'd snap another photo and check it again, and repeat over and over. In the end, to create the square photo I was looking for, I had to raise the height of the ground at the back by slipping a roll of extra fabric under my base fleece. And, of course, doing that made allll the mushrooms fall over and I had to start positioning them all again…
But finally, I had the raw photo I wanted, and all that was left to do was to crop and process it into the final image!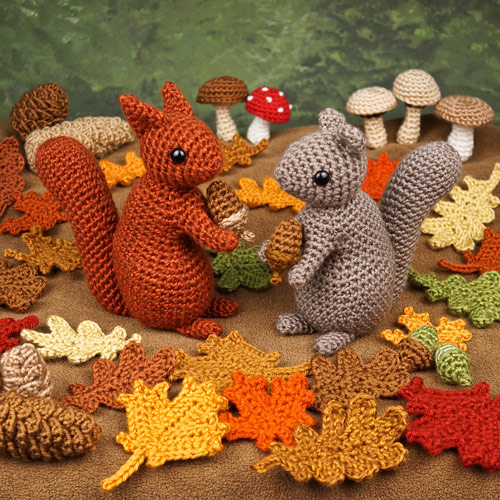 It's a long process, but to me it's like a little art project, and it's very satisfying when it all comes together into a finished piece I can be proud of. I hope you'll love my adorable little woodland scene!
---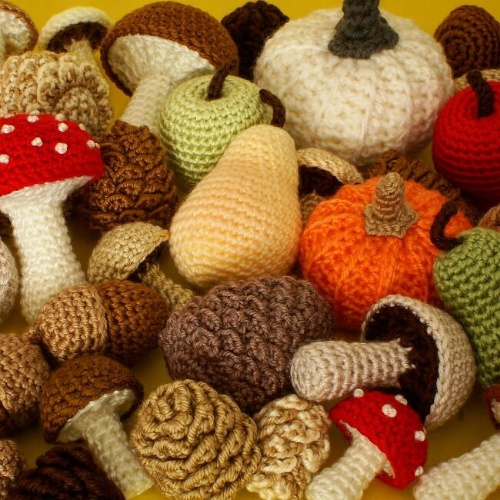 If you'd like to crochet any of these patterns, or any of my other autumn-themed designs (including some freebies, if crochet patterns aren't in your budget right now) I'd love it if you'd join the PlanetJune 'Fall into Autumn' CAL (crochetalong).
You can find the CAL in the PlanetJune groups on Ravelry and Discord, and you can also join in by posting what you're making to any of your social media accounts and tagging me (@PlanetJune) so I can see them and leave you a comment.
I don't usually announce CALs here on the blog unless I'm already writing a related post like this one, so if you'd like to be notified about new crochetalongs, please join one or both of the PlanetJune community groups where our CALs take place, or sign up for my monthly newsletter – I'll always keep you in the loop!