Autumn is my favourite time of year, when the weather starts to cool and the leaves turn glorious colours, and I'm celebrating that now with the second addition to my autumn leaf designs: the Oak Leaf Collection (with a bonus matching tiny acorn design!)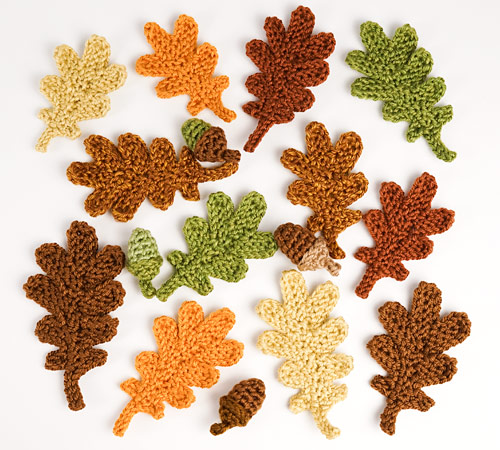 Oak Leaf Collection & Life-Sized Acorn includes two different sizes of oak leaf to crochet, and a realistic life-sized acorn pattern. Each leaf is worked in one piece, with a clever construction that gives a realistic shape and the suggestion of veins. The acorns are worked amigurumi-style, with an ingenious no-sew construction. So the entire project has no sewing – you'll only need your needle to weave in the yarn ends!
Ideas for Use
Make a pile of acorns as a tasty snack for an amigurumi Squirrel
Use a single crocheted oak leaf as an appliqué on a hat or sweater, glue it onto a greetings card, or add a pin back and an acorn to make a brooch
Make a simple ornament by adding a hanging loop to a pair of oak leaves and one or two acorns.
Crochet lots of leaves in a variety of colours and add a handful of acorns: scatter them on your mantelpiece or Thanksgiving table, or group them together into a beautiful fall garland or wreath.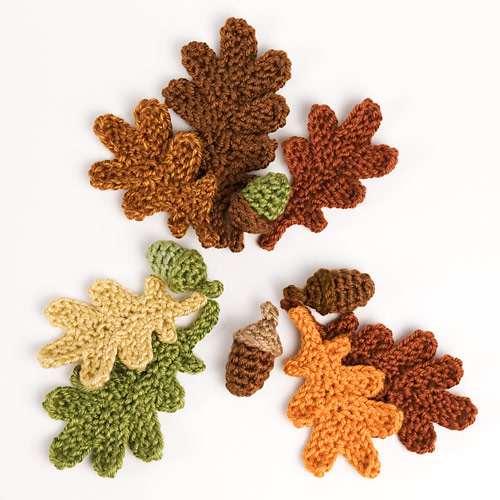 About the Patterns
Although they are only available together, I've separated the oak leaves and acorns into two separate PDF files, as the crochet and construction techniques are completely different for each, so there's no info that's common to both patterns. Here's a brief intro to each:
Oak Leaf Collection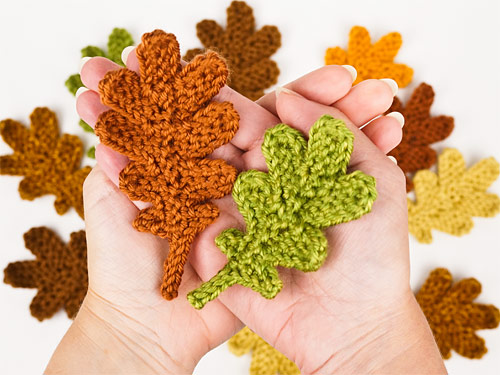 This pattern includes large (9-lobed) and small (7-lobed) realistically sized and shaped oak leaves.
For each leaf size, you'll find both the written instructions and a complete stitch diagram on a single easy-to-print page.
For more detailed assistance, the pattern also includes general instructions with photos to help you understand the construction of the leaves, and separate appendices for right- and left-handers including row-by-row photos and stitch diagrams for each leaf.
Life-Sized Acorn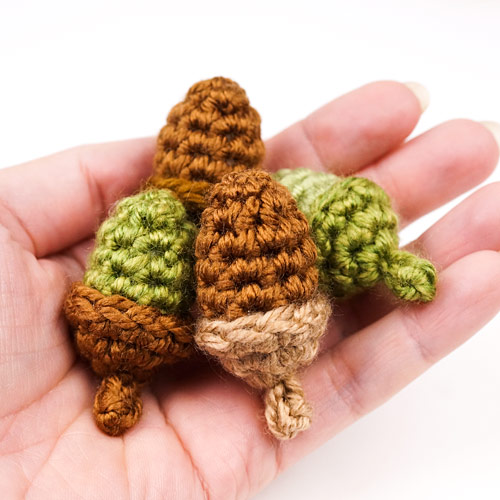 This acorn is approximately life-sized (only 1.5″/4cm long) and realistically shaped, and has an ingenious no-sew construction.
The pattern is fully illustrated throughout with lots of step-by-step photos to explain the unique one-piece construction.
For ease of printing, it also includes a single-page text-only printable version at the end of the pattern.
Note: This is a completely different acorn from my Amigurumi Acorn design from 2007! That one is cute, round and vastly oversized, with the cap and stalk as separate pieces that need to be sewn together.
About the Designs
I'm really pleased with the work I've been doing on applique design in recent years. I'm evolving a new style of applique where I shape the piece with single crochet stitches, which gives a sturdy result without any holes – it's the 2D version of my amigurumi style! As I develop this style, I'm learning how to create different shapes and angles with each new design, and the oak leaves are the epitome of my work so far in this field.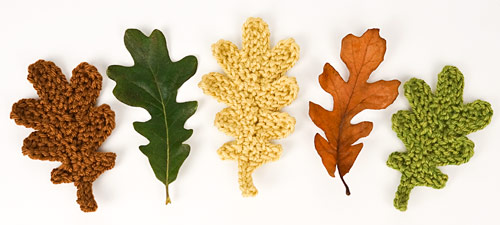 Spot the difference! Real and crocheted oak leaves
It's fascinating to me – to have the lobes of the leaf sit at realistic angles and create a symmetrical leaf, the number and position of the stitches has to be different on each side of the leaf… It's not at all obvious how to do this, but the beauty of it is that once I've created the design and written and charted the pattern for you, you can simply follow it to make perfectly-shaped leaves without having to understand any of that!
And the acorn was a different sort of design challenge: making a realistic size and shape when you have so few stitches to work with – even one stitch makes a huge difference! I tried many different ideas (there are well over a dozen green-and-purple acorn prototypes still littering my desk…)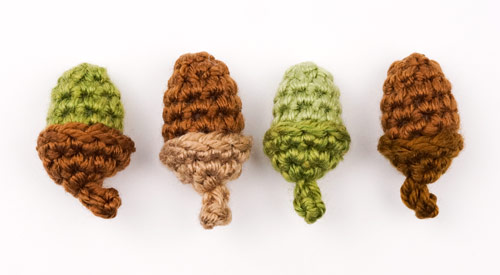 This no-sew method, although unconventional, was by far the best in terms of a good result. After you've made the first one and learnt how it comes together, it's not difficult at all and they're quick to crochet with no assembly at the end – you'll love it!
Buy Now
Ready to get started? Pick up the Oak Leaf Collection & Life-Sized Acorn crochet patterns from my shop right now.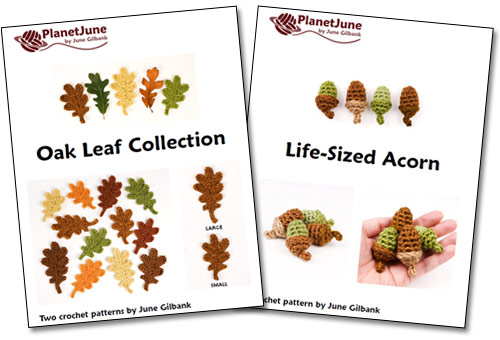 Or, if you're not ready to make them just yet, add them to your Ravelry queue or favourites so you don't forget:
I hope you'll love these new seasonal designs and that they'll spark ideas for your Fall, Thanksgiving and Halloween decorating! And they'd be even more spectacular if you combine them with my Maple Leaf Collection and Pine Cone Collection patterns… I can't wait to see what you do with them!