Trying something new today: I've created my first pattern-exclusive video tutorial: a quick video demonstration that's only available to purchasers of a specific pattern, and that demonstrates a specific part of the pattern that might trip you up.
In this case, I'm demonstrating the optional Puffy Seafoam add-on for my Turtle Beach blankets, found in the donationware version of the Ribbed Ripple/Turtle Beach pattern.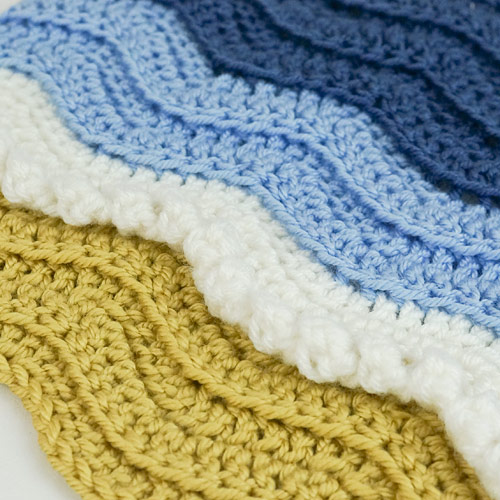 Isn't it a lovely effect?
This addition lets you add a row of 3-dimensional seafoam to any of my Turtle Beach blanket patterns. It's crocheted as an afterthought directly onto the completed blanket, so if you've already made a turtle beach blanket, you can add the puffy seafoam at any time!
A Little Background…
Turtle Beach Collection is my most popular pattern set, having gone viral multiple times since I first released the original donationware blanket pattern to accompany my baby sea turtles in 2016, and I've been improving and expanding the collection ever since then, with more blanket patterns, flat and stuffed turtles, starfish, and additional modification ideas.
In 2019 I first added a brief explanation for the Puffy Seafoam at the end of the basic Ribbed Ripple/Turtle Beach Donationware pattern. It's a fast and fun addition with a realistic 3D effect, but the construction is a little unusual, so I thought it deserved a bit more detail to help you make it!
Now, I've updated the tutorial in the pattern (it now includes full right-handed and left-handed instructions) and I've created an exclusive video tutorial (with right- and left-handed versions) to accompany this, so you can watch it in action – isn't that cool?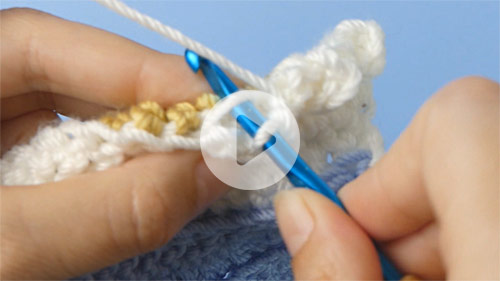 How to Get the Video
If you've ever donated for the Ribbed Ripple/Turtle Beach blanket pattern, you can log back into your PlanetJune account and download the new Ribbed Ripple pattern PDF from 'My Patterns'.
On page 9 of the PDF, you'll find the updated Puffy Seafoam add-on instructions, including the links to both the right-handed and left-handed versions of the new video.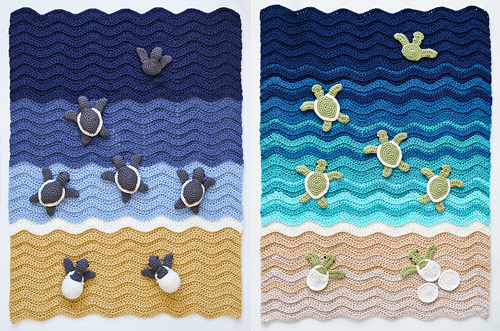 Left: Classic Blue blanket; stuffed 3D turtles
Right: Teal Ombre blanket; flat appliqué turtles
You can also add the seafoam to my Classic Blue (above, left) or Teal Ombré (above, right) Turtle Beach blankets, so if you haven't bought the Ribbed Ripple pattern too, you might like to think about grabbing it now!
For your minimum $2 donation you'll get the Puffy Seafoam add-on – including the video links – and also an optional edging you can use if you'd like to square off the edges of your finished blanket, to turn it into a rectangle or use as a base to add any fancy crocheted edging. These options work with any of my Turtle Beach blanket patterns.

3D seafoam, squared-off edging
Pattern-Exclusive Videos: Good Idea?
This project was an experiment for me in two ways:
To see if I can make a 'quick' video that doesn't take hours of my time to produce and edit (the answer to that is no!)
To see how well this idea of making bonus pattern-exclusive video content works – and that's where you come in…
Please watch the video and let me know what you think!
Is the video demo a valuable addition to a pattern?
Is it useful to have the video link on the same page, so it's right there as soon as you get stuck?
Would you like to see more patterns with private video tutorials for any tricky bits?
Please email me or comment below with your feedback!
What's Next
I hope you'll enjoy the new video! It's a novel method with a lovely 3D result, and I think the video will really help you to visualize what you'll be doing as you crochet the seafoam, and how it comes together.
If this 'pattern-exclusive video' idea is popular, I'll start keeping an eye on my customer support requests for any other common questions that would benefit from a quick video tutorial, and then update the relevant pattern with the link once I've made the private video.
Tip: From now on, I'll notify you of any pattern updates in my monthly newsletter, so if you don't already subscribe, please sign up to make sure you know about any bonus content and improvements I've added for the patterns you own!