After people buy my patterns, that's often the end of my involvement with them – I rarely get to see the end results, or what people do with their creations after they've made with them. With PlanetJune Stories, I hope to change all that! I want to discover and share how amazing my customers are with this new series of posts, each featuring one of my customers and his/her personal story.
My first PlanetJune Story features Sandy Grabowski of Cincinnati, OH, and the heartwarming tale of how she came to crochet this impressive AmiDogs collection:

Sandy writes:
I have crocheted for many years. When my son was young, I started making creatures using the wonderful patterns that were available then from Annie's Attic, when Annie had first started up her business. He would go through the patterns as I was making one and say, 'Make this one next, Mom!' As he grew up I turned to other projects, huge afghans and such, but a few years ago I wanted to go back to making creatures. It's such fun to take a single strand of yarn and a simple hook and end up with an almost-living being with a personality. But what to do with them when I was done?

The solution was that I offered them to the Ronald McDonald House here in Cincinnati (there are many of them across this country and throughout the world). The dedicated staff there provides a home-like place to stay for the families of children who are undergoing treatment at Children's Hospital. Each child who comes gets a basket of goodies, and often one of my creatures is in it. It gives me a warm feeling as I work to know that my creatures may bring a smile to a a child in a difficult situation and perhaps become a lifetime companion.

In my never-ending search for patterns, I discovered PlanetJune and purchased all the AmiDogs patterns (and many others), and recently I decided that for my next shipment, I would crochet all of them at once. This marvelous group portrait is the result. I embroidered the eyes for safety reasons and gave each one a colorful collar and a smile. June Gilbank is an artist in not only creating such wonderful, true-to-life creatures, but in making it possible for anyone to make them through her lovely patterns and her most excellent and useful book (which shows how you can design your own!). The staff at the Ronald McDonald House is always amazed at the versatility of what can be done with crochet. Thanks so very much, June, and all the best to you in your big South African adventure!!!
And thank you, Sandy, for sharing your story with us! Here are Sandy's dogs in close-up: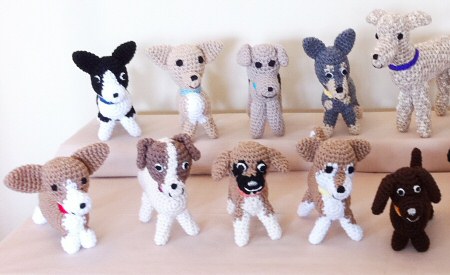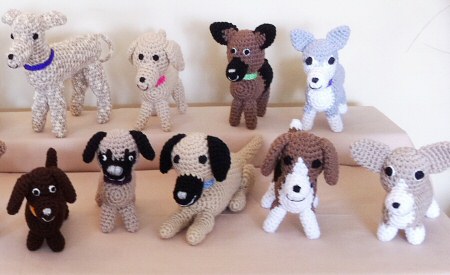 Aren't they lovely?! So full of personality! I'm sure Sandy's dogs have brightened the days of a lot of children at Ronald McDonald House.
Do you have a PlanetJune Story you'd like to share? I'd love to hear it! Please email your story to june@planetjune.com, together with one or more high quality photos showing what you've made from PlanetJune patterns. If I choose your story to feature here on the blog, I'll send you a free pattern to say thank you!