In plenty of time for Valentine's Day, I have a new crochet pattern to share today: Love Hearts! String them into a garland, add a pin back to make a cute brooch, or fill a bowl with pretty hearts for Valentine's Day decorating.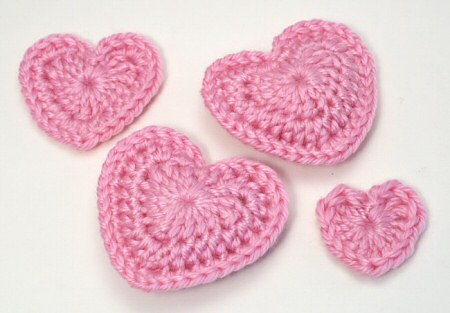 This is a clever little pattern to make sweet hearts in three sizes – each heart builds on the pattern of the previous heart. You can also make a bonus puffy heart to give a total of 4 different designs in this one pattern: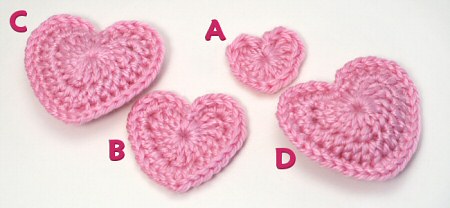 A: Small Heart; B: Medium Heart; C: Large Heart; D: Puffy Heart
It's a fun pattern; although it's worked in the round, it's the opposite of amigurumi, as you'll use a variety of crochet stitches to form the heart shape. And unlike other hearts I've seen, this one has no chains between the stitches, so it forms a nice solid shape. Once you get the hang of the pattern you'll be able to whip up dozens of hearts in no time at all!
The Love Hearts crochet pattern is free for you to use. If you'd like to thank me with a donation, you'll get a handy printable PDF version of the pattern as a thank you 🙂
Enjoy!