Three years ago (almost exactly! it was Jan 19th 2008) I posted about the glass shelves I'd bought from IKEA for displaying my crocheted animals in my craft room. Here's how it looked back then: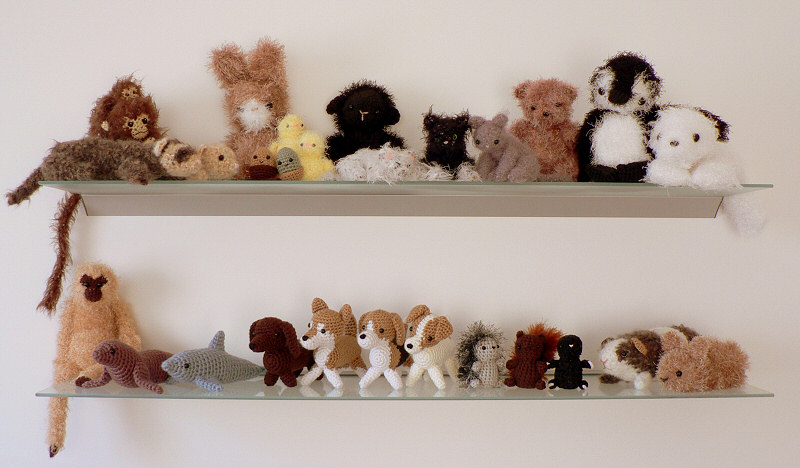 Awww, evidence of a fledgling crochet pattern business!
Things have changed just a bit since then! As I have to depersonalise my craft room and turn it back into a bedroom so we can sell the house, I thought I'd better take some pics for posterity before I have to dismantle everything (sniff). So here's the current state of my toy shelves: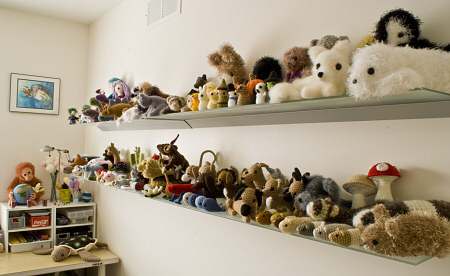 It's a bit tricky to fit everything into one photo, as the shelves take up the full length of one wall!
As you can see, I expanded from 2 shelves to 4. I was actually planning another IKEA trip to get yet another pair of shelves just before we found out we'd be moving – things are more than a little cramped on the shelves at the moment, and I don't even have everything on display!
Credit for another artist: the beautiful sea turtle print you can see on the wall above my orangutan is by Ron Krajewski (dogartstudio).
After a few failed attempts, I managed to get a panoramic shot of everything (this is actually 4 photos I stitched together!):


I promise it's worth the click through to Flickr for the large version – you can't see anything at this scale!
I must confess I'm feeling a little bit proud of myself, looking at that photo. I just did a quick head count: 52 on the top shelf and 70 (I think! I kept losing count) on the bottom shelf…
Can you spot your PlanetJune favourites up there?