Can it really be 2011 already?! The past year has just flown by. My second full year of self-employment, and I really didn't know how things would go: could I build on my 2009 success and continue to grow my business?
At the start of 2010, I was buried deep in writing (and illustrating, and photographing…) my first crochet book, The Complete Idiot's Guide to Amigurumi, which was released in October: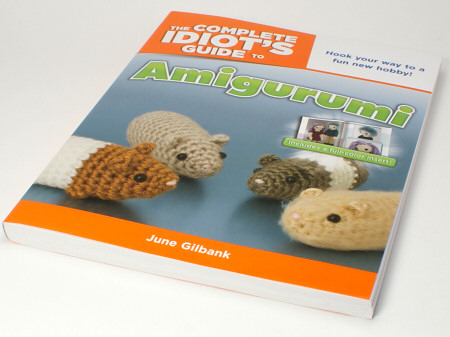 All the book stuff was really time-consuming (writing, photography, edits, illustrations…), so I thought I'd have a pretty empty photo-mosaic of my 2010 craft projects, but that, surprisingly, wasn't the case – look what I made!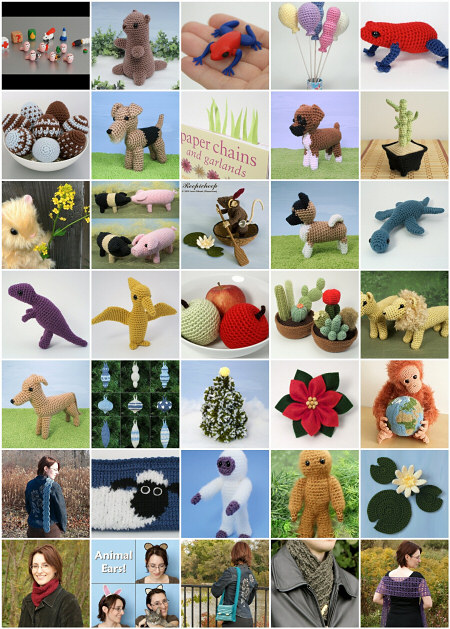 In 2010, in addition to increasing my amigurumi pattern ranges with 20 new designs, and launching my Detail Stuffing Tool, I spent most of the summer designing, writing and modelling(!) for my first PlanetJune Accessories collection of wearables (at the bottom of the mosaic above). I'd definitely like to pursue this line further in the coming year…
In my spare time (ha!) I completed 2 big art projects – Reepicheep and my punchneedle globe – and learnt how to knook (that's knitting with a crochet hook, if you didn't know). I also made my first foray into stop-motion animation, to create a video trailer for my book:
I hosted five seasonal Crochet-Alongs in 2010 (the Groundhog-Along, Spring CAL, Summer CAL, Fall CAL and the just-completed Christmas CAL). That was fun, but a little too much for one year, I think! I'll take a break from hosting them for a while, and figure out the direction I'd like to take for future CALs. (Let me know if you have suggestions…)
My resolution from last year was to "learn to say 'no' to some things and to set priorities" and I've been moderately successful in that – I made some very difficult decisions and turned down 2 book offers, a book contribution offer and several commissions because of time constraints and/or lack of sufficient compensation. Running a one-person business is a big deal, especially as the business grows and I'm still the sole employee managing all the work that goes along with it, so I'll have to keep going with the 'prioritising and saying no' resolution even more in 2011!
Having said that, I'm very happy with the success of PlanetJune in 2010 – the increase in income I saw in 2009 has more than held true this year, and I'm starting 2011 from a pretty solid footing, although some things, e.g. finding out we'll be moving to South Africa soon, have put a dent into some of my grander plans, as you can probably imagine 🙂
For the next few months, I need to be in full-on 'getting ready to move to another continent' mode. It's going to be a challenge – both personally and for my business – but it's one I'm (just about) ready to embrace. This is a chance for me to start fresh; to declutter my life and my business and concentrate on what's really important to me. So that's my resolution for 2011: to figure out what's really important to me and to be true to myself in the decisions I make.
Although I really want to expand and improve, my PlanetJune priority for the next few months will be to keep things ticking over rather than growing the business. I probably won't be as prolific as usual, or as visible online, while we get everything organised and make the big move to Cape Town. But, once we get settled in our new home, I'll be able to concentrate fully on taking PlanetJune to the next exciting stage, whatever that may be!
I'd like to say a huge thank you to everyone who has supported me over the past year. Your comments and friendship (and orders!) have meant the world to me, and help keep me sane when I feel totally overwhelmed by everything. I hope you'll accompany me, here and on Twitter and Facebook, on my 2011 adventure.
I wish you a very Happy New Year, and your own adventures in 2011!