I bet many of you (unless you saw my tweets last weekend) are thinking 'huh?' right about now… But if you're like me (a crocheter who doesn't knit) you're going to love this craft: knooking is knitting with a crochet hook. No, it's not tunisian crochet, or any other type of crochet; when you knook you form genuine knitted stitches. The finished product is indistinguishable from a knit piece. Isn't that cool?
I just don't get along with the pointy sticks and I've often wished I could just put a hook on the end of a knitting needle so I could snag those stitches more easily, so the idea of knooking was very appealing. You do need to use a special hook to knook with – it has to be straight all the way down the length (i.e. no wider thumb grip) and have some way to attach a cord to the non-hooked end. You can modify a regular crochet hook, or a locker hook makes the perfect starter tool – you can find it in most craft stores, and it's approximately equivalent in size to a G hook.
This weekend I had some time on my hands and thought I'd finally give knooking a try. I must be a bit of a masochist – I didn't want to start with a boring swatch or dishcloth pattern; I wanted something that I could actually use once I'd finished it. I'd seen a free knitting pattern a few weeks ago for a Shaun the Sheep DS case and it seemed like it may be a feasible (and cute!) first project. Luckily it starts with the back, which is plain, before moving to the colourwork on the front, so I figured I'd have time to get used to the knit and purl stitches before introducing another element of difficulty.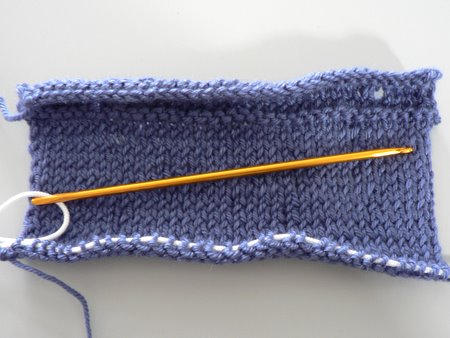 First knooking attempt in progress
Here it is after getting 2/3 through the back. (The hole at the top right is a buttonhole, not a mistake.) You can see my white cord running through the active stitches at the bottom of the picture. Each time you complete a row, you slide the stitches down off the bottom of the hook onto the cord, and then work into them again for the next row.
I think I may have wrapped the yarn wrongly a couple of times, because there are a couple of flubs in my beautiful knitted fabric. Also, my yarn was a bit splitty, which didn't help when trying to form those awkward purl stitches. I was surprised that my stitches looked so even, considering this was my first ever attempt at knooking.
The colourwork was easier than I'd anticipated. I worked the design backwards (mirror image) because I'm left-handed and wasn't 100% sure if knit stitches are symmetrical (although I think they are) so I thought I'd play it safe. I left yarn ends dangling on the inside while I knooked, and wove them all in later. My only difficulty was my choice of a bouclé yarn for the 'wool': it turns out that bouclé is just as challenging to knook with as it is to crochet with!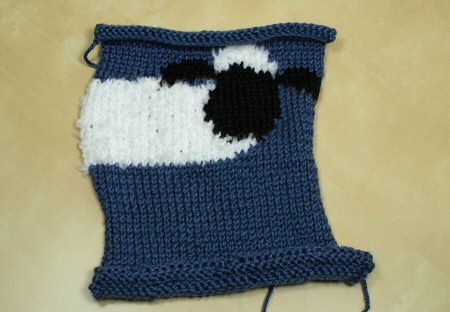 Before blocking
My finished piece was curling up a lot at the edges, so I used makeshift blocking wires (actually floral wire – I don't have much need for real blocking wires in my daily life) and some steam blocking to straighten it out (yes, you can steam block acrylic!).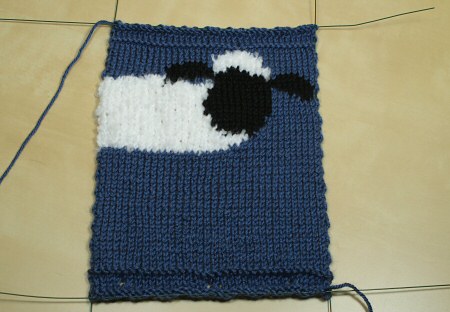 Blocking wires in place
When it was dry, I seamed the sides and attached some buttons to the top. I wasn't sure how to make the eyes, but in the end I made some from black and white felt strengthened with embroidered buttonhole stitches around the edges. The whole project cost me nothing: all the materials came from my stash (yay!) – even the buttons!

Front
I could see by the end (the top border) that I'd really got the hang of it: my stitches were much more consistent than they had been on the back of the piece, although they really hadn't been bad to start with. I think I can say that I've conquered the basics of knooking, and I'm looking forward to trying out another knitting pattern with my hook!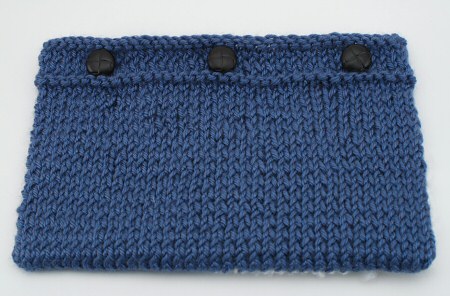 Back
Have I captured your interest? If you'd like to try knooking, I recommend you check out the Knooking blog (I learnt how to knook from Jen's excellent how-to videos) and Knooking Ravelry group 🙂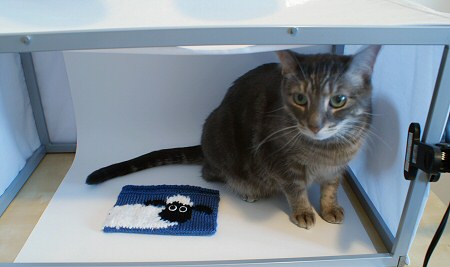 Maui insisted on 'helping' with the photoshoot!