I was inspired to make this by a crochet challenge on Craftster. The challenge theme was fantasy, and Narnia sprang to mind immediately. When I was younger, I loved the Chronicles of Narnia series, especially The Lion, The Witch and The Wardrobe. I spent my pocket money on a lovely boxset of the paperbacks that included the original illustrations. And then I was given a book written about Narnia that explained all the Christian symbolism C.S. Lewis had built into the stories, and I was horrified: I felt like I'd been cheated into reading religious propaganda, and Narnia lost its appeal. It took me many years, but I eventually decided to ignore all the Christian subtext and re-read them, and I discovered that the stories are still charming and wonderful (except The Last Battle, but that's another story) and I returned to the magic of Narnia. If you haven't read these books, you really should!
Anyway, back to my design. I thought Aslan was too obvious a choice, but I wanted to make a very recognisable character, so who better than the fearless and valiant mouse Reepicheep? The scene from the end of The Voyage of The Dawn Treader has always stuck with me, and the prophetic verse:
Where sky and water meet,
Where the waves grow sweet,
Doubt not, Reepicheep,
To find all you seek,
There is the utter East.
So, without further ado, I present… Sir Reepicheep! (Please click the pic to see the full size version – you can't appreciate it properly at this scale.)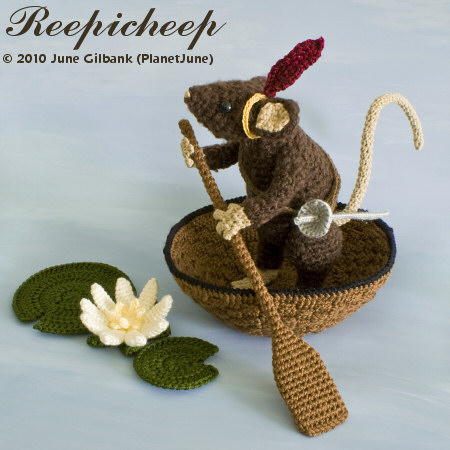 Reepicheep paddles in his coracle, through a sea of lilies, to the end of the world
Reepicheep was very educational to me: without him, I wouldn't know what a coracle is (a small, round, lightweight, one-man boat made from woven wooden strips) or the meaning of the word poltroon (a coward). In fact, I think 'poltroon' is such a great word, we should all start using it in daily conversation!
Reepicheep and accessories took 11 types and colours of yarn and 4 sizes of crochet hook. It's very important to me to make as much as possible from crochet, so everything you can see is crocheted. I used fiberfill stuffing, 3 different types of wire (pipe cleaners, floral wire and beading wire) to provide internal structure, and a piece of plastic canvas inside the paddle blade to keep it flat. And every single item came from my stash, so the entire project cost me nothing!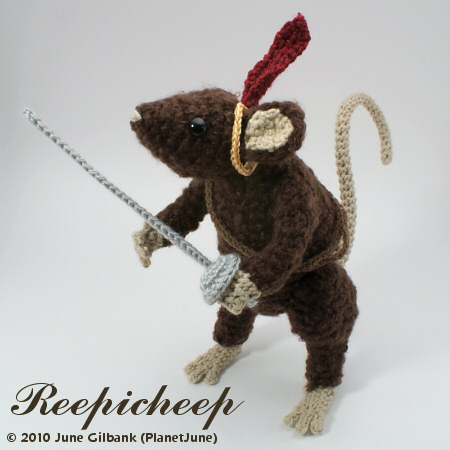 Reepicheep stands at 9 inches (23 cm) tall. His arms and legs have a floral wire skeleton to make him poseable; his tail is crocheted over pipe cleaners, and his fingers and toes are stabilised with beading wire so they are also poseable. He wears a red feather behind one ear, tucked into a gold band. The gold band gave me problems – every yarn I tried looked too bulky and ridiculous. After 3 useless attempts, I thought I'd try crocheting an i-cord with gold-coloured embroidery thread – something I've never tried before (i-cords are usually knitted) but had been meaning to try. It worked really well and made a neat square tube that I stitched together at the ends to form the band.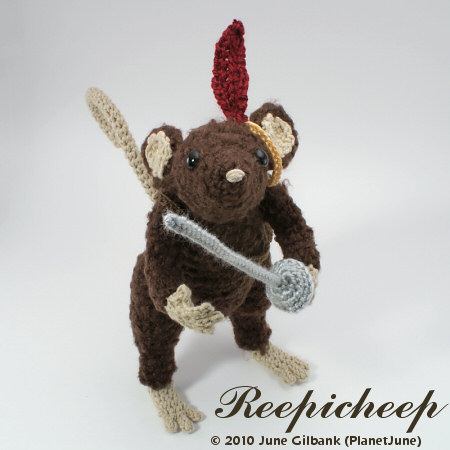 I crocheted Reep's rapier over a length of floral wire so it would be rigid. I found some crewel wool in my stash that I thought would make an interesting texture for his sword belt. Unfortunately, you'd have to touch them to appreciate the contrast between the soft yarns I used for Reep and the coarser texture of the belt – so you'll have to just believe me on this one 🙂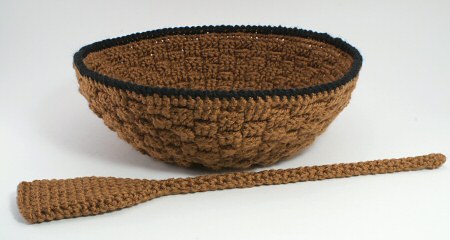 The coracle took a lot of figuring out! I decided to make a basket-weave texture using front- and back-post stitches, to give the coracle a realistic woven look, but because the sides are sloped, I had to figure out how to make increases without interrupting the pattern of the basket-weave. I eventually made every 'woven strip' 2 stitches wide at the base of the coracle, and, over 8 rounds, gradually increased the width of each strip so that they are all 3 stitches wide by the top edge. I crocheted tightly so that it's very sturdy and hold its shape pretty well, and I wet-blocked it over a bowl to help it to stay perfectly round. The paddle has a floral wire handle and plastic canvas blade so it's strong and rigid.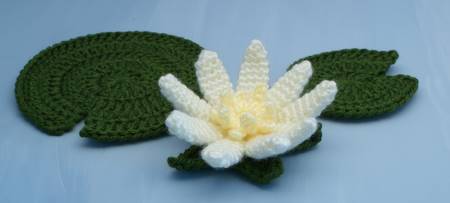 And finally, I love the sea of waterlilies that Reep paddles through, so I couldn't resist making a pretty little waterlily to complete the scene! I can't make a pattern for Reepicheep: for starters I crocheted him freeform so there is no pattern, and, of course, profiting from other people's copyrighted characters is not legal! But I will be writing up the pattern for the waterlily flower and leaves – it should be finished later this week if you're interested.
UPDATE: The water lily crochet pattern is now available in my shop.
I hope you like my Reepicheep! I'm very happy with him 🙂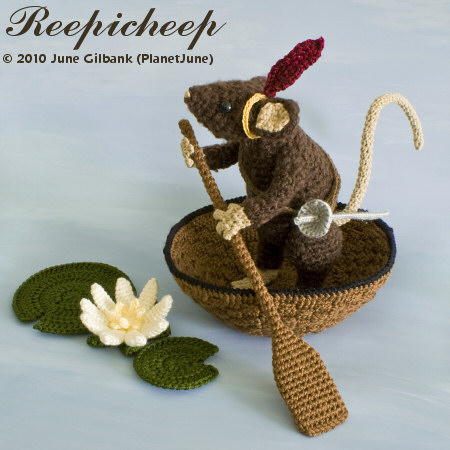 Don't forget to enter my anniversary contests, if you haven't yet – they are open until Friday!