I'm happy that so many of you are enjoying my botanical crochet patterns – it's a refreshing change for me to mix it up a bit (although don't worry, I won't neglect the animal designs either!). I just love nature, and now I have an excuse to examine animals and plants in detail and challenge myself to recreate the essence of what I find in a simplified, easily reproducible way. This 'job' makes me very happy!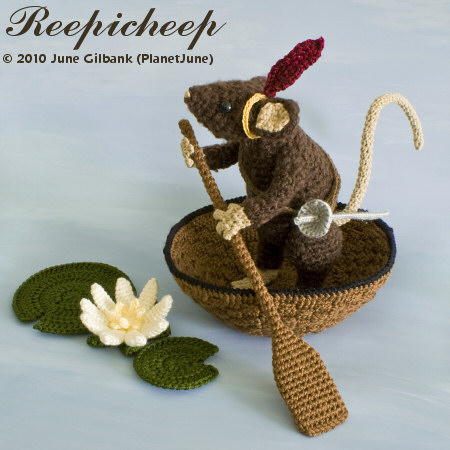 As you know, I can't make a pattern for my darling Reepicheep, but I can and have made one for the lovely water lily you've seen with him! How about making a realistic crocheted water lily (or lotus blossom) arrangement as a beautiful decoration or table centrepiece?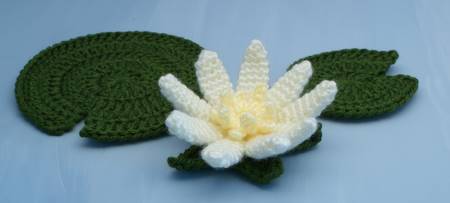 This is a bit different to most of my other patterns: there's no stuffing involved, and it's *gasp* not all worked in single crochet, although it is all worked in very simple stitches, so it's not difficult at all. The pattern includes full instructions with step by step photos and clear illustrations at every stage, so you can easily crochet your own Water Lily. With two different leaf sizes, you can create an aquatic arrangement with as many leaves and blossoms as you want.
Although the blossoms are fairly time-intensive (11 parts to each blossom, but they are worth it, I promise), the leaves are an absolute joy to crochet – you can work one up in minutes! So if you're making an arrangement, I'd suggest several leaves to every flower – in reality, each plant has many leaves and a single flower, so you won't even be cheating!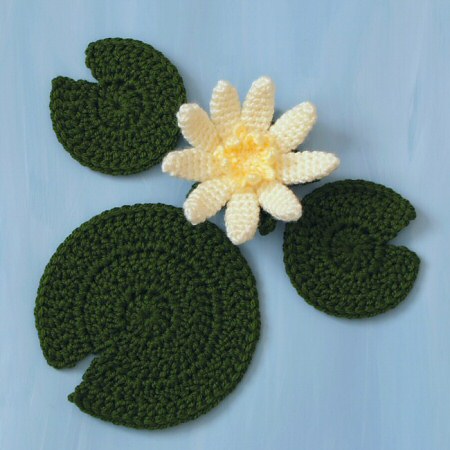 To give a more delicate effect, I used sport DK weight yarn for my petals, instead of my usual worsted weight, but you could use worsted weight for everything if you prefer (I give size comparison information in the pattern).
You could pick up my Water Lily crochet pattern from the shop and crochet one this weekend!