I'm a winner
Yay – my Reepicheep has won the Craftster Fantasy Crochet Challenge, with 64% of the votes!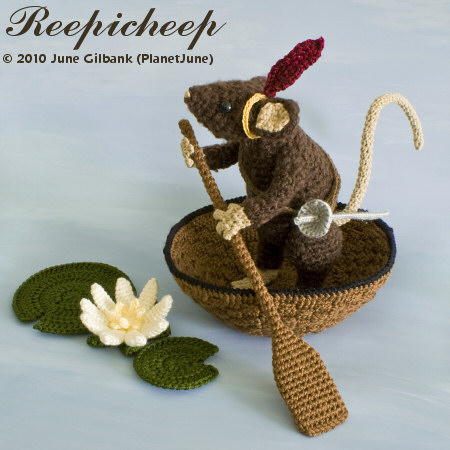 (Are you bored with seeing Reep's picture yet? I'm sorry – I promise this is the last time I'll post it!)
I am a bit disappointed though, because I thought the fantasy theme was really rich and exciting subject matter, and there would be loads of imaginative entries. I don't know if it was the time of year, or if people just didn't know about the contest, but in the end there were only a paltry four entries – such a shame. I was looking forward to seeing all sorts of crocheted dragons and unicorns and elves and so on… I suppose I'll just have to make them all myself, if nobody else is going to! (My new Mythical Creatures pattern category in the shop is looking a little sparse, so that's actually not a bad idea at all…)
Blogiversary Contest Winners
Thank you so much to everyone who left me a comment on my blogiversary post! I've loved reading all your comments and suggestions, and I've definitely gained some inspiration and new ideas to take me forward into Year 5 of PlanetJune 🙂 Now onto the fun part: the winners! I downloaded all the comments into Excel, tagged them as pattern or tool, and split them apart into two sets. I then picked a random entry from each set as the winners:
The pattern draw winner is Vicki, who said:
June,
Your blog is amazing! I love all of your patterns!! I think some additions to the farm series would be fun – goat, chicken, horse, sheep, etc…Thanks for all you do for all of us crafters! I would like to be entered into the pattern contest 🙂
Thanks!
And the Detail Stuffing Tool draw winner is SparklyShiny, who said:
You've had a very busy year! Your website is so easy to navigate and your patterns are truly amazing (I'm getting spoiled with your well-written directions). I can't wait to see what you come up with next – love the idea of a dragon, and I keep looking for a realistic parrot pattern.

I definitely want one of your stuffing tools – after the experience of Chihuahua leg (before your tool was available), I know that I need to add one to my tool kit.
Congrats to both of you – I'll email you, Vicki, to find out which pattern you'd like, and you, Sparkly, to get your mailing address!
I feel bad for all the non-winning commenters – your comments were all so sweet and really useful – so I've decided to email a discount coupon to all of you: now you're all runners-up 😀 (Please allow me a couple of days to send them all out – there are a lot of you runners-up to get through – and check your Spam folder if you don't see it in your inbox.)
So, as I said in the title of this post, everyone's a winner – yay!