Since before my book was released, I've been trying to figure out a way for you to get your copies signed. I'm not ideally located to do signings, and I don't think my stardom has reached the levels of world signing tours quite yet! Unless you'd like to buy one of my limited edition signed copies, you've been out of luck, and that's just not good enough, is it?
Here's my solution: I've had some exclusive Complete Idiot's Guide to Amigurumi bookmarks professionally printed, with a nice space in the middle for me to sign your bookmark especially to you. Keep the bookmark in your copy – it'll be useful as well as a way to get your copy 'signed' without the logistical difficulties or costs!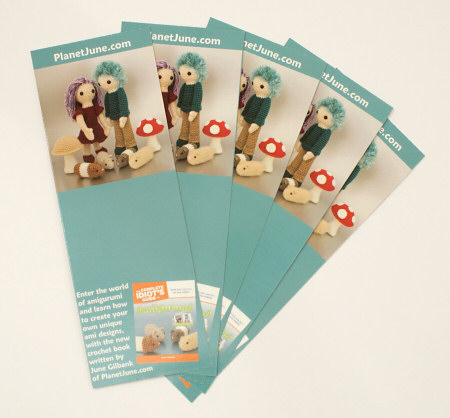 And here's the best part: as a personal thank you for buying my book, the bookmark is FREE to you if you're already buying anything that includes a shipping cost (that's anything from the Eyes, Tools & More category in my shop: eyes, noses, Detail Stuffing Tools, stitch markers, or the hugely popular new Amigurumi Accessory Kits), and, if not, you can just pay the postage cost for me to send it to you. How does that sound?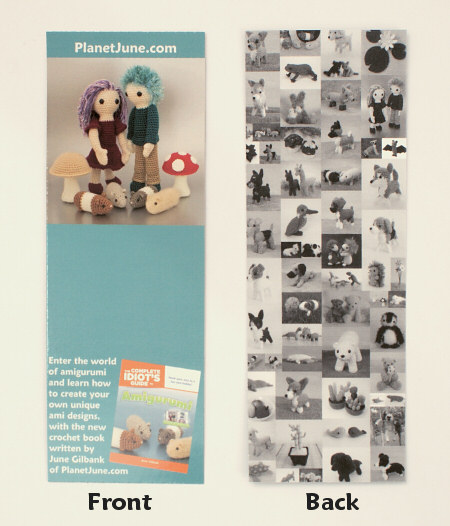 The signed bookmark is exclusively available as a free product in the PlanetJune shop. To add a bookmark to your next order, just tell me your first name so I can personalize it to you, select your shipping cost (free if you're buying any other non-pattern items, or select your location as appropriate), and add it to your shopping cart. Easy!