After the success of my giant amigurumi baby bunny, Mega Bun, I decided to try some more extreme amigurumi experiments using regular yarn that's currently available in stores, so I can give you some recommendations.
As before, I used my Susan Bates Xtreme crochet hook, which is size 50 (that's 25mm, or 1 inch!) and this time I decided to use my smallest, simplest amigurumi animal pattern, Tiny Whale. Is it possible to make an extreme Tiny Whale?! Why yes, it is: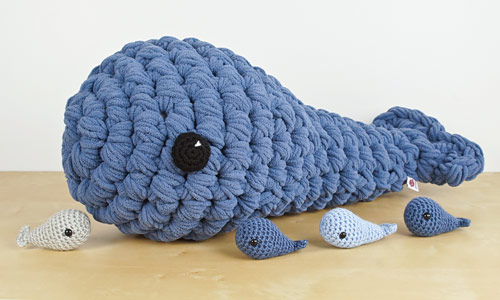 And now let's look at how I got to this point…
First Attempt: Jumbo Yarn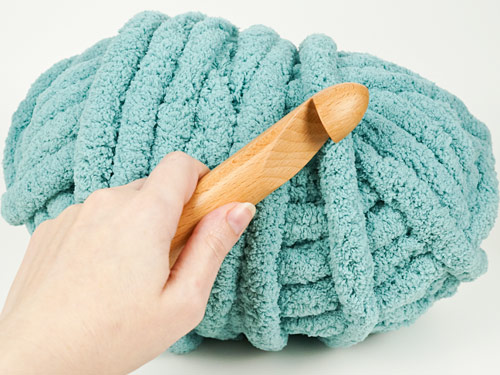 Bernat Blanket Big is a #7 jumbo weight yarn with a recommended hook size of 25mm – exactly what I was looking for!
(Note: this is a completely different yarn from the #6 super bulky weight Bernat Blanket yarn, which is only a fraction of a size of this monster yarn! You may find 'Bernat Blanket Big Ball Yarn' for sale online, but that's just a big ball of Bernat Blanket, not a ball of Bernat Blanket Big…)
This chenille-style yarn works up beautifully to make a massive and super-soft amigurumi with no large holes. Look at these huge single crochet stitches: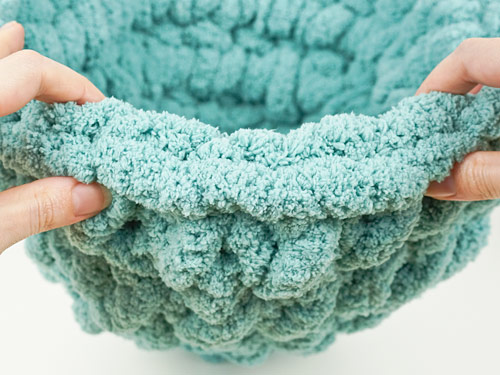 And then: disaster! A ball of Blanket Big weighs 300g but only contains 32 yards (29m) of yarn. It turns out my one ball made less than half of a Tiny Whale, and I had no way to get more of the same colour…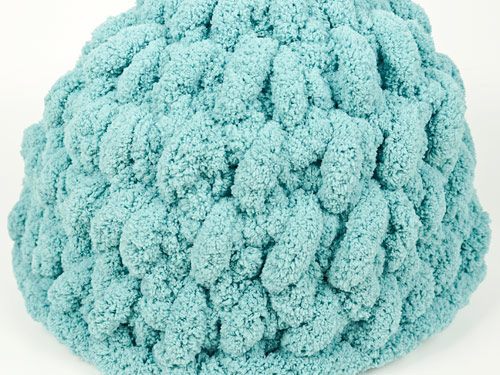 So that was the end of this attempt, but at least my experiment proved that the #7 jumbo yarn is a viable choice for extreme amigurumi.
Verdict: Thumbs up for this yarn, provided you're prepared to buy several balls to make a single amigurumi! (But please check that your jumbo yarn recommends a 25mm hook size if you're going to replicate this: "jumbo" covers everything larger than super bulky. Most jumbo yarns I've seen are designed for a 19mm hook, and are much less bulky than this.)
Second Attempt: Super Bulky Yarn
Jumbo yarn isn't very common, so, for my next experiment, I wanted to know how many strands of super bulky yarn, held together, would make the equivalent of a single strand of my jumbo yarn.
I used Bernat Blanket yarn, which has the same chenille-style construction as Blanket Big, but is a much more usable size (the recommended hook size for this yarn is US L/8mm).
I tried to gauge how many strands I'd need by holding several strands up against the jumbo yarn to compare visually and by feel, and then crocheting with them to see what gave the most similar result to my first experiment. And the result? You need a whopping six strands of super bulky yarn to replicate the weight of one strand of the jumbo!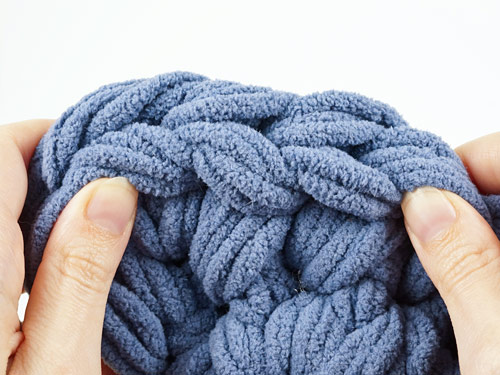 I came up with a variation of chain plying that let me wrangle 6 strands relatively easily, but it was still hard work on such a massive scale. The multiple strands, held tightly together, are clearly visible in the amigurumi and don't give as soft a finish as the jumbo yarn, but I quite like the effect, and, most importantly, it worked!
Extreme Whale used 500 yards (460m) of Bernat Blanket yarn with a 25mm hook. Despite this huge stitch size, there are no large holes between the stitches and I was able to stuff him directly (unlike Mega Bun, who needed a net to contain the stuffing).
Verdict: The end result is a definite success, but wrangling 6 strands of yarn was an added challenge!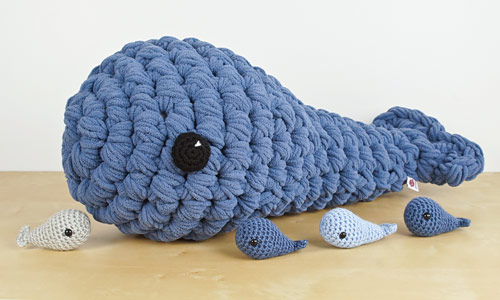 Extreme Whale is exactly six times the size of the original Tiny Whale, at 24″ (60cm) long vs 4″ (10cm) in the original pattern, and weighs in at over 1kg (well over 2lbs) including stuffing!
Final Thoughts
These experiments have shown that it's definitely possible to scale up an amigurumi pattern by multiple times, provided you don't mind the look of the huge stitches and you choose an appropriate hook and yarn for your project.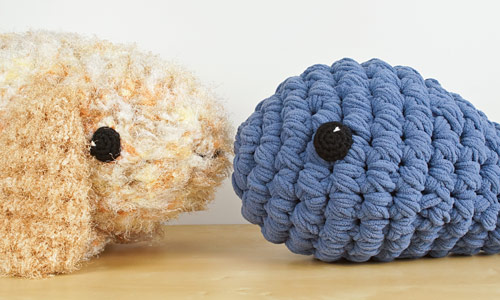 Mega Bun is very happy to finally have a friend of her own size!
If you'd like to make an extreme ami and are debating buying ridiculously thick yarn vs using multiple strands of a finer yarn, you may be interested to know that I compared the cost of each yarn, and the cost of an ami made with 6 strands of Blanket yarn is the same as making the same ami from 1 strand of Blanket Big yarn.
If I make another extreme whale, I'd try to use the jumbo yarn to save on having to hold all those strands together! But Bernat Blanket is very readily available in a wide range of shades, whereas Blanket Big is often unavailable (I think it may be released seasonally in the winter and discontinued every summer) and only comes in a handful of shades. So either option is fine, depending on what you can find.
Pattern Info
If you'd like to make your own extreme (or standard-sized!) amigurumi whale and bunny like mine, the PlanetJune patterns I used are:
What's Next?
Will I be putting away my giant hook now? Oh no, I'm not done with extreme crochet just yet!
I've come up with lots of recommendations throughout this journey so far, and I'll be compiling all my extreme amigurumi tips for you – and the pattern for my giant crocheted ami eyes – when I've finished my final supersized crochet experiments.
Stay tuned for the next extremely thrilling update…