I'll be sharing my process as I design my amigurumi Meerkat crochet pattern – hope you find this behind-the-scenes journey through what goes into a PlanetJune design interesting!
To catch up, see Part 1: Research, Shape, Colour and Sketch
Last time, I'd completed my sketch and chosen my yarns, and was ready to start thinking about how to create a 3D crocheted Meerkat from these little rough sketches: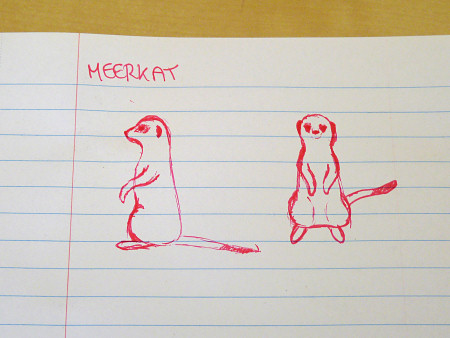 Part 2: Construction Decisions
There are several ways to achieve a specific 3D shape in crochet:
Build it up by stitching together smaller, simpler shapes
Create shape in a single piece through strategic placement of increases and decreases
Create shape in a single piece by varying the type and size of stitch used
The right solution for me depends on what I'm trying to achieve in a specific design; I may use some or all of these techniques within a single pattern to achieve the best result. For the Meerkat, I have to decide:
Will the head, muzzle, ears, body, arms, legs, feet, tail, all be separate pieces, or should some (or all) of those be built in with shaping?
Should I start from the bottom and work up, from the top and work down, or from the front and work back?
Making these decisions involves more trade-offs: what gives the cleanest look; what produces the best shape; what makes the pattern easy to follow; what makes the pieces easy to assemble.
At this stage, I often develop several partial prototypes using different techniques and see which looks best. It's never wasted time, as even the terrible results help to point me towards the solution, and sometimes I come up with a technique that doesn't work for the design I'm working on but gives me a great idea for something else!
In this case, I've been playing around with a new idea for leg shaping, using scrap yarn and just testing the principle. I wasn't trying to create the exact shape I'd need for the Meerkat, so don't be concerned that it doesn't look like anything in particular: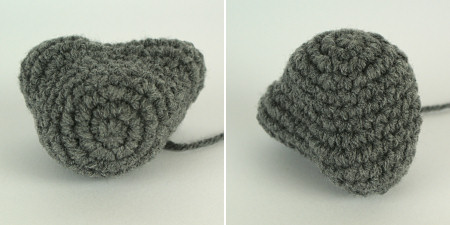 Trying out a new shaping technique
To achieve more defined shaping than this, I'd need to either use multiple increases/decreases, or change the stitch – those are both techniques I try to avoid in my designs, as they spoil the smooth, regular look of the single crochet stitches. I think, though, that this approach I've been testing could work for my Meerkat's legs, so that's the direction I'm going to aim for (although it's all subject to change if it doesn't work out the way I hope…)
Next up, prototyping the head. I almost always start my real design with the head, as the head and face can make or break an amigurumi. The head is typically the most complex and detailed part of my designs, and I can build and shape the other pieces based on the size of the finished head. Working the other way and leaving the head until last, I may find that my Meerkat is so small I can't make the eye patches look good, or I'd need a partial number of stitches or rounds to make the features the right size.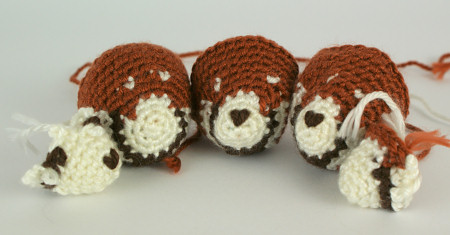 Red Panda head prototypes
So the next step will be trial and error prototyping until I create a good-looking Meerkat head. I still have most of my Red Panda prototype heads (although some are partially unravelled to reclaim the amber yarn), and, as you can see from the above photo, it took me at least 5 attempts to perfect the combination of shape and markings! This isn't unusual, and it was worth every step to get to the final result. 'Quick' and 'good' aren't words that work together in my design process 😉
My design is already further along than this post – I planned to post this last week, but my new Baby Bunnies pattern took precedence, so you'll get 2 Meerkat updates this week instead! Stay tuned for Part 3: Making The Head.