Once of my most popular crochet patterns is my Baby Bunnies set – they seem to have really captured my customers' imaginations, and I've seen dozens of people who've each made dozens of baby bunnies – they're multiplying like, um, rabbits! And now you can get even more value from this pattern, by buying my new Baby Bunnies 2 Expansion Pack, which will let you create baby bunnies with Pointed, Blazed and Dutch markings.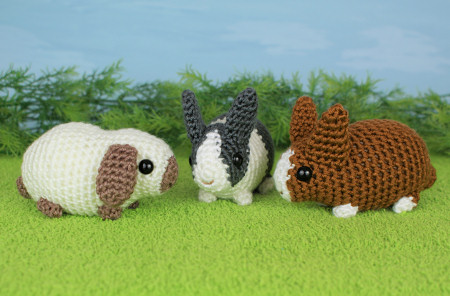 New Bunnies! L-R: Pointed Bunny, Dutch Bunny, Blazed Bunny
What is an Expansion Pack?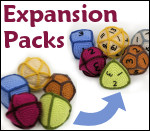 An Expansion Pack is an add-on to an existing PlanetJune pattern.
The Expansion Pack lets you modify or add to the original pattern to create something else.
You cannot use the Expansion Pack alone – you must also purchase the original pattern in order to be able to complete the pictured items in the Expansion Pack pattern.
I've only made one sample for each marking type, but, by swapping upright or lop ears with each type, you can make a total of 6 different new bunnies. (Then add the original bunnies, and all the different colourways, and you have dozens of different bunny options!)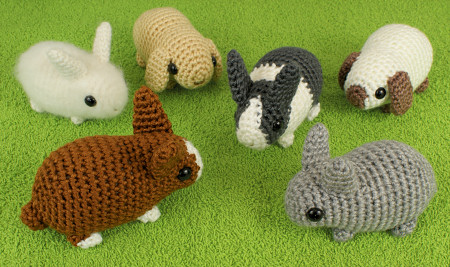 Baby Bunnies 1 & 2 playing together – swap the ears and colours for even more options
Build your Colour-Changing Confidence
The original Baby Bunnies is a good pattern for fairly new crocheters, as there's only one colour to deal with, the small size means you can finish it pretty quickly, and you get lots of practice with counting your stitches to achieve that perfect bunny shape! So I'm continuing that beginner's crochet education with Baby Bunnies 2, as the 3 marking types are graded by difficulty:
Test the waters by making your first simple colour changes for the Pointed Bunny.
Get your feet wet with a few more colour changes in the Blazed Bunny markings.
Wade into multiple changes per round with the more complex Dutch Bunny markings.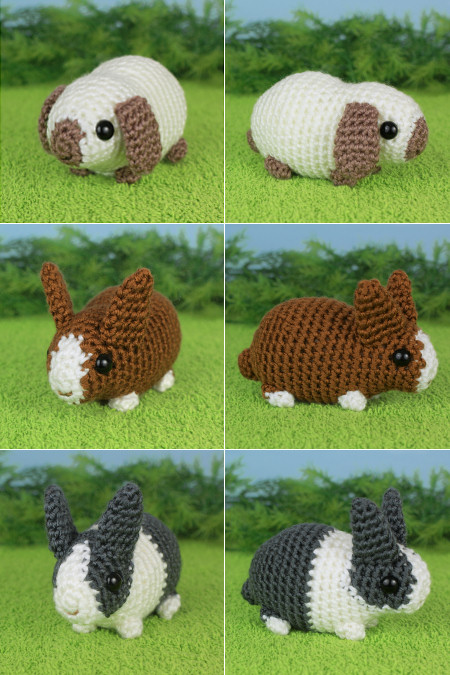 Increasing difficulty, from top to bottom: Pointed, Blazed, Dutch markings
By the time you've completed all three of these bunnies, you'll be a colour-changing expert, and ready to tackle one of my larger patterns with complex colours, such as the Emperor Penguin, the Kingfisher, or the Orca:

Ready to Buy?
You can buy the Baby Bunnies 2 Expansion Pack for only $3.50 individually from the shop, or, if you haven't already bought the Baby Bunnies pattern, you can select it as an add-on to that pattern before you add it to your shopping cart, and save 50c on the pair.
Or, if you're not quite ready to start bunny-making, why not favourite or queue the new set on Ravelry, so you don't forget about them?
Launch Discount
If you've already bought the original Baby Bunnies, you won't be able to save that 50c. But, for 7 days only, add the Baby Bunnies 2 Expansion Pack pattern to your shopping cart, together with anything else (totalling $5 or more), then use the code BUNNIES at checkout and you'll still get your discount! (Valid until next Thursday: 27th March 2014.)
Note: If you don't need anything else right now, this also applies to Gift Certificate purchases, so you can pick up a $5 gift certificate now, get your discount, and have $5 in your PlanetJune account ready for your next purchase, or to send to a crocheting friend!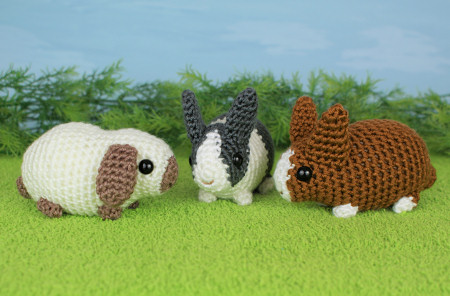 Watch out world, I believe bunny season just started!
PS – Don't forget to share photos of your Baby Bunnies in the Spring/Easter CAL thread on Ravelry too – you have until the end of April to post them…